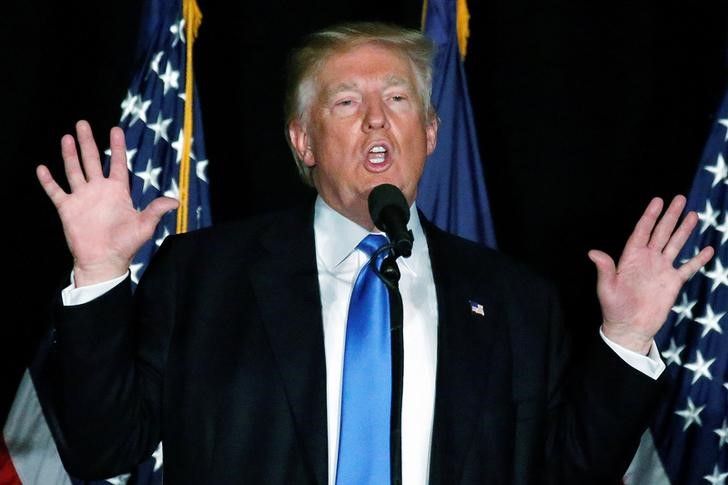 A criticized and scrutinized letter from Donald Trump's doctor about the candidate's general health was written in just five minutes, the doctor says, raising fresh questions about Trump's fitness and willingness to follow political norms as he and his surrogates launch unsubstantiated rumors about Hillary Clinton's physical well-being.
Dr. Harold Bornstein, a gastroenterologist affiliated with Lenox Hill Hospital in Manhattan, admitted to NBC News that he wrote the bizarre letter extolling Trump's "astonishingly excellent" test results in just five minutes while Trump staff sat outside in a car waiting for it to be done. "I thought about it all day and at the end...I get rushed, and I get anxious when I get rushed. So I try to get four or five lines down as fast as possible so that they would be happy...I've got five minutes to sit right at this desk and write that letter while the driver waited for me," Bornstein said.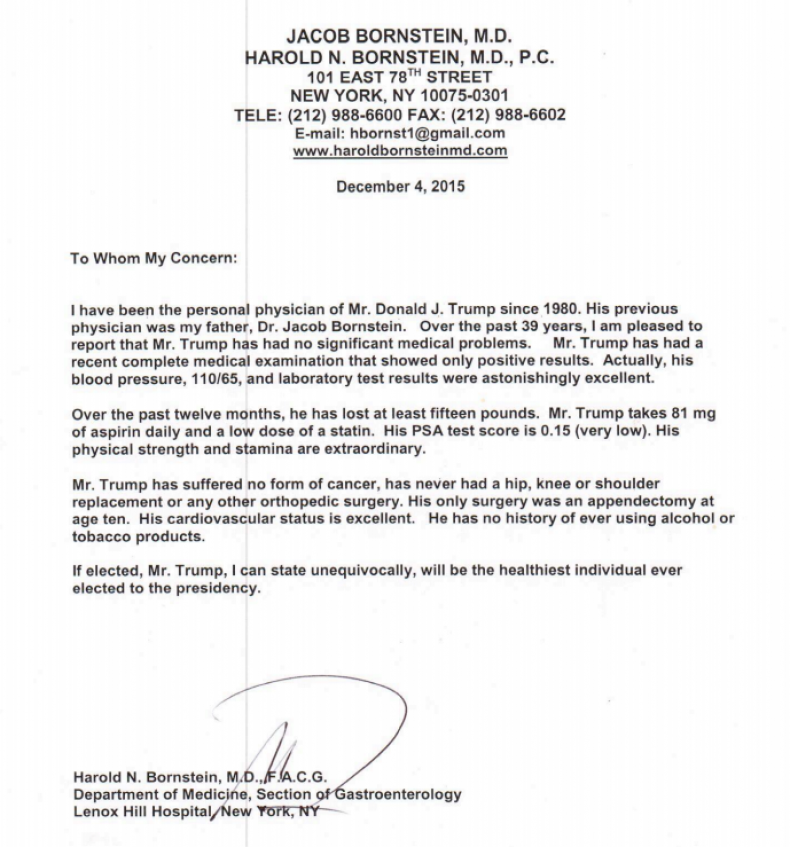 The lack of attention shows. Bornstein's letter is heavy on Trumpian adjectives and light on medical specifics. As Newsweek's Kurt Eichenwald noted: "It is one of the most ridiculous documents ever to emerge in any political campaign. First, the letterhead is in the same font as the letter, which appears to have been created using Microsoft Word...The letter also has problems with sentence structure and major typographical errors, such as the opening line, 'To Whom My Concern.' Most amusing, it says that his medical examination of Trump has 'only positive results.' In medical terms, if the test is positive, it confirms the existence of disease. Is this doctor saying Trump has every medical ailment that could be found in examination? Does he not know the meaning of the word?"
Bornstein, who says he examines Trump annually, pronounced the Republican presidential candidate as the "healthiest individual" ever to serve if he is elected president. This despite a document that only offers medical tidbits such as Trump's aspirin intake and "low dose of a statin" while claiming, in true Trumpian bravado, that his blood pressure and lab tests are "astonishingly excellent." The curious adoption of Trump-speak was new for the doctor, he admits. "I think I probably picked up his kind of language and then just interpreted it to my own," he said. Despite the slapdash letter, he did tell NBC that Trump's "health is excellent, particularly his mental health"—before breaking up in laughter.
In contrast, Democratic nominee Clinton has offered a letter more within the norms of such disclosures, listing her medical history and results of a physical while noting negative test results. That has not stopped Trump and his surrogates, such as former New York City Mayor Rudolph Giuliani, from launching vicious rumors about her supposed ill health that appear to be smears with no basis in fact whatsoever. The online trolls have gleefully picked up on the attack, filling social media with vile memes and easily debunked photographic and video "evidence" of a range of supposed maladies attributed to Clinton. Fox News' most boisterous Trump booster, Sean Hannity, even has gone so far as to host supposed medical experts to analyze videos and suggest that Clinton may be suffering from epilepsy.
Clinton has largely tried to not substantiate the invective but did tell Jimmy Kimmel this week that the rumormongering is "part of the wacky strategy; just say all these crazy things and maybe you can get some people to believe you. On the other hand, it just absolutely makes no sense."
It's easy to read Trump and his cronies' willingness to spread lies as an act of desperation. With fall almost here, the GOP candidate is behind in virtually every poll and is expected to be walloped in the Electoral College vote. It appears to be a two-pronged strategy: attack Clinton and try to woo moderates and independents by softening on policy. Neither is going well. In addition to claims about Clinton's health and "stamina," Trump has taken to making the dubious claim that she is a "bigot" while seemingly tying her to every Democratic domestic policy of the post-war generation to argue that she wouldn't be a good choice for minorities. His bid to win undecided votes has consisted of shifting statements from his team and himself on what his immigration and deportation policies will be—still an ongoing effort, apparently. The waffling has only earned him the ire of the likes of Ann Coulter and Sarah Palin and their hardline followers.
Trump's medical history may end up being one of those things that the candidate says you must trust him on. His team told NBC that he would be willing to release more medical information—if Clinton does the same. Of course, Clinton has released years worth of tax returns, and Trump has declined to respond in kind, sometimes citing audits, sometimes just flat refusing.