Health Secretary Alex Azar Pushes Back on Claims There is No Vaccine Distribution Plan
U.S. health and human services (HSS) secretary Alex Azar says he met with pharmacy chains Walgreens and CVS and a bipartisan group of governors on Tuesday to discuss how people can get quicker access to COVID-19 vaccines.
Speaking on CBS This Morning, he rebuked Biden administration claims that the government doesn't have a plan for distribution, saying that in the meeting the Trump administration laid out "in minute detail how we would ship the vaccine."
His claims come amid escalating case loads of the virus, as well as promising progress with vaccine approvals both in the U.S. and elsewhere.
Total confirmed coronavirus deaths in the U.S. had surpassed 282,300, as of Monday, according to data compiled by Johns Hopkins University. There has been an average of 201,756 new cases per day over the past week, a 16 percent increase compared to the previous two weeks.
The first shots of Pfizer and German company BioNTech's coronavirus vaccination were administered in the U.K. on Tuesday, after the country's drug regulators approved the treatment.
Pfizer applied for emergency use authorization for its vaccine in the U.S. at the end of November. An FDA advisory committee is scheduled to meet on December 10 to vote on whether to recommend the vaccine for approval.
Azar told CBS This Morning that the vaccine could be approved in a "matter of days" and would be shipped to "wherever the governors have told us they want it to go."
He also said Moderna's vaccine candidate would go before regulators a week tomorrow (December 17).
The U.K. has ordered 40 million doses of the vaccine, while the U.S. has ordered 100 million. Azar said that the government would have placed an order for more, but was waiting for Pfizer to confirm it could fulfil the demands.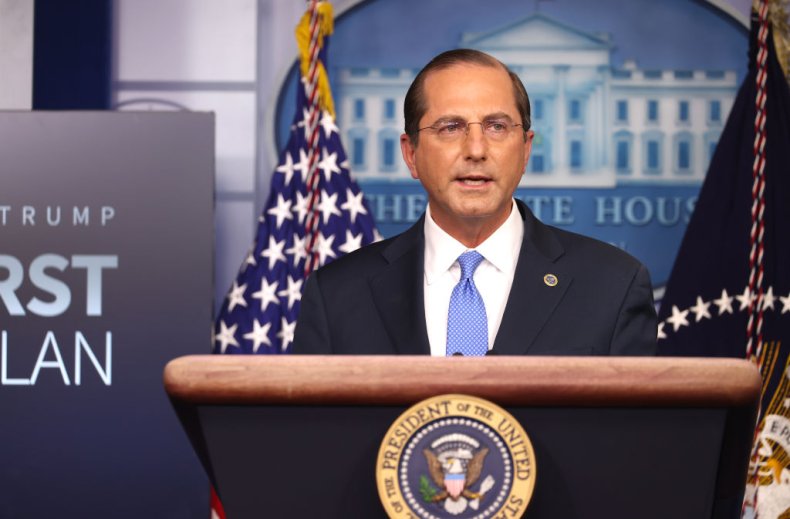 The Trump administration recently partnered with Walgreens and CVS on the rollout of a program that would give priority to any vaccine to seniors housed in long-term care facilities. It first announced the program in October.
Centers for Medicare and Medicaid Services Administrator Seema Verma said at the time that the program would ensure vulnerable seniors are "at the front of the line for the Covid vaccine and will bring their grueling trial to a close as swiftly as possible."
Azar said the initial focus of the rollout will be healthcare workers and nursing home patients, and that the general public should start receiving doses in February and March.
Newsweek has contacted both Walgreens and CVS for comment on Tuesday's meeting.