Senate Healthcare Bill: Big Pharma, Insurance Lobbies Responsible For Secrecy?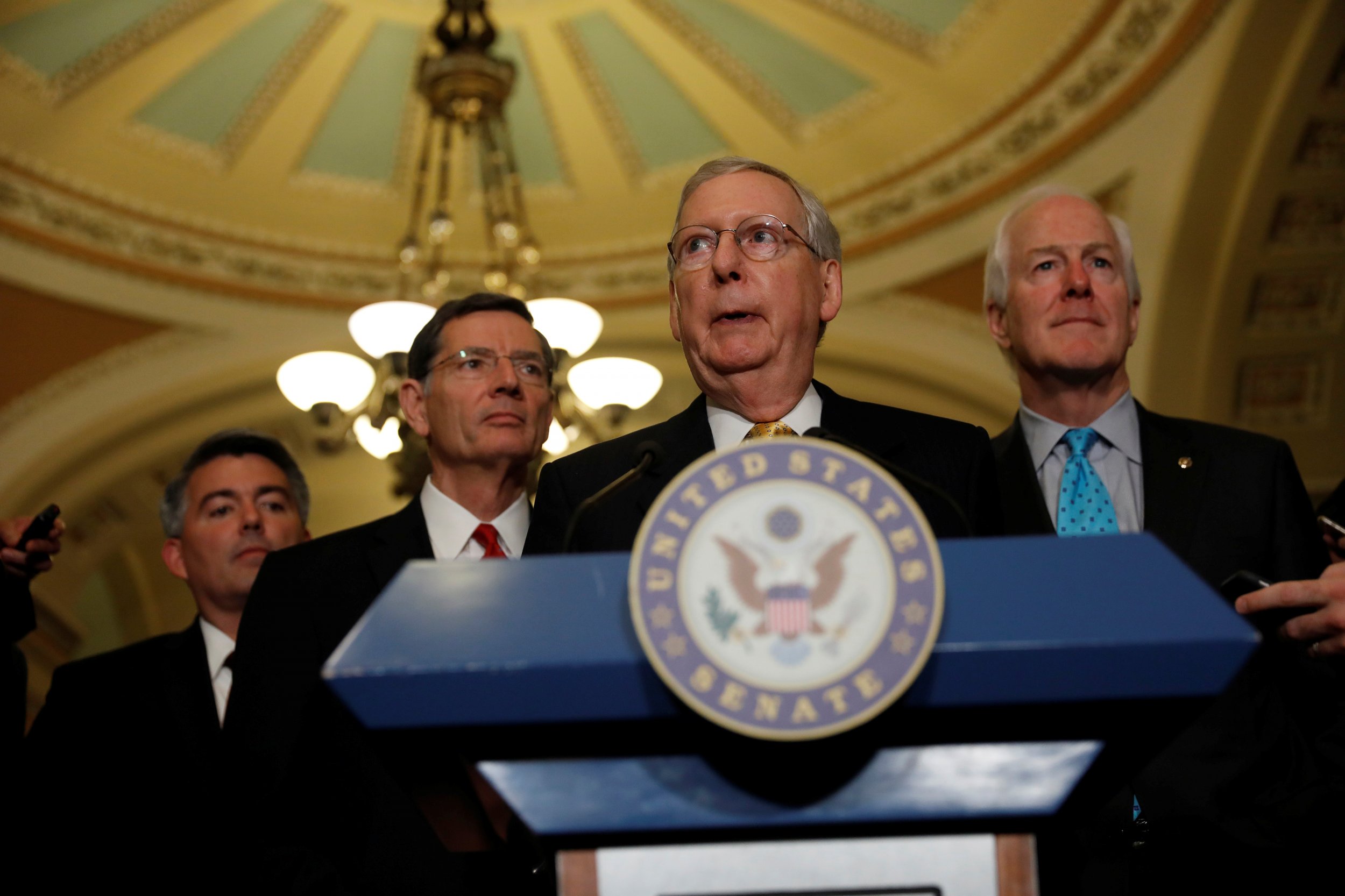 U.S. senators from both sides of the aisle have lambasted Republicans for conducting secret meetings while crafting their version of the American Healthcare Act, the GOP's attempt to repeal and replace Obamacare and hand President Donald Trump his first major legislative victory. Most recently, Republican Arizona Senator John McCain even quipped Tuesday that Russia might actually know what's in the bill.
An exact reason for the secretive meetings or discussions between Senate Republicans, led by Majority Leader and Kentucky Senator Mitch McConnell, has not been fully explained, but one nonprofit group alleged one motive: political campaign contributions.
Altogether, 13 Republican senators, including McConnell, on average received $214,000 in contributions from health insurance and pharmaceutical companies from November 2010 to November 2016, money and politics watchdog MapLight found by searching campaign finance reports.
Utah Republican Senator Orrin Hatch led the way with more than $471,000 in contributions from two lobbies that could potentially benefit from the bill, with McConnell not far behind with more than $433,00 in donations.
Ohio junior Senator Rob Portman was next on the list, totaling some $382,000, followed by Pennsylvania's Pat Toomey at more than $354,000. Just at the bottom of the list, Texas senator and former GOP presidential candidate Ted Cruz pulled in nearly $59,000 and Arkansas' Tom Cotton was last at just under $29,000.
The report notes that even the other senators who were not picked to rework and draft a bill that could greatly affect almost a fifth (17.8 percent) of the country's economy—according to the Centers for Medicare and Medicaid Services numbers from 2015—still received on average $115,000 from the two industries.
Senate Democrats, including minority leader and New York's Chuck Schumer, took to the Senate floor Monday to criticize the Republicans' efforts to avoid public hearings or discussions on the bill. Schumer himself received more than $719,000 from the insurance lobby, and almost $510,000 from health professionals, according to OpenSecrets.
"Republicans are writing their healthcare bill under the cover of darkness because they are ashamed of it," Schumer said according to Reuters. He also added that the bill would amount to "a big fat tax break for the wealthiest among us."
McConnell did respond Monday by saying an amendment process would take place.
"We're going to have a meeting on the Senate floor, all 100 of us, with an unlimited amendment process," McConnell said. "So there will be no failure of opportunity."
McConnell said Tuesday that Republicans and the public will get their first look at the Senate's bill Thursday, and it could be brought to a floor vote as early as next week following an analysis conducted by the Congressional Budget Office. The same office estimated the House of Representatives' version could ultimately leave 23 million people without healthcare coverage.