Why Is Washington a Failure? Most Americans Want Republicans, Democrats to Work Together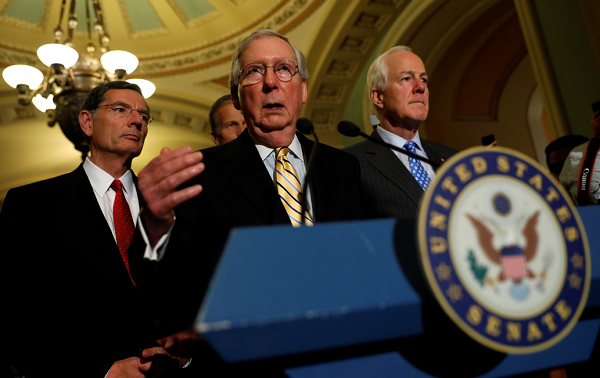 When it comes to Obamacare, most Americans are either ready for more bipartisanship in crafting a new health care plan or they'd like Republicans and Democrats to simply move on to the next thing on the political agenda.
A CBS poll released Sunday found that the majority of Americans—some 47 percent—would prefer the Republican Party to work with Democrats on improving the current law, while only 21 percent of voters wanted the Republicans to repeal Obamacare completely. Only 19 percent of Americans wanted to see the GOP replace the current health care system with something of their own.
Democrats and independents have been urging bipartisanship in working to improve certain aspects of the Affordable Care Act so that millions of people won't be left uninsured. Under the Republicans' plan to repeal the ACA without a replacement, which failed to pass in the Senate, 32 million more Americans would have lost their coverage by 2026, according to the Congressional Budget Office.
Seven in 10 Americans in CBS's poll said they opposed the Republican health care measure simply because it went "too far" in eliminating protections and coverage.
However, at least some Republicans and Democrats are attempting to work together on health care. A group of about 40 House Republicans and Democrats, called the Problem Solvers Caucus, is expected to roll out a number of Obamacare fixes that will focus on stabilizing the insurance market, according to a Politico report. The coalition, which is led by Representatives Tom Reed (R-N.Y.) and Josh Gottheimer (D-N.J.) and includes a number of centrist members, aims to gather support for Obamacare changes that both parties have agreed on in the past.
A separate poll released Saturday found that a staggering number of voters were ready for Republicans and Democrats to leave heath care alone and move on to the next subject. Sixty-four percent of participants in the Reuters/Ipsos poll, which surveyed 1,136 adults, said they wanted Obamacare to remain "entirely as is" or see political leaders fix "problem areas." Only 29 percent of voters said they wanted the Republicans to "continue working on a new health care bill."
As for what Congress should be prioritizing, most Americans said they were ready to see both parties working on legislation concerning tax reform, foreign relations and infrastructure.
Similarly, in CBS's poll, which surveyed 2,334 U.S. adults, 44 percent of Republicans said they were "angry" at the GOP's inability to repeal Obamacare, while 26 percent of Americans, including one-third of Republicans, expressed a willingness to move on to other pressing issues.
The CBS poll was conducted July 26-28 and has a margin of error of plus or minus 2.5 percentage points. The Reuters/Ipsos poll was conducted July 28-29 and has a margin of error of plus or minus 3 points.