New Trend Sees People Drink Balsamic Vinegar and La Croix As 'Healthy' Coke
Yes, people are now drinking balsamic vinegar mixed with sparkling water and claiming it tastes "just like a Coke."
It's the latest episode of the internet doing weird things, but the TikTok trend claims it is a "healthy alternative" to the popular carbonated drink. It comes after one woman, who dubs herself the "balsamic vinegar girl" was shown the recipe by her pilates instructor. Now, internet users are trying it themselves and reactions are split.
Amanda Jones introduced the drink to TikTok in a video that now has almost 6 million views. Jones said her pilates instructor has the drink "almost everyday" as a "healthy alternative to Coke."
"I am not joking you, it tastes just like a Coke and you're going to think I'm insane," she explained. Jones added a splash of balsamic vinegar to ice in a glass and then poured in a Guava La Croix, though she said "any sparkling beverage" will do.
"I swear to god, it tastes like a Coke and it's healthy and it's good for you," she said.
The recipe has taken over online and people have been trying it out for themselves. Although it isn't the first time vinegar has been used in drinks, with the "Strawberry Shrub" being a well-established choice, it is perhaps the first to be presented as a Coke substitute.
Verdicts on the internet are split. Some agree that it tastes like Coke, while others are unimpressed, like @betches, who described it as "carbonated vinegar on ice."
Newsweek made the drink and tried it out first-hand, but spoke to experts first on just how "healthy" it really is, and it's not looking good.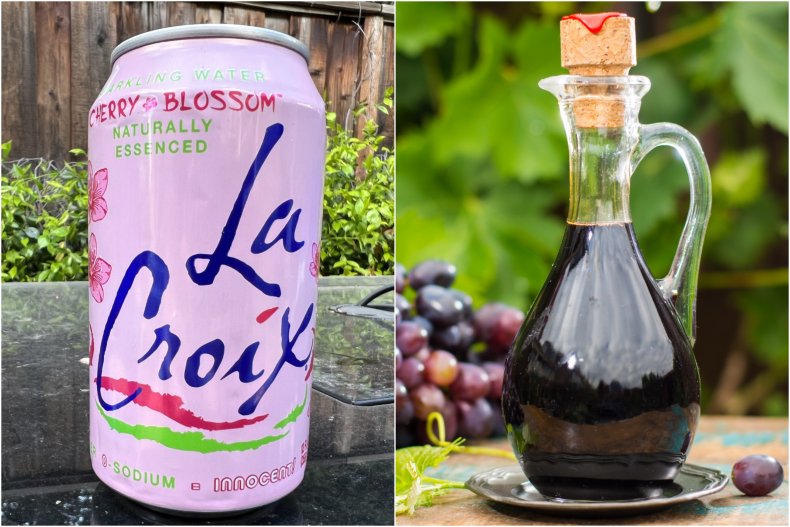 A dietician's view on the 'healthy coke'
Although the premise of replacing a Coke with a two-ingredient alternative seems like it would be a good option, dietician and director of Dietician UK Priya Tew told Newsweek that using a sub-par replacement will likely just leave you craving it more. Instead, she recommends simply sticking with Coke, but in moderation.
"I'd be wondering why there is the need to replace Coke?" she asked. "If someone is just having Coke in moderation and enjoys it then changing this for a so-called healthy version could leave them unsatisfied and wanting more."
"Instead it would be better to have a small portion of Coke and really enjoy it, in the context of a balanced diet. I would also be concerned about having too much vinegar as this would not be good for tooth enamel."
A dentist's view on drinking vinegar
Tew isn't the only one concerned about downing balsamic vinegar, even if it is diluted first. Newsweek consulted dentists who shared worries about the effect it could have on teeth.
"The acid in balsamic vinegar can wear away the tooth enamel and stain your teeth," said Dr. Marc Sclafani, DDS and co-founder of One Manhattan Dental. "Since it is sticky, it adheres to your teeth long after you've finished your meal. Although it is a little less acidic than other vinegars, it still has the potential to erode tooth enamel. I would rather just have you drink a regular can of Coke, but either way, always make sure to drink some water to rinse your teeth afterwards."
Dr Tina Saw, a top-rated general and cosmetic dentist and founder of Oral Genome agrees and flat-out did not recommend drinking the "healthy coke" mixture.
"Balsamic Vinegar and La Croix as a 'healthy Coke' may not be so healthy for your teeth," she told Newsweek.
"Balsamic vinegar has a pH of 2-3 and carbonated water has a pH of 2.7. Low pH leads to acid breakdown of your teeth. Unless you're chugging that concoction quick, you're going to have a continual acid breakdown of your teeth, which will lead to long-term erosion and teeth sensitivity. I would definitely not recommend this."
Trying out balsamic vinegar and sparkling water
With so much attention around the concoction online, it's more-than-tempting to try it out yourself, even if it does sound like it was invented by a five-year-old. This Newsweek reporter took one for the team and taste-tested the "healthy Coke."
Following the instructions for the beverage, balsamic vinegar was mixed with ice and Summer Berries sparkling water. As with most internet fads, I came in preparing for the worst, but was left taken aback by my first sip. Although it definitely wasn't Coke, it wasn't bad at all.
Taking part in a blindfolded taste-test wouldn't have you confusing it for Coca-Cola, but there are certainly some similarities: a sweet, fizzy flavor with a slight kick to it.
Of course, the sparkling water you use has an effect on the flavor, though Jones said it doesn't matter which you choose. Summer Berries led to a drink that tasted like a mix between Dr. Pepper and a British drink called Vimto, which is most comparable to Kool-Aid.
It was however only good for a few sips before it became sickly, which, judging from the advice of Dr. Saw and Dr. Sclafani, might have been for the best.