A young woman who described herself as "extremely healthy" was diagnosed with a very rare form of ovarian cancer at the age of just 23, the only symptom of which, initially, was bloating.
Nicole Burke, now 24, told Newsweek that she first noticed the bloating in November, 2020 but was not too concerned about it at the time.
"I just thought it was due to eating habits," Burke said. "I didn't think much of it."
Now Burke is speaking out publicly about her ordeal to encourage people to take care of their health and get regular medical checks.
Burke, who is originally from Ewa Beach, Hawaii, but currently lives in Tampa, Florida, said she was "extremely healthy" before her diagnosis and had no previous medical history.
During an annual medical check-up in August, 2020, Burke decided to mention the bloating issues to her primary care physician, who told the young woman the problems could probably be explained by her diet and that she should exercise more.
Nevertheless, the doctor ordered a pelvic ultrasound for Burke just to be safe, although she was in no rush to undergo the scan.
"I did not feel like it was necessary to go and pay for an ultrasound. I had no pain or any symptoms or anything out of the ordinary," Burke said.
Toward the end of 2020, Burke's bloating started to worsen to the point where she said she looked "big all the time" despite a lack of other symptoms or pain.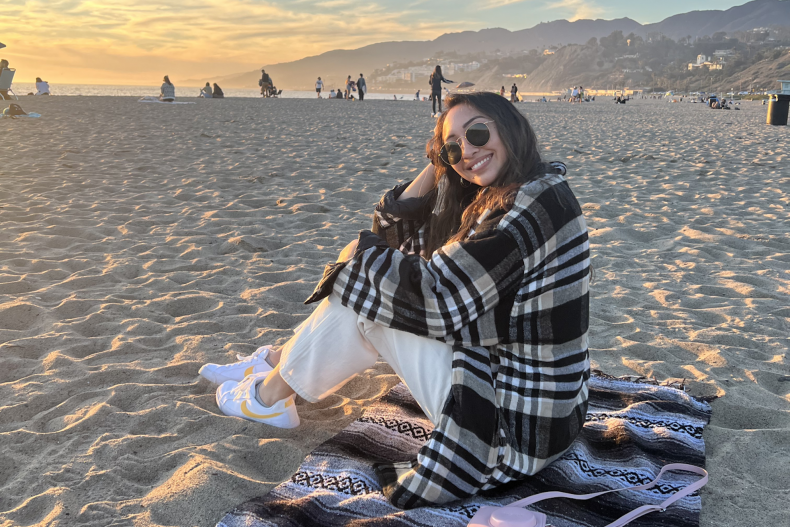 Burke eventually underwent the ultrasound in January, 2021 and she was subsequently told by her primary care physician over the phone that she had an ectopic pregnancy—a condition in which a fertilized egg implants itself outside of the womb, usually in one of the fallopian tubes. The woman was told that she had a 16-week-old fetus with no heartbeat.
"I was so stunned and speechless, and so heartbroken. I couldn't believe anything that was happening," Burke said.
Her doctor told her to be still and that she needed to be transferred to hospital for an emergency surgery.
"They were afraid that any sudden movement would make this burst and I'd bleed out," she said.
Burke said she saw five or six different doctors in the ER who all tried to figure out what was wrong with her but each came to a different conclusion: an ectopic pregnancy, a cyst, a tumor, a mass.
"By the end of the day I went home from the hospital not knowing what was inside of me."
Eventually, Burke was placed under the care of Dr. Diana English, a Tampa-based specialist in obstetrics & gynecology, who told her that she had a mass inside of her that had the potential to burst at any moment.
"It was starting to rub against my ribs and was starting to put pressure on the rest of my body," Burke said. "She scheduled me quickly for an exploratory laparotomy to take whatever it was, out. She didn't yet have an explanation of what [it] was and why I got it."
Burke underwent surgery to remove the mass, which weighed seven pounds and was connected to one of her ovaries. Surgeons also had to remove the ovary in question, as well as a Fallopian tube and her appendix.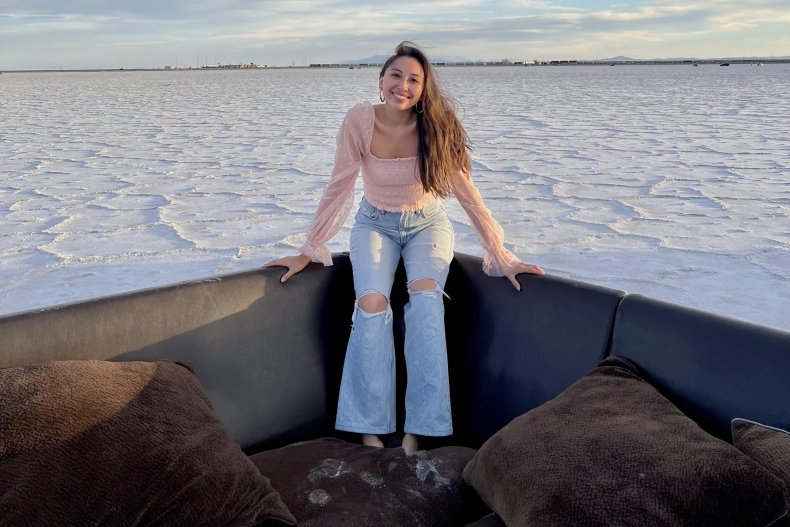 The mass was sent for analysis and a few weeks later, Dr. English revealed to Burke that she had mucinous ovarian cancer (MOC)—a rare subtype of ovarian cancer. Only around two-three percent of new ovarian cancers are mucinous, meaning that most of the tumor is made up of cells coated in mucus, according to The University of Chicago Medicine.
While ovarian cancer can affect women of any age, it is most commonly diagnosed in those aged 55 to 64, figures from a paper published in the journal American Family Physician show.
Speaking of her reaction to hearing her diagnosis, Burke said: "I was so sure that it wasn't going to be cancer. I didn't even let the word cancer come out of my mouth before that moment. As Dr. English was talking to me, my eyes welled up with tears and I just could not believe it."
"Half of me wanted to believe it was a mistake just like the ectopic pregnancy. I started crying not just because of everything that had happened, but because I wasn't sure what the next steps would be."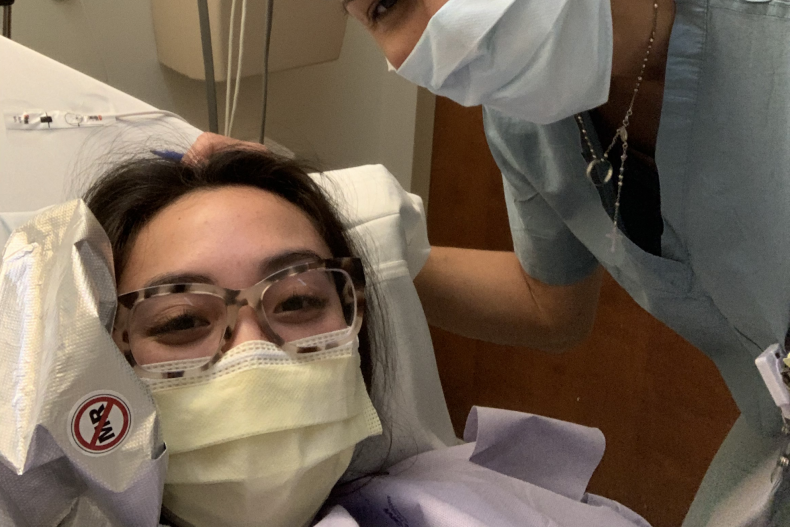 Fortunately for Burke, further imaging tests revealed that everything with cancer cells had been removed during the surgery. In addition, she did not need any chemotherapy or radiation therapy.
"I'm so grateful that it turned out this way," Burke said. "Many women who have ovarian cancer catch it too late. That is unfortunately the truth about this cancer. It acts fast and silent."
Burke said the experience of her cancer diagnosis and subsequent treatment had affected her in "every single way" possible, describing her experience as a "nightmare" that has changed her life forever.
"It's challenged me mentally and physically and even emotionally. I wasn't able to walk for a few weeks. I wasn't even able to sit up or lay down on my own. It's affected my parents and loved ones in more ways than I can count. It was undoubtedly the most traumatic experience."
But this wasn't the end of Burke's ordeal. At one point, Dr. English had referred Burke to the department of gastroenterology. There, tests revealed that she had necrotizing pancreatitis—a condition in which part of the pancreas dies.
"I ended up being in the hospital for two weeks. I had a fever of 103 for days that I couldn't break. My entire body was reacting to my inflamed pancreas. I was on morphine every four hours for an entire week straight."
Burke's condition eventually improved and she told Newsweek that she is currently as "healthy as can be" although she will need to see an oncologist for the rest of her life.
"I do imaging and see all of my doctors every three months. The cancer has not come back... I feel genuinely healthy and happy."
In light of her experience, Burke urged people to take their health more seriously.
"Things can change in the split of a second," she said. "Even if you may think that it's nothing serious, just take that extra step. See your doctors every single year, mention anything that could be of concern. Exercise more frequently, eat better. Take care of your health not just physically but also mentally and emotionally."
"The main point I'm trying to get across here is that life is short. Take your health seriously and the rest will follow."
A spokesperson for Tampa General Hospital confirmed to Newsweek that Dr. English treated Burke at the facility.
Uncommon Knowledge
Newsweek is committed to challenging conventional wisdom and finding connections in the search for common ground.
Newsweek is committed to challenging conventional wisdom and finding connections in the search for common ground.
About the writer
Aristos is a Newsweek science reporter with the London, U.K., bureau. He reports on science and health topics, including; animal, mental health, and psychology-related stories. Aristos joined Newsweek in 2018 from IBTimes UK and had previously worked at The World Weekly. He is a graduate of the University of Nottingham and City University, London. Languages: English. You can get in touch with Aristos by emailing a.georgiou@newsweek.com.