Hear Moment Maria Ressa Found Out She Won the Nobel Peace Prize
Filipino-American journalist Maria Ressa was awarded the Nobel Peace Prize on Friday for her "courageous fight for freedom of expression, which is a precondition for democracy and lasting peace."
Ressa learned she was one of this year's laureates only 10 minutes before the announcement was made by the Norwegian Global Committee from Oslo, Norway at 11 a.m. local time.
"Oh my God," Ressa is heard, saying as committee officials relayed that she has been chosen for her commitment to press freedoms despite increasing pressure from Rodrigo Duterte, the Phillippines' authoritarian president.
"I'm speechless," she said in her initial reaction of the news. "I'm actually live on another event, but my God! Thank you! Oh my gosh! This is—I'm speechless. Thank you so very much."
Check out the full clip of the call from Oslo above.
Ressa, a Fulbright scholar, co-founded the digital media company Rappler, which is known for its investigative journalism into government corruption in her home country and Filipino elected officials who have financial conflicts of interest to their political agendas.
She is the 18th woman in history to win the Peace Prize and was also named one of Time's "person of the year" in 2018.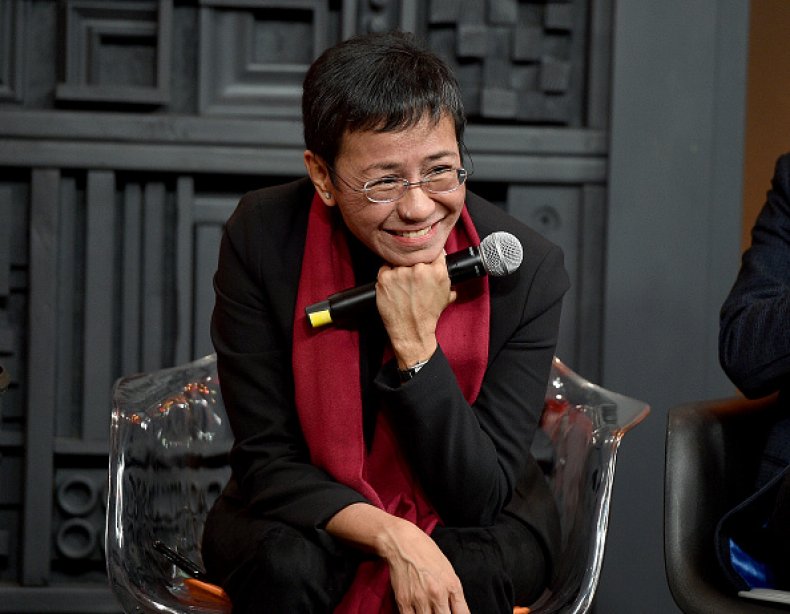 "As a journalist and the Rappler's CEO, Ressa has shown herself to be a fearless defender of freedom of expression," the committee said in a statement.
"Rappler has focused critical attention on the Duterte regime's controversial, murderous anti-drug campaign. The number of deaths is so high that the campaign resembles a war waged against the country's own population," the statement continued. "Ms. Ressa and Rappler have also documented how social media is being used to spread fake news, harass opponents and manipulate public discourse."
In an interview shortly after the the prize was announced, she dedicated her award to Rappler and called it "a recognition of the difficulties, but also hopefully of how we're going to win the battle for truth, the battle for facts: We hold the line."
"This shows that the Nobel Peace Prize committee realized that a world without facts means a world without truth and trust," the 58-year-old said.
According to the Committee to Protect Journalists, 87 journalists have been killed in the Philippines since 1992.
Dmitry Muratov of Russia, a journalist working under the Kremlin, was also recognized alongside Ressa for the Nobel Peace Prize.
Muratov is the editor in chief of independent newspaper Novaya Gazeta. Since its founding, six of the paper's journalists have been killed, including Anna Politkovskaya, who reported on the war in Chechnya.