Refugees With Heart Conditions, Diabetes Are Being Denied Medication, Told to 'Drink Water' Instead
Sitting outside her family's makeshift metal container with head in hands, 17-year-old Haya was painfully aware that she has been living in one of Europe's worst refugee camps—even if she couldn't see it.
Large white bandages covered both of her eyes, plunging the teenager into daily darkness as she struggled to recover from shrapnel wounds sustained in a bombardment at the Turkish-Syrian border, where she and her family had sought safety after fleeing war-torn Deir Ezzor.
"She's bleeding from her eyes," her mother said, standing watchfully over her daughter, whose real name has been withheld to protect her identity.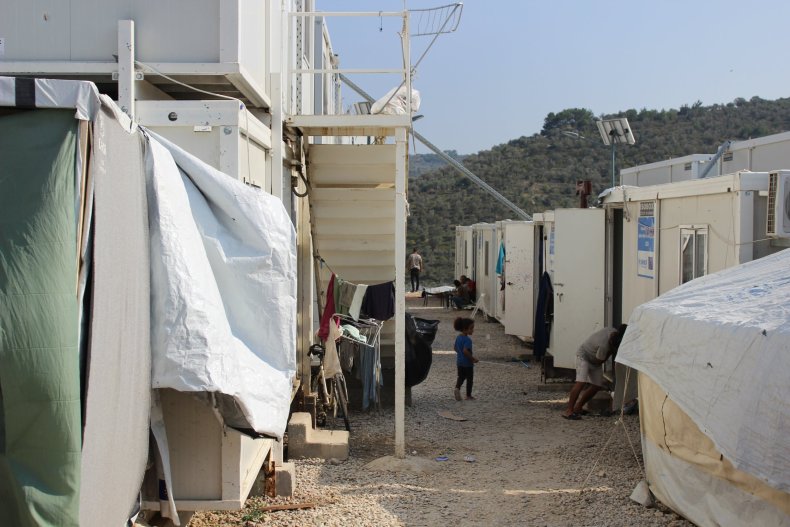 Haya and her family, who shared their story with Newsweek last month, are among thousands of refugees and migrants who have been forced to grapple with the desperate living conditions at Greece's biggest refugee camp, Moria.
Based on the island of Lesbos, known locally as Lesvos, the overcrowded Moria refugee camp—as well as the unofficial overflow site set up outside its grounds known as the Olive Grove, where hundreds of refugees and migrants, including many families with small children, are living in makeshift tents—has been widely condemned over unsafe and dangerous conditions.
Yet, the United Nations High Commissioner for Refugees (UNHCR), estimated that around 6,000 refugees and migrants are currently living there, nearly three times the number of people the camp was designed to hold. And despite many arriving at the camp with serious medical conditions, physical injuries and mental health issues, medical care is virtually nonexistent.
"We ask for painkillers…but didn't get anything"
Distraught, Haya's mother told Newsweek her child was in urgent need of surgery to save her eyesight—and yet weeks had passed and still the family of seven had yet to be given any medical assistance.
"We ask for painkillers...But didn't get anything," the mother said.
Even after asking for her family, which included an infant, to be transferred to Kara Tepe—a smaller camp just three miles away from Moria that houses some of the most vulnerable refugee families in Greece—the mother said her pleas had fallen on deaf ears.
And it seemed her family was far from the only one struggling to get any medical assistance.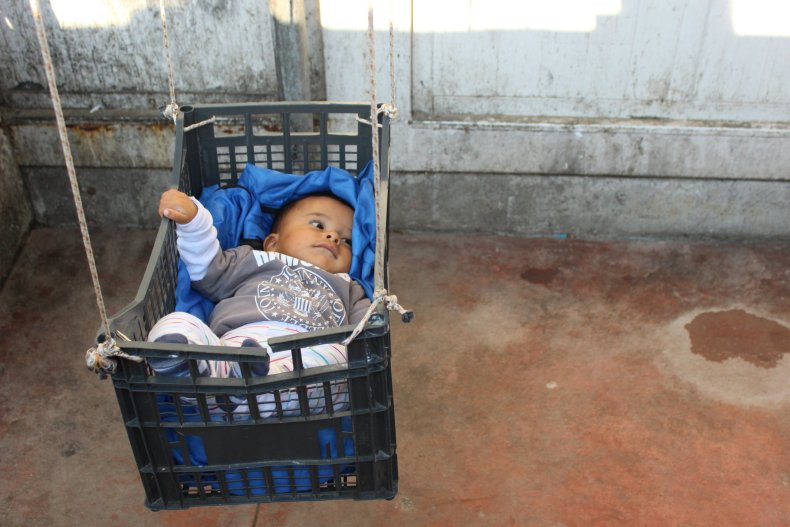 Asked what happens when they try to seek medical help, most refugees and migrants living in Moria seemed to be getting a similar prescription: ibuprofen, if they are lucky, but more often, the advice to "drink water."
Whether it is a heart condition, diabetes or a head injury, water appears to be seen as a "cure-all" at Moria refugee camp, where medical resources have become extremely limited.
"It's very bad, very difficult," 21-year-old Mohammad, who fled to Greece from Damascus in Syria, told Newsweek.
"I have a heart disease. I need my medication," he said.
"My health is at risk"
Before he arrived at Moria, Mohammad said he had been given regular medication for his condition. But when he arrived at the camp, the only medicine he was offered was a pill to help him "calm down."
"They say, 'No, you have to take rest'," he said. "They say you need a social security number, health insurance, that it takes time."
"Maybe I will have a heart attack. My health is at risk," he continued.
Boris Cheshirkov, an Associate Communications Officer for the UNHCR in Greece, told Newsweek that with overcrowding at Moria and the Olive Grove, there simply are not enough healthcare resources to go around.
"For the whole population of Moria and those staying in the Olive Grove, there are just two doctors, four psychologists and nine nurses providing health services [through the Ministry of Health,]" Cheshirkov said.
"They are overwhelmed," the UNHCR spokesperson said of the limited medical care providers at the camp.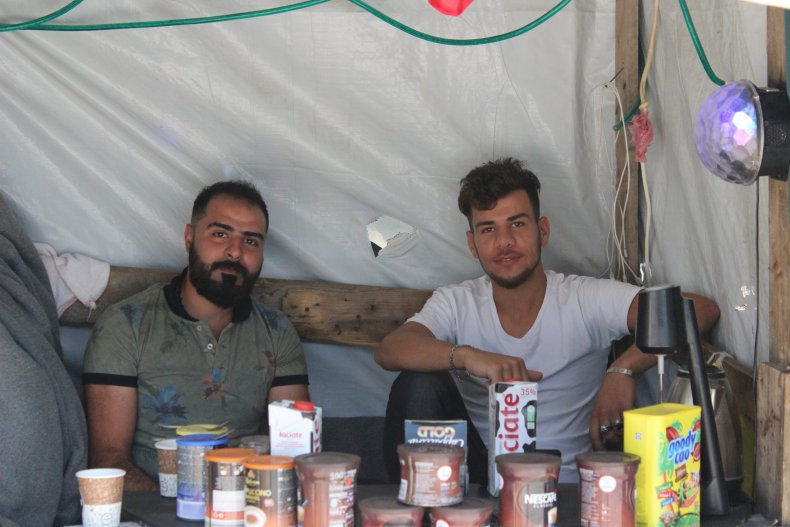 Cheshirkov said there were many people who arrived on the island with chronic conditions, diabetes or in need of specialized care, which isn't available in the camp, and the hospital in Mytilene is overwhelmed.
The UNHCR spokesperson said the agency has also seen cases of pregnant women who arrived at the hospital to deliver their babies, but due to limited bed space, are "sent back to Moria the day after they have delivered."
In one case, Cheshirkov said, "A young mother who had a caesarean was sent back with her newborn baby to Moria the next day."
"There is an obvious need to scale up the services," he said. But, he added, even if the medical team was to expand to include a few more doctors or nurses, "that still will not be enough if we have the present levels of overcrowding."
While nonprofit organizations have worked tirelessly on the ground to fill the gaps in health care left by officials running the site, resources are still too limited to take care of the vast majority of residents living at Moria and the Olive Grove.
Caroline Willeman, the field coordinator for Doctors Without Borders (MSF), told Newsweek that "access to healthcare is really limited at the moment," asserting that the capacity of the medical team currently provided by the Ministry of Health is so strained that medical staff can only manage the most basic medical and vulnerability screening tests, which are part of the asylum procedure in Greece.
"They are not in a position to provide real medical care," Willeman said.
Willeman said that her organization works alongside at least three others to try to meet the desperate need for both physical and mental healthcare, but said there were still "huge" gaps in "covering the needs of the people living at the camp."
Because the camp was so overcrowded, the conditions were steadily worsening. A steady stream of sewage ran out of the camp's main entrance, filling the air with a thick putrid stench. There was one functioning toilet for about 70 people and one shower for about 80. Migrants and refugees living there said they spend hours waiting in line for food.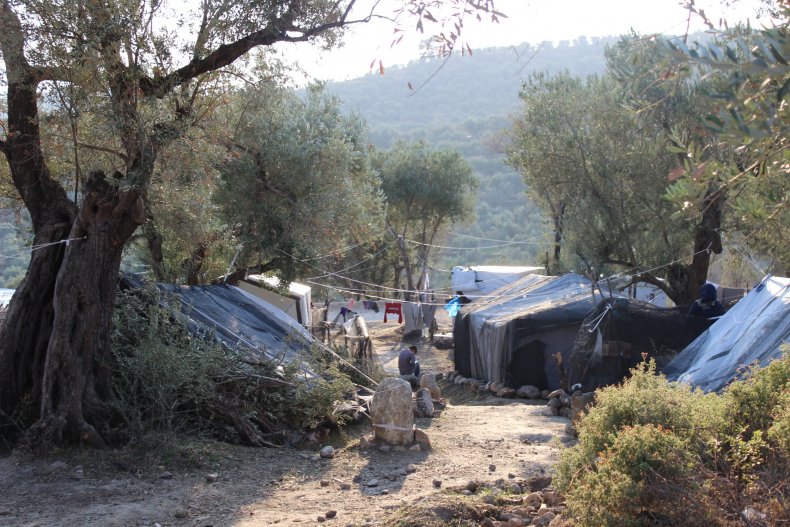 In addition to poor conditions at the campsite, women, children and men also feared for their personal safety. Newsweek recently uncovered a rise in the number of reported instances of sexual assault among those living at Moria and the Olive Grove. Some of the children who had been abused at the camp were also among the growing number of children recently reported to have been suffering from suicidal thoughts or self-harming, MSF told Newsweek.
In a bid to address the worsening situation at Moria, in September the Greek government began moving hundreds of migrants and refugees off the island and to the mainland to speed up their asylum process claims. Yet hundreds continue to arrive each week.
With little room left in Moria, new arrivals have started building makeshift tents in the Olive Grove, which many living there call "the jungle." The northern part of the Olive Grove is home to mostly Afghan families, with a few Syrians segregated near the bottom. The southern part of the Olive Grove is dedicated to single men.
"It could kill you"
Ali Sajad, a 21 year-old man from Afghanistan living in the Olive Grove, said there was no medical treatment for those living in the overflow site either.
"Just drink water," he said, repeating the phrase that so many say they hear from overwhelmed medical providers at the camp. "Everyone has tons of water. It's the one thing we have." But, when it comes to access to hygienic products "like soap," Sajad laughed, "I cannot even see it in my dreams."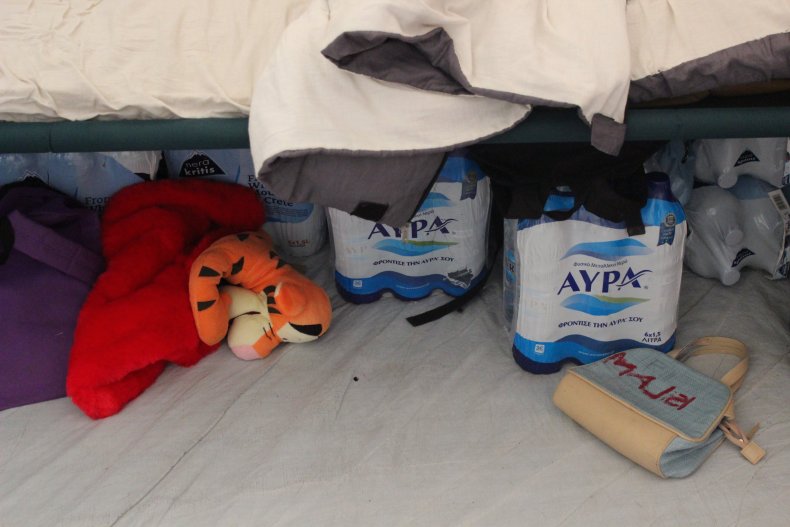 Pointing to scars on his face, the 21-year-old said he was affected by a recent outbreak of chickenpox in the Olive Grove.
"Last month, all the people in this area, including kids and elders who had not gotten chickenpox," were struck by the illness, Sajad said.
The illness, which is caused by the varicella-zoster virus, is a common one that typically affects children. However, for teenagers, adults and those with a weakened immune system, the condition can be serious and even deadly. "I had a fever for five days every night," Sajad said. "It could kill you."
"I call it hell...."
At Kara Tepe camp, roughly three miles away from Moria, refugees say conditions are better—but not by much.
"You have only two options. One is worse and the other is bad," Reza Adib, a 37-year-old journalist who fled to Greece from Afghanistan over fears of political persecution and was recently transferred with his family from Moria to Kara Tepe, told Newsweek.
"I opened my eyes and say I'm in a place I'd never see in my dreams. No showers. It's a zombie city," he said of Moria.
When he first arrived at the overcrowded camp, Adib said he saw someone trying to kill himself with a noose tied to a lamppost. As police intervened, Adib said he had asked onlookers why the man would try to take his own life. "You're new," they said. "You don't understand."
"It's shameful because the journalists are calling Moria as the worst camp in the world," he said. "I call it Middle East. I call it hell."
"Do you know what hell means?" Adib asked. "I'm sure that in hell that when you are a patient or you are suffering from something, someone will help you, but there is no doctor, there is no medicine."
"I remember the day that my small son had a fever, for two weeks I couldn't find even one antibiotic. For two weeks. Can you imagine to be a father, your son has a fever, you have nothing, you have no money to go to the pharmacy and you cannot buy even one, one antibiotic? I am sure that hell is better than Moria. One hundred percent I am sure of it," Adib said.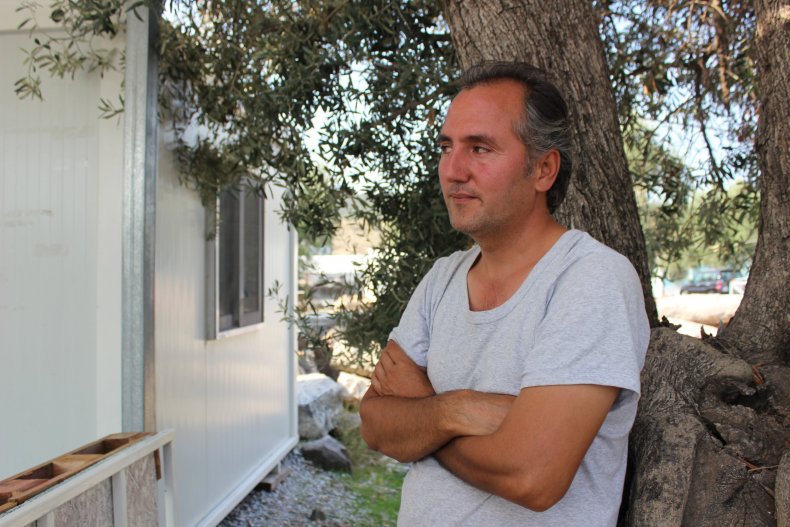 While Adib says that those living at Kara Tepe—which does not struggle with overcrowding and provides on-site facilities such as a food truck, and places where residents can cook and take music, language and computer classes—enjoy a better life than those living at Moria, "it is not a five-star hotel."
"There is no medicine here," he said, adding that food options were also limited.
Adil Izemrane, who founded Movement on the Ground, a nonprofit that helps facilitate services at Kara Tepe, said his organization has worked hard to improve conditions at Kara Tepe and create a "sense of community, dignity and humanity" for people living there.
While at Moria, Izemrane said the camp always seems to be in "an emergency situation." However, organizers at Kara Tepe have tried to "take a step back and say what do we need to do to implement a more humane approach."
Movement on the Ground has also made efforts to take that same approach on the southern side of the Olive Grove, where it has been operating food services and activities for the hundreds of men who have made their way to Greece on their own.
However, Izemrane said it has been difficult to apply the same tack to Moria when there are "always too many [metaphorical] fires to put out" at the overcrowded camp.
Still, even for those living at Kara Tepe, Adib said the threat of being forced to return to Moria is a real one, with the journalist himself claiming that officials threatened to send him, his wife and their two young sons back to Moria after he complained about an incident in which a man living at Kara Tepe allegedly attacked one of his sons.
The 37-year-old said he has little hope that things will change on Lesbos for the thousands of refugees and migrants arriving there in hopes of a better life.
Their health, safety and security—"these are the things no one is interested in talking about."
"People here are vulnerable. They've experienced war. We have war victims here," he said.
Asked if there was anything more he wanted people to know, Adib said: "If people know that this is hell, that's enough."
The director of Moria refugee camp and the Greek Ministry of Migration have not responded to requests for comment from Newsweek.