Heart-Shaped Rock of Meth Found in Traffic Stop on Valentine's Eve: Police
A heart-shaped rock of methamphetamine was found during a traffic stop the night before Valentine's Day in Santa Cruz, California, police said.
Ashley Keehn, press information officer for the Santa Cruz County Sheriff's Office, told Newsweek that Jorge Lopez, 35, was asked to step out of his car to speak with the responding deputy after he was pulled over for a vehicle code violation. When the suspect sat back down in his car, Keehn said, a cup that contained the methamphetamine fell out of his pocket and spilled onto the ground in front of the deputy.
"We don't think that this is the type of rock your significant other was hinting at for Valentine's Day ... ," a Facebook post shared by the Sheriff's Office read.
Keehn said Lopez was arrested and charged with possession of a controlled substance for sale, being under the influence of a controlled substance and possession of unlawful paraphernalia.
The Facebook post was accompanied by a photo of the drug. The department estimated officers found about 30 grams of methamphetamine.
According to information compiled by the Department of Justice and the Drug Enforcement Administration, methamphetamine is a stimulant that can come in a few different forms. The agencies stated that "regular meth" is a pill or a powder, but crystal meth resembles glass fragments or "rocks" that vary in size.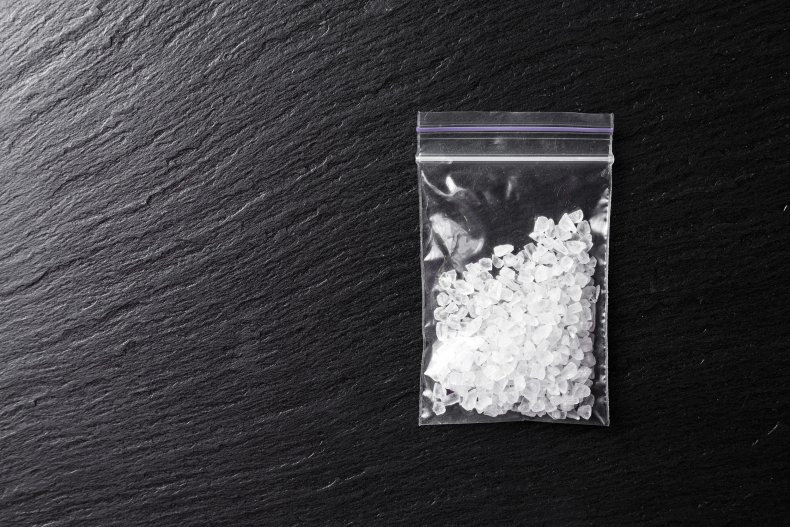 The agencies stated that meth may be swallowed, snorted, injected or smoked.
"To intensify the effects, users may take higher doses of the drug, take it more frequently or change their method of intake," the agencies reported.
They also stated that those who smoke or inject it may experience a short but intense sensation. Oral ingestion or snorting leads to a long-lasting high rather than a rush and may last for as long as half a day.
"Long-term meth use results in many damaging effects, including addiction," the agencies said.
Frequent users can also develop violent behavior, anxiety and insomnia. They may also experience paranoia, hallucinations and delusions, like the sensation of insects running on or under the skin.
"Researchers have reported that as much as 50 percent of the dopamine-producing cells in the brain can be damaged after prolonged exposure to relatively low levels of meth," the piece put together by the agencies stated.
Consumption of too high of a dose may lead to death from stroke, heart attack or numerous organ problems due to overheating.
"The rock weighed about a half oz, we're not sure what this converts to in carats, but maybe just go with chocolate and roses next year instead," the Sheriff's Office Facebook post concluded.
This is not the first odd item that police said they discovered during a traffic stop recently.
Newsweek reported that a driver was pulled over in Utah due to an issue with the car's headlight. After police ran Victor Chavez-Zuniga's license, they learned he had several active warrants.
They placed him under arrest and handcuffed him. Officers searched through his belongings and discovered a severed finger in his wallet, police said.