A video posted by the University of California, Davis Fire Department captures the intensity of the Tamarack Fire.
The video, posted by UC Davis Fire Chief Nathan Trauernicht, shows embers, flames and smoke outside the windshield of the firetruck, as firefighters worked to protect a housing development in Nevada Wednesday night.
"Heart stopping video from our @UCDavisFire crew inside the cab of Brush 34 on the #TamarakFire as they worked to protect a housing development last night," he said in the tweet.
The firefighters spent six hours inside the fire near Highway 395, north of Topaz Lake, according to UC Davis.
The homes were saved, but some out buildings and farm machinery were lost in the fire, Trauernicht said in a reply to the tweet.
Trauernicht commended the firefighters for their bravery.
"I am so incredibly proud of the bravery of our @ucdavis firefighters as they help protect our state," he said in the tweet.
The video has been viewed more than 50,000 and liked more than 1,500 times.
UC Davis Chancellor Gary S. May responded to the tweet with praise for the firefighters.
"You know the saying: Not all heroes wear capes," he tweeted.
Commenters also voiced their gratitude.
"For those who've never driven through a fire, I think it is important to note that even in a truck you can feel the searing heat, like driving through a wood burning oven," a user named @ExtraGranola tweeted. "THANK YOU, firefighters!!!
The Tamarack Fire spans more than 65,000 acres across California and Nevada, south of Lake Tahoe, according to the U.S. Forest Service. Only 4 percent of the fire has been contained, and it is not expected to be fully contained until August 31.
The fire began July 4 as a lightning strike in the Mokelumne Wilderness, and high winds on July 16 caused the flames to spread, according to the forest service. It has forced the evacuation of 2,439 people as of Friday.
More than 1,400 personnel are working on the fire.
The UC Davis Fire Department did not respond to a Newsweek request for comment Saturday.
The fire is one of many that has devastated the west coast in the recent weeks.
The Dixie Fire, also in California, has burned 181,289 acres and has become the state's largest wildfire so far in 2021.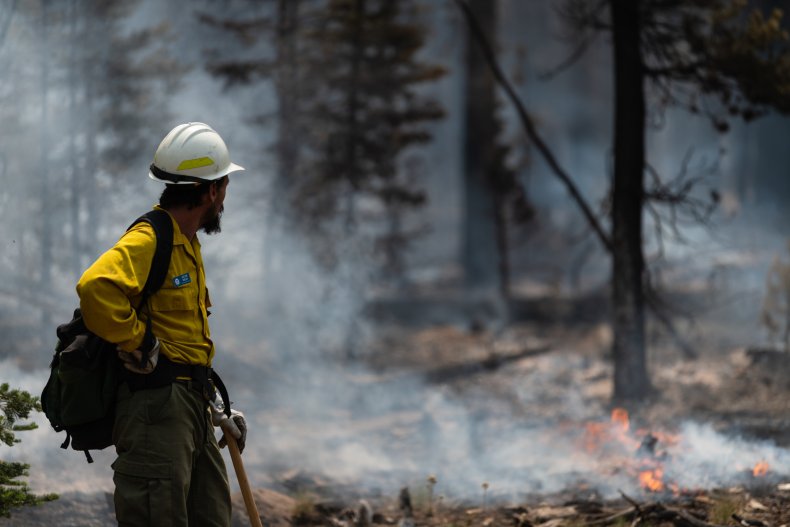 The Bootleg Fire, the largest in the country, has burned 401,601 acres as of Saturday morning.
In 2020, wildfires burned more than 10 million acres of land and destroyed nearly 18,000 structures.