Heartbreak at Dog's 'Sad' Reaction to Thinking Owner Is Leaving Without Her
A picture of the moment a dog thought her owner was leaving without her has melted hearts online.
Daniel Falk lives in Gothenburg, Sweden, with his Bichon Havanese dog Isa. In a post on Reddit's r/rarepuppers forum, Falk captured the moment the 8-year-old pup looked heartbroken as she thought her owner was leaving without her.
"She saw me getting dressed for going outside and I saw her in the mirror," Falk told Newsweek. "Just sitting on the stairs with this sad sad look on her face. She must have thought that I was leaving for work or something."
Isa loves to go outside and spend time with her humans, much to Falk's joy.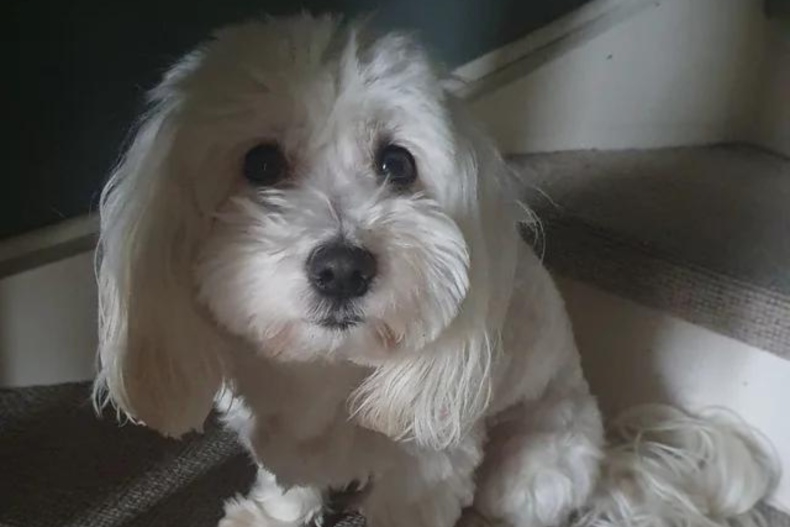 "She's usually very enthusiastic about me putting on outdoor shoes and a jacket," he explained. "I love that she's always so happy about going on walks with me, unlike our Shih-Tzu who [would] rather stay at home."
Dogs are famed for their loyalty, and scientists believe that while dogs might have a sense of time, they likely lack the understanding of a "concept of time."
One study found that pets left at home alone for longer periods greeted their owners more enthusiastically than dogs who were left alone for shorter stretches—suggesting that they do have some understanding of the passing of time.
With 18,000 upvotes, the picture of Isa melted hearts online, with hundreds of Redditors leaving their reactions in the comments.
"Oh I could never leave her. She's precious," said one commenter. While another wrote: "That face! I would never get anything done."
One Redditor said: "She looks so sweet," and another wrote: "If I was leaving and she made that face, welp... just canceled all my plans."
"She must have thought I was leaving for work or something," Falk said. "Her favorite things are walkies and me playing with her stuffed toy dragon."
It isn't just our canine friends that appreciate going for walkies, either. In results of a OnePoll study conducted on behalf of dog food company Orijen Amazing Grains, 70 percent of pet owners said that outdoor activities are better when done with their four-legged friend.
"Bless her 'lil heart," said one Redditor. Another wrote: "This is both of our dogs every time we put our shoes on."
The dog's owner reassured the internet that he did, in fact, take Isa out for a walk that day.
"I thought the look on her face was too good not to share," he said.
Do you have funny and adorable videos or pictures of your pet you want to share? Send them to life@newsweek.com with some details about your best friend and they could appear in our Pet of the Week lineup.