Heartbreaking Video Shows Sons Forced to Transport Mom's Body by Motorbike in India
As COVID-19 cases continue to skyrocket in India, leaving the healthcare system overstressed and unable to cope, more and more harrowing stories of heartbreak and death are emerging.
On Tuesday, a heartwrenching video began making the rounds of social media, showing a family in a situation that none would ever want to experience. Unable to procure an ambulance, an Indian man was forced to transport his deceased mother's body on a bike to a cremation ground.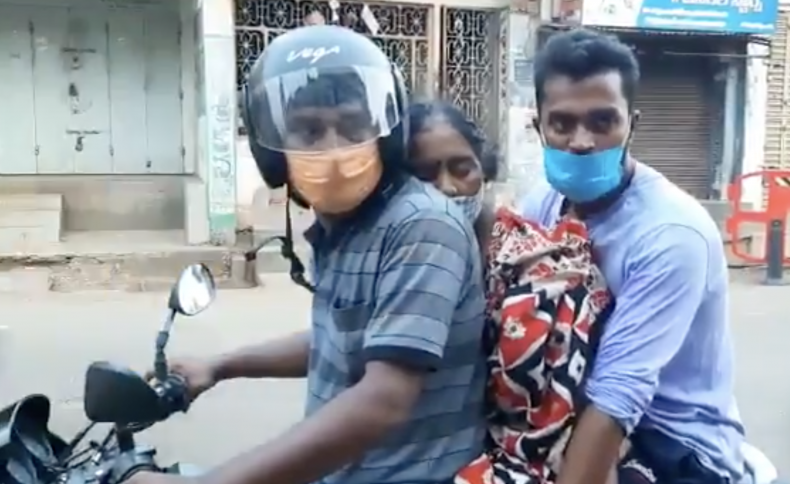 The video shows him talking to a police officer in Telegu while sitting on the motorbike. His mother's lifeless body can be seen seated between him and his brother-in-law, who sit on either side to keep her safely wedged between them.
The video is from Kasibugga town in the Srikakulam district of Andhra Pradesh, one of the five most affected states in India.
G Chenchula, 50, who was identified as the deceased woman, was a native of Mandasa Mandal Village in Srikakulam district of Andhra Pradesh, reported local news Great Andhra.com
She had COVID-19 symptoms before her death and her family took her to a private hospital on Monday to be tested. She was discovered to have a low oxygen level and doctors asked the family members to allow a CT scan.
After the CT scan, however, the family was sent home. G Chenchula died on the way. Later, the test results showed that she was indeed covid positive, according to ZeeNewsIndia.
After translation, the police officer can be heard in the video asking the man, "How did she die?" The man replies, "lack of oxygen."
Police follow up asking, "Where did she die?" They reply, "in Guntur" and said they are carrying her to Srikakulam.
Dr. Eric Feigl-Ding, an American epidemiologist who is currently a Senior Fellow at the Federation of American Scientists, tweeted the story yesterday, captivating thousands of horrified users online.
"Is this story unique? No. Crazier but not unique. Someone else carried their father's body by rickshaw because [there was] no ambulance they could afford," he tweeted along with another picture from Aligarh, Uttar Pradesh, which shows a man's body rested in the back of said rickshaw.
Due to uncontrollably rising Covid cases in India, he explained, hospitals and emergency services are overwhelmed, meaning fares for highly in-demand emergency vehicles like ambulances have skyrocketed.
Earlier in April, Delhi, the capital city of India, converted dozens of its hotels into Covid treatment centers in an attempt to mitigate the low availability of beds in hospitals. Just yesterday, India reported 323,000 new cases of COVID-19.
As per the data by the Ministry of Health and Family Welfare, more than 200,000 people have died of coronavirus, with 2,978,709 active cases and 17,997,267 (18 Million approx.) total infections.
Despite the alarming numbers, India is still hosting celebrations of Kumbh Mela, which started April 9 and ends May 8, and has continued its election rallies. These two events are considered superspreaders of the deadly coronavirus.