'Hearthstone' Ashes of Outland Release Time — When Can You Open Packs?
The Ashes of Outland Hearthstone expansion is almost out, giving players a chance to diversify their decks with some of the most powerful icons in all of Warcraft history. This 135 card set features the creature of Outland, a planet far away from Azeroth, full of demon scourges and mutated orcs. Here's when the set should be released as well as everything you need to know before opening packs.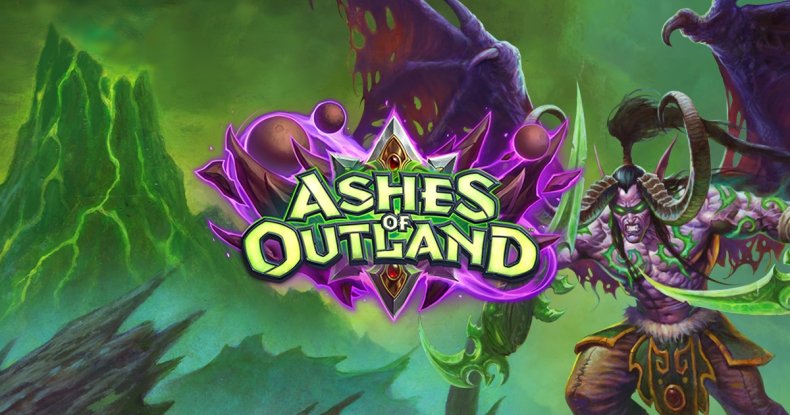 Ashes of Outland Release Time
Ashes of Outland releases on April 7, whenever the game's next patch drops. Usually, Blizzard adds these content patches at 1 to 2 p.m. EST. but glitches or bugs can keep the new expansion from getting delayed. With developers having to quarantine and work from home, servers might be a little rough during the first few hours. The last few expansions have had little issue, but if you see "wisps" are causing issues or the tavern is full error messages, it just means you'll need to come back later.
Here's a full list of cards from the expansion.
Ashes of Outland Demon Hunter
This expansion is the first in the card game's history to feature a new playable hero. Illidan the Demon Hunter introduces an entirely new play style into Hearthstone, allowing those aggressive with glaives and demons a chance at ladder superiority. The new Outcast keyword exclusive to the class gives cards an extra ability if they are played when they are in the right or left side of your hand.
In order to play as the Demon Hunter, you'll need to complete a prologue set of missions. These short but still interesting games take you through the story of Illidan, starting from his time as a mage and evolving through his Demon Hunter corruption before being imprisoned for 10,000 years. Hearthstone is a game that doesn't focus on the lore of Warcraft, but seeing this bit of world building does give you a better sense of who you are playing.
Ashes of Outland is the first expansion of 2020 and the Year of the Phoenix, introducing an entirely new set of cards to shake up the meta. Expect to see Warlocks, Paladins and Demon Hunters destroying the competition with decks on the ladder. If you haven't played Hearthstone before, now is an amazing time to get in. The whole meta will be shaken up, allowing for new play styles to emerge. With Legends of Runeterra going live in a matter of weeks, now is a great time to be a card game player.