Hearts Melt As Cat Tries To Get Involved With Golden Retriever's Play Date
A cat named Charlie, after Charlie Chaplin, has melted hearts all over the internet after a video of him forcing his canine brother and his mate to include him in their games went viral online.
The video shared on TikTok last Wednesday by the pets' owner, under the username Kate.recreates, shows Lincoln, the house golden retriever, playing with his friend who came to visit him for the day, as Charlie the cat interferes with them, forcing them to play with him.
The hilarious post comes with a caption that explains: "Our dog had his best friend over + our cat just wanted to be involved." Followed by: "He just wants to be like his big brother."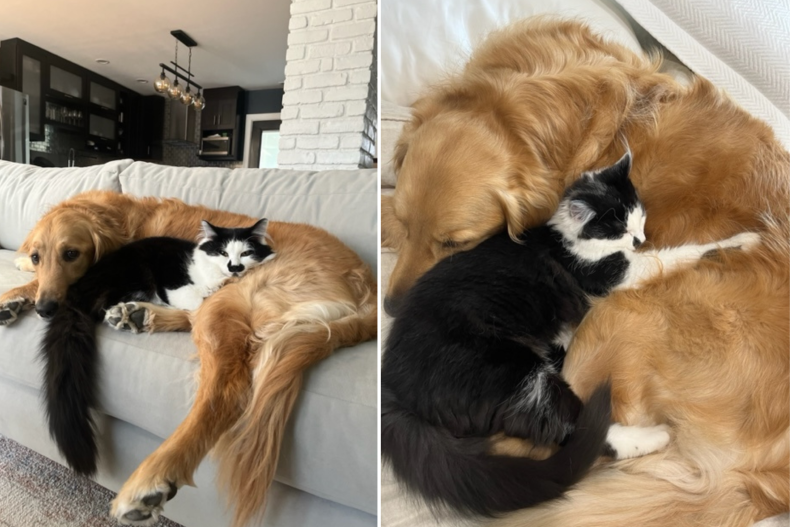 While popular belief says that dogs and cats are each other's worst enemies, this doesn't always have to be the case. According to the American Kennel Club (AKC), in fact, the two can live peacefully together with no issues whatsoever.
Their website states that most dog breeds can live happily with cats if introduced as puppies, although you should get the right breed as some are less friendly.
"Non-sporting dogs like the Bulldog would be a good match for your cat. Non-sporting dogs are companions first, and are not hunters by nature like some of the other groups. Bulldogs in particular are very easygoing and get along well with other pets."
At the same time, they say that some large breeds are not good with cats. The same goes for hounds, which were originally bred to hunt rabbits, are because of that they are most likely to get into trouble with cats because their hunting instincts are triggered by their sense of sight.
The dog's owner, Katelyn, told Newsweek that she adopted Lincoln, who will be four soon, in May 2019, and Charlie, who turned one a just few months ago, in February 2022.
She said: "We had a grown cat named Theodore when we got Lincoln as a baby and he basically just tolerated him. It was always my dream they'd have the relationship I see Lincoln has with Charlie. He unexpectedly passed away in September 2021 from stomach cancer at the young age of 7. I was pretty devastated. After about 6 months I saw Charlie's cute little mustache pop up on Petfinder and I just couldn't resist. I drove one-and-a-half hours out to meet him.
"Lincoln came with us on the road trip to pick Charlie up to help them get acclimatized before the big meet at home. Lincoln was so sweet and gentle with Charlie from the get-go. We bought a toy with a spinning butterfly on top and the first night Lincoln just laid there next to Charlie watching him play with the toy. Within days, Charlie was pouncing at Lincoln's tail and curling up next to him when they slept.
"Now they rough house every night. Lincoln is still so gentle and knows what Charlie can handle. Charlie always pushes the limits and just wants to be treated like the big dog he is in his mind. They are the sweetest duo and everything I ever hoped for!"
The video quickly gained popularity on social media, attracting animal lovers from across the platform, and it has so far received over 1.4 million views and 252,300 likes.
One user, sisifay, commented: "wait now I'm sad, pls say they played with him." And Jennie P said: "Omg the two paws up when the dogs are wrestling on the floor." Chewy added: "He NEEDS to be the center of attention at the next play date, will accept nothing less."
Chstncs wrote: "mom said you guys have to let me play." And Bunny said: "Charlie Chaplin dupe." RJK704 joked: "Take your brother with you."
Another user, HollyBuchholz2, commented: "He's like the younger sibling that your mom made you include." And KronicKat said: "He was lowkey coaching 'em." kristin wrote: "omg when he put both paws out I died he's so precious."
Update 3/14/23 4:08 a.m. ET: This article has been updated with comment from the OP, Katelyn, and new pictures.
Do you have funny and adorable videos or pictures of your pet you want to share? Send them to life@newsweek.com with some details about your best friend and they could appear in our Pet of the Week lineup.