Hearts Melt as Golden Retriever Tries To Copy Baby by Using Toy as Pacifier
A dog named Winnie pretending to carry a pacifier apparently because the owner's baby has one has left the internet in stitches.
In the clip shared on TikTok on Monday by the dog's owner, under the username Whitneyselbo, the golden retriever can be seen sitting on the sofa with her owner as it carries her rubber duck toy in her mouth seemingly attempting to use a pacifier like a baby.
The hilarious post comes with a caption that says: "My golden retriever saw that our newborn son had a pacifier so naturally..." Followed by: "She carries her new red rubber duck around the [house] like it's a pacifier. Talk about being a golden."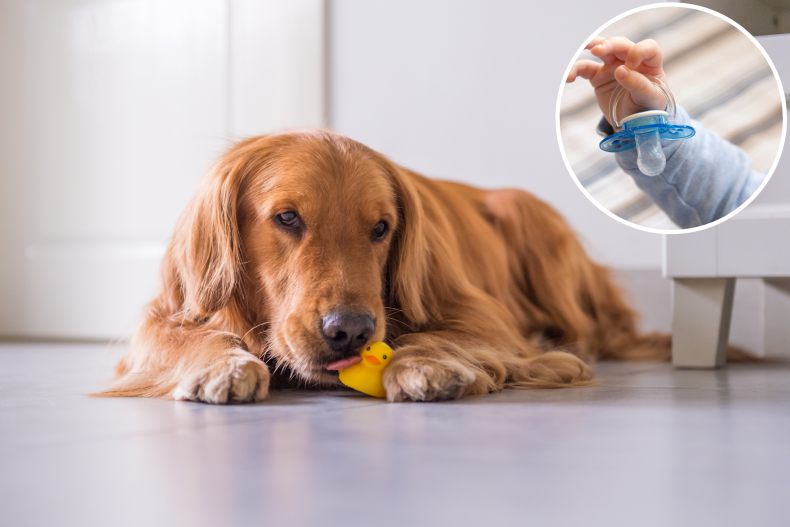 According to the People's Dispensary for Sick Animals (PDSA), golden retrievers can be fantastic with children, and when socialized properly from a young age, they can be quite calm and tolerant. The veterinary charity in the United Kingdom, also added that while they usually have a great temperament, it's best to always supervise your dog with children.
"Always supervise children and vulnerable adults with your golden retriever and make sure you can recognize the signs of unhappiness or anxiety in your dog to help avoid any conflicts. As with every breed, you should always teach children how to approach and play with dogs with care and kindness, to prevent any issues," the website states.
The video quickly gained popularity on social media attracting animal lovers from across the platform, and it has so far received over 974,100 views and 51,500 likes.
One user, user047134469, commented: "He said I am the OG baby." And speechbird21 said: "There's an amazing picture of my pug and I both sitting on the sofa with pacifiers in 1992." rfd536 added: "We had a dog that would hide our son's pacifier and then bring it back when he cried."
Meandthehoneybees wrote: "I'm jussa baby!" And sonia33933 said: "That's so cute but do make sure you count how many pacifiers you have. Saw a docu—a dog swallowed 20+ of these." Danellemn added: "Oh my goodness the sweetest and cutest thing ever."
Another user, Brittney Williams, commented: "Goldies are just the best!" And Savannah said: "My Yellow lab had a toy paci as a puppy and she loved it. She just holds it [in] her mouth and lays down lol." Allie B. wrote: "My golden started stealing my 7-week-old's pacifiers."
Newsweek reached out to Whitneyselbo for comment.
Do you have funny and adorable videos or pictures of your pet you want to share? Send them to life@newsweek.com with some details about your best friend and they could appear in our Pet of the Week lineup.