Hearts Melt As Golden Retriever Decides It's Time To Wake Up Sleepy 'Nana'
A dog named Cannoli has melted hearts all over the internet after a video of him excited to wake up his grandma so they could play with him went viral on social media.
In the video shared on TikTok on Sunday by his owner, under the username Goldencannoli, the Golden Retriever can be seen excitingly jumping behind the guest room door, eager to wake up his grandma and play with her.
The heartwarming post was captioned: "When grandma stayed the night last night and it's time to wake her up." Followed by: "WAKE UP NANA TIME TO PLAY."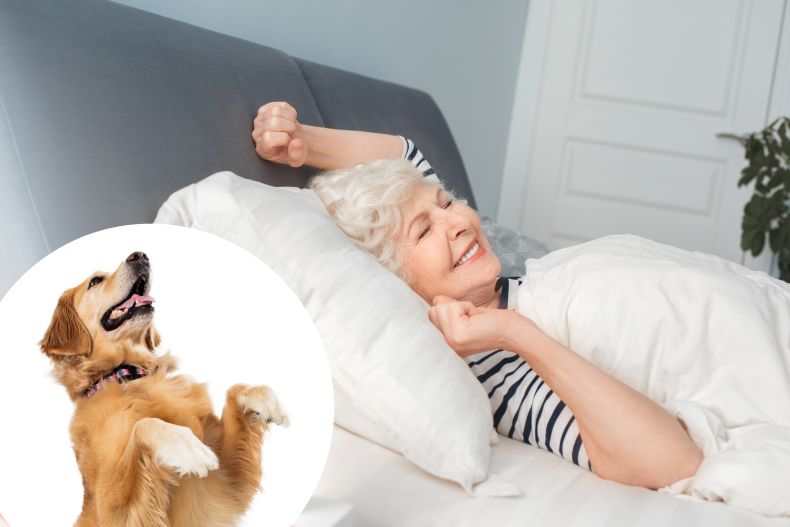 According to pet wellness experts Rover, dogs have a favorite person, and it's not always a primary caregiver. Dogs tend to bond with the person who gives them the most attention.
The Rover website stated: "In a family with two parents and two kids, the dog may favor the parent who fills their bowl every morning and takes them for a walk every evening. In addition, physical affection solidifies the bond between dog and person."
Cannoli's video exploits quickly gained popularity on the internet, attracting animal lovers from across the platform. It has received over 1.2 million views and 123,800 likes so far.
One user, Maddy, commented: "My friends in there." smitchell13 said: "Does Nana not know we have a full day of ACTIVITIES planned?" And corah_etc added: "My dog sits next to the guest bed silently staring until they show signs of life and then pounces lol."
Brian Bradley wrote: "Mine would've been in there sleeping with her." And _LNB_ said: "What is it with all dogs going crazy foe their grandmas?!!" Anne Marie added: "My dog has to sleep with his grandparents or no one gets sleep!!"
Another user, sunflowercs3623, commented: "Aww my golden has a nana he loves so much!" And Abigail Beauvais said: "I'd say my dog do the same, but if one of them isn't allowed to sleep over with gram, they would burn the house down."
Bash Footh wrote: "Our dog Hershey insists on sleeping with Grandma which is nice because I get a morning to sleep in a little bit."
Nicole McMahan added: "Haha this is my dog. Except she won't sleep the entire first night because she's so excited for morning ha." And Shannon Askren joked: "Please wake her up I need lovings."
Newsweek reached out to Goldencannoli for comment. We could not verify the details of the case.
Do you have funny and adorable videos or pictures of your pet you want to share? Send them to life@newsweek.com with some details about your best friend and they could appear in our Pet of the Week lineup.