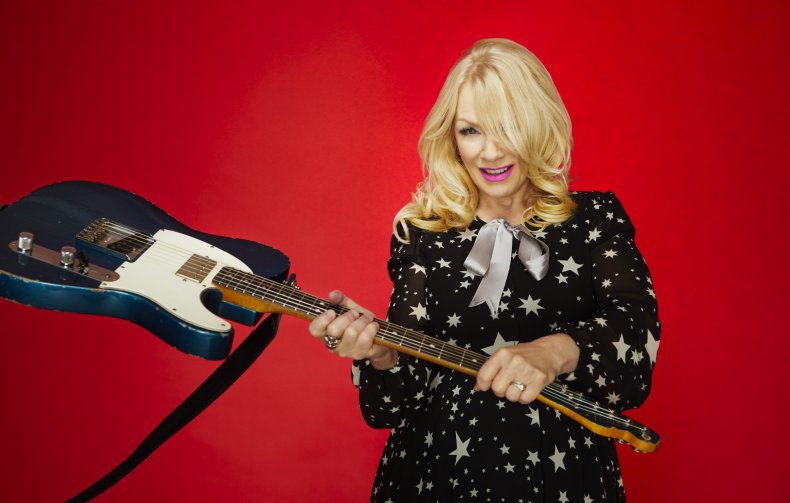 Guitarist and singer Nancy Wilson has achieved much in a professional music career now going on nearly 50 years. With her sister, singer Ann Wilson, she is best known as the co-leader of the hugely successful rock band Heart, which have sold 35 million albums worldwide and charted such hit singles as "Crazy on You," "Barracuda," "These Dreams" and "Alone." Outside of Heart, Wilson has also formed her own band Roadcase Royale with singer Liv Warfield, as well as composed music for such films as Almost Famous, Jerry Maguire and Vanilla Sky, all of them directed by her former husband Cameron Crowe.
But outside of a live album from 1999, the one thing Wilson had never done in her long tenure in music is release a solo record. That changes officially on May 7 when the musician will unveil her debut studio album You and Me, a collection of original and cover songs that not only features a core band of musicians whom she worked with in Heart, but also guests Warfield, the Foo Fighters' Taylor Hawkins, Guns N' Roses' Duff McKagan, and Sammy Hagar.
The pandemic interrupted every musical act's tour plans last year, but the time off the road gave Wilson an opportunity to work on what would become You and Me (Carry On Music). "It's been interesting how during a shutdown like we've been in," she tells Newsweek, "it's just a whole different attitude that you can have about being late for everything all the time. Heart's been hard working and touring, writing, recording. And so there's a blessing inside of the larger curse here with this shutdown going on, because it really afforded me the time to get close back into my own place where I am as a person."
You and Me was recorded mostly at her home studio in California, with the musicians doing their parts remotely--a process made possible through technology. "Knowing these players as well as I know them," she says, "because I've played with them all in Heart mainly for a lot of time--it was second nature knowing each other as players made a huge difference. To me it still sounds like we're all playing in the same room together, because we know each other's way of playing, we speak the same language as players. I think that if I hadn't known these guys so well as players, it would sound much different."
Fans will certainly recognize familiar elements of Heart's music on Wilson's solo effort for its mixture of rockers ("The Inbetween," "The Dragon," a dramatic rendition of Pearl Jam's "Daughter") and ballads ("Walk Away"). As indicated by its lovely and reflective title song, the lyrics both from the original songs and the covers (Bruce Springsteen's "The Rising," the Cranberries' "Dreams," and Simon and Garfunkel's "The Boxer") carry a very introspective and spiritual nature that befits the current times.
"There is a lot of aspirational messaging going on. It's sort of a deeper look at baring your soul a little bit here and there," Wilson says. "When you write, sometimes you kind of try to reach deeply into your own self and pull something out that might help people to relate to their own lives, to describe their own humanity, and the universal aspect of everyone's humanity together. There's a lot of variation going on in here. It's really personal."
Similar to that personal vein is the soaring power ballad "I'll Find You," which features songwriting by longtime Heart collaborators Sue Ennis and Ben Smith. "They had started that song together initially, and they had it laying around," says Wilson. "I was like, 'Wow, that's a really emotional song,' because it's a support-system friendship song where if somebody's lost their way, you're gonna be that friend who goes and finds them and rescues them. That one for me was really moving and I thought it turned out pretty perfect."
The raucous rocker "Party in the Angel Ballroom" is in the stylistic vein of Heart's classic stompers. "It's got sort of a '70s party vibe to it, too. I caught myself saying the other day, 'Oh wow, we've lost so many of these rock and roll angels, they must be having some kind of party up there at the Angel Ballroom.' And it's like, 'Hey, wait a minute. That's a pretty cool song idea.' Taylor [Hawkins did a bunch of work with me on that. Duff McKagan and Taylor had this jam that I took and turned it inside out and made the song out of it."
You and Me concludes with an acoustic guitar instrumental "4 Edward," a tribute to the late guitar god Eddie Van Halen of Van Halen, who Wilson knew back when their respective bands toured together in the 1980s.
"He complimented me on my acoustic guitar playing. I said, 'Why don't you ever play more acoustic?' And he said, 'I don't really have an acoustic.' I was like, 'What? Now, you do, here's one right here.' I gave it to him. Later at the crack of dawn, the next morning, he called my hotel room and played me a beautiful acoustic piece of music. It hit me.
"So then after he passed away recently, I was like, 'I better do something to tribute him,' because he was a sweetheart, and he played me that piece of music that I could never get over, which I hoped to someday hear again. I was trying to kind of approximate what I remembered from what he played for me over the phone. So that was my blueprint and my tribute."
Following the release of You and Me, Wilson is eyeing on performing live again this July with her musicians and the Seattle Symphony at the Benaroya Hall in Seattle, the city where the Wilson sisters grew up and Heart formed. "It's like, 'Why don't we just do a show and do a livestream of it and maybe get a couple more shows under our belts with various cities with the same charts with symphonies from those cities at performing art centers?' So that's the pipe dream right now. I can't wait to put it together and do it. It will be fun."
In a perfect example of symmetry, the upcoming release of Wilson's first proper solo release comes on the 45th anniversary of Heart's debut album Dreamboat Annie (featuring "Crazy on You," "Magic Man" and the title track), kicking off the band's storied rock and roll career. "Time is really, really deceptive, because it seems like yesterday. It's really a cool album. We were so doggedly determined to have our way in the land of rock and roll. We were kind of an anomaly at the time, being sisters, women, leaders and songwriters. So we were just young enough to be brave enough to do it that way."
In the decades since Dreamboat Annie, amid band personnel changes and periods of reinvention, Heart are still fronted by Nancy's electric and acoustic guitar playing, Ann's singing, and the duo's songwriting. Wilson attributes Heart's longevity to the sisters' persistence, having grown up in a military family. "Our family was all very musical," she says. "We came by it pretty honestly to become musicians and start a band, and try to be like the Beatles as much as possible. We really were lucky to have the musical upbringing and have the really basic understanding of how music is put together, like what the structure of music, harmony singing and chord changes are about. It was a beautiful, lucky thing because we were already prepped and steeped in the musical life before we even tried to become a band."
Through hit albums and singles and heavy touring, Heart, who were inducted into the Rock and Roll Hall of Fame in 2013, provided a path for future generations of female rock artists in the male-dominated music industry. "We never really thought of it that way. at the beginning," Wilson says. "We thought we could just do this because we want to. We were just kind of tomboys, apple-cheeked sisters from Seattle, Washington. I was like the flower child and [Ann] was a hippie chick. And we just kind of did it. Later on, I see people are like, 'How did you do that?' 'Why did you do that?' 'How did you know you could do that?' I was like, 'Nobody told us we couldn't, either.' So it's an interesting way that came about just naturally."
With You and Me finally coming out, she hasn't ruled out putting out another solo record sometime in the future. "After all this time, I know: 'What took you so long?' I guess I was stuck in traffic for a couple of decades there. I already have a couple of more songs under way, but I think this one [You and Me] is what it is for now--kind of let it live its own little lifespan and then maybe keep going. Once you kind of get warm, you don't want to lose the momentum of that. You want to keep trying to be creative and keep stuff coming.
"It's really gratifying," she continues, "It's a satisfying thing to be able to be creative, especially when there's not a whole hell of a lot else going on, except for staying at home. It's a perfect use of creative time and space."