Who Plays Nick Nelson's Mom in 'Heartstopper'?
Netflix's adaptation of Alice Oseman's Heartstopper landed on the streaming platform on Friday, April 22.
The series follows the blossoming romance between British teens Nick Nelson (Kit Connor) and Charlie Spring (Joe Locke) after they become friends when the former asks the latter to join the school rugby team.
And while the teen drama features a number of newcomers in the lead roles, it also has some unexpected A-list stars in the cast too.
Here is everything you need to know about one such famous cast member who plays Nick's mom.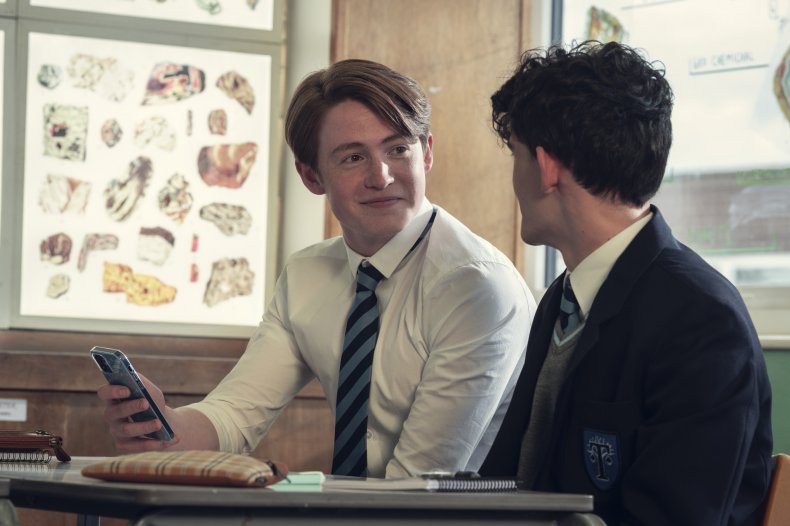 **Warning: This article contains minor spoilers for Heartstopper**
Who Plays Nick Nelson's Mom in 'Heartstopper'?
While the Netflix show revealed most of its cast ahead of its release, one character's casting that remained tightly under wraps until the drama officially came out was Nick's mom, Sarah.
This is because she is being played by none other than Olivia Colman.
Nick's mom is a huge support to her son as he navigates life as a teenager and the messy emotions that come with this period in his life.
She's there when he needs her most, and comforts him when he tells her all about his relationship with Charlie and how he has realized he is bisexual. Sarah's nurturing nature is perfectly encapsulated by Colman onscreen.
Colman previously worked with Heartstopper director Euros Lyn on ITV's hit crime drama Broadchurch and this is how she came to be a part of the Netflix series, original comic book creator Alice Oseman told Newsweek.
Reflecting on casting The Crown star in the part, Oseman said: "So, when we were discussing casting Nick's mom the idea was raised to cast a big name as [Sarah Nelson] and I thought this was a ridiculous idea.
"I thought there was no way that any famous person would want to be on this show. But, we came up with a list of potential actors that we could ask, and Olivia Colman was our favorite.
"So, we sent her some excerpts from the scripts and some excerpts from the comics as well. I think it was Euros who reached out to her because he had worked with her before and still, at this point, I thought there was absolutely no way she was gonna say yes. But she said yes, miraculously."
Oseman added that she still couldn't "believe it" that Colman had agreed to be a part of the show, but that she was grateful to have her on board.
Heartstopper is out on Netflix now.