Heartwarming Clip of Senior Cat Finding Forever Home Viewed Nearly 2M Times
A woman's video sharing her experience of adopting a senior cat has gone viral on TikTok, amassing nearly 2 million views since being posted.
The video, posted to the TikTok account of @tiffpeter and amassing more than 400,000 likes and 16,000 comments, opens with a shot of the senior cat curled up in a pet store crate.
"I couldn't stop thinking about him," the text over the video reads. "So I decided to do the online application to adopt him."
Many people interested in adopting a pet typically lean more toward kittens or younger adult cats. However, as pointed out by The Spruce Pets, there are many reasons to adopt an older cat.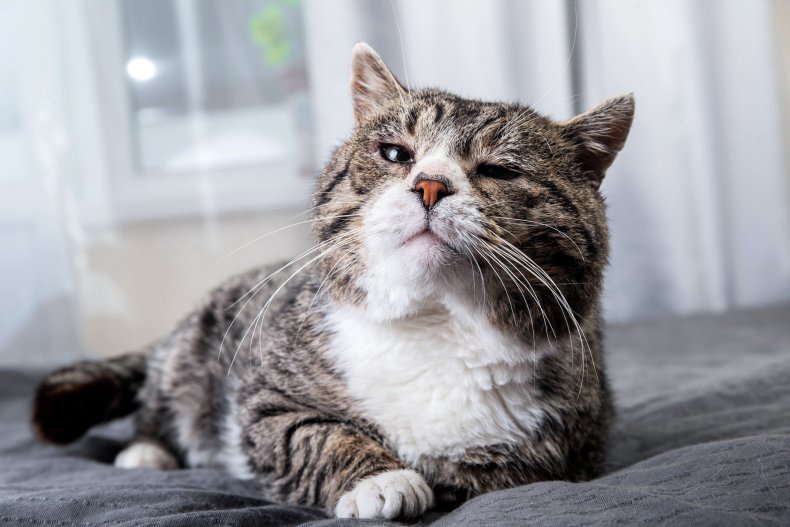 The TikTok video continued and revealed that @tiffpeter's application was approved.
Another shot in the video shows the moment that the cat—named Peter—is introduced to his new forever home.
Peter is seen walking around and exploring his new home, staring out the window and playing before the video ends with a shot of him sleeping peacefully.
Some of the benefits of adopting an older cat include the fact that older cats are cleaner, they may cause less trouble and they may be better suited for children, according to The Spruce Pets.
"Older cats are less likely to be adopted and run the risk of living out their lives in a shelter or foster home or even being euthanized if they don't get a home," the piece adds.
@tiffpeter posted a follow-up video thanking viewers for the positive comments that were shared on the previous TikTok.
Many commenters were touched by the heartwarming adoption story and shared their delight in the comments section.
"I'm not crying, you're crying," @kiddo65803 wrote.
Other viewers thanked @tiffpeter for adopting an older cat.
"It makes me so happy you adopted an elder cat," @newfieme wrote.
"I love senior kitties," @jodimull commented. "We adopted a 13 year old a few months ago who lost her owner to a stroke."
Wrote @jbakr74, "Senior pets absolutely have the most love to give! Welcome to your furrever home kitty. I hope you live your best life from here on out."
Newsweek reached out to @tiffpeter for further comment.
Many pet adoption stories have tugged on people's heartstrings.
Newsweek previously reported that the oldest cat in a North Carolina animal shelter was adopted by a 101-year-old woman, which was described as a "match made in heaven."
The 19-year-old cat named Gus was taken to the Humane Society of Catawba County when his owner could no longer keep him. At that time, a 101-year-old woman named Penny was looking to adopt an elderly cat. Penny's family went to the center and asked about adopting one, noting that they would take care of the cat on behalf of Penny.