Heartwarming Moment Puppy Is Surprised by Owner Who Adopted Her Brother Too
In the adorable TikTok footage shared by Nicole Mannix (@nicolee_music), her puppy can be seen wagging her tail as she spots a familiar face: her littermate is standing by the front door.
Mannix scoops him up and places him on the floor, while her dog waddles over to sniff her sibling's face.
In the next clip, she playfully paws her brother's face while he sits on Mannix's lap. In the final scene, the two are snuggled together on Mannix's knee, looking perfectly content.
Captioned "Surprising our puppy with adopting her brother too," the video has received more than 580,000 views and almost 50,000 likes.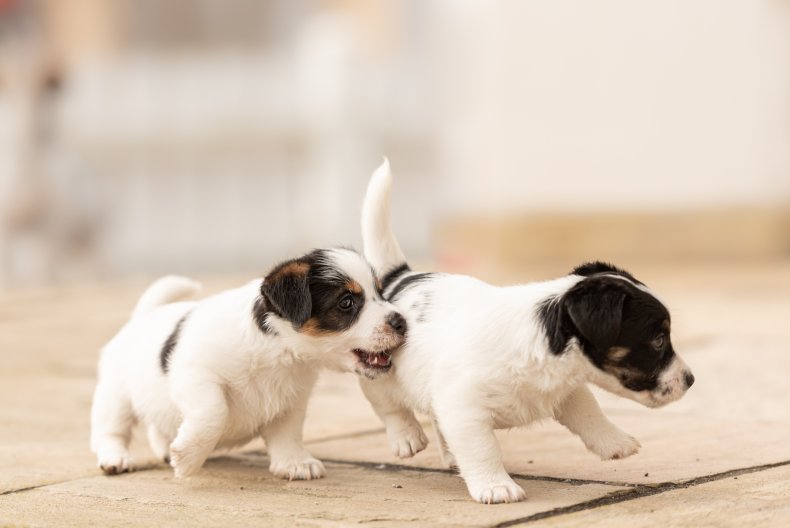 Can Dogs Recognize Their Biological Siblings?
According to Leigh Siegfried, CEO and founder of Opportunity Barks, dogs do recognize their biological siblings.
"There's a bond and a connectedness, but most of these animals tend to scatter to the wind around 8 to 10 weeks of age," Siegfried told Newsweek.
However, Ali Smith—dog trainer and the CEO and Founder of Rebarkable—said that adopting two puppies from the same litter can cause problems.
"Even getting two dogs who are very similar in age from different litters can be an issue," Smith told Newsweek.
Although having two puppies means they can entertain each other, the animals are also significantly more likely to fight, something Smith calls "littermate syndrome."
"The negatives far, far outweigh the positives," Smith said. "The fights can escalate very quickly, and the dogs have a very low tolerance of each other."
Conversely, over-attachment can also be a problem when two littermates are adopted together.
"People think that, by adopting two dogs, their pet will always have a buddy," Siegfried said.
"But, ideally, if they live with another dog, it should be older. If you do get two littermates, make sure you are rearing them as individuals, so they are not hyper-bonded to each other and suffer separation anxiety."
'This Melts My Heart'
The day before sharing the sibling reintroduction on TikTok, Mannix posted a video of her dad meeting his new puppy for the first time. She had decided to surprise him with a new pet, after his dog of 12 years recently passed away.
However, the following day, they went back and adopted their new pet's littermate, so the pair could grow up together.
TikTokers couldn't get enough of the duo, with nina sort writing that it was "the best decision ever."
"This melts my heart," posted user1655334224992, while di commented, "Such a beautiful sight."
"I was not ready for this level of cuteness," joked Ajsjskkwjj. "I'm crying," wrote Hi TikTok.
"You are such a good people," commented Safrinneke, while Melliesbff posted: "This is so sweet.. "
Newsweek reached out to @nicolee_music for comment on TikTok.
Do you have funny and adorable videos or pictures of your pet you want to share? We want to see the best ones! Send them in to life@newsweek.com and they could appear on our site.