Heartwarming Video Documents 23-Year Friendship Going Strong: 'Brotherhood'
Two best friends have gained viral attention online after sharing a video that showcases their heartwarming and decades-long friendship.
Kory Kuhl and Jordan Francis have been best friends since they were seven years old, when they met at Sunday school at New Life Baptist Church in San Antonio, Texas.
In a now-viral video that has been shared across the internet, the pair put together a montage of pictures from when they first met in 1999, right up to a recent picture from 2022.
The video found viral attention on Facebook after it was shared by Kory Kuhl, receiving more than 14 million views. It was later picked up and re-posted on Reddit's r/MadeMeSmile subreddit where it has received more than 76,000 upvotes and hundreds of comments.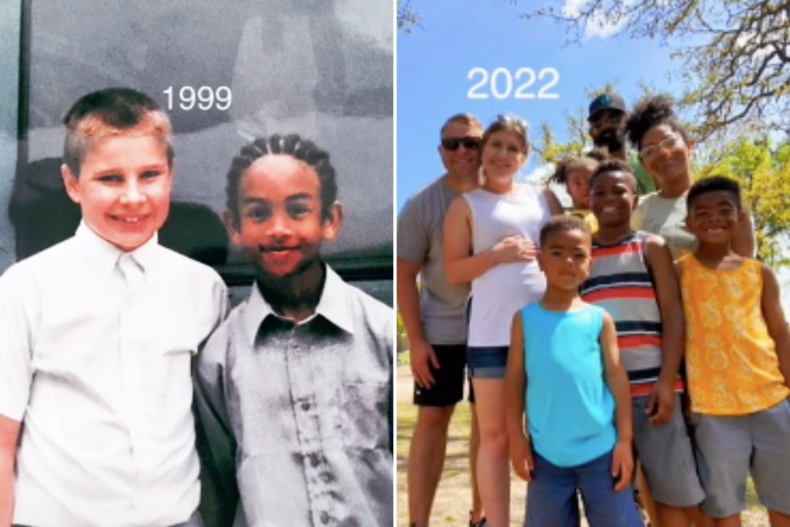 "How awesome to meet your other person so young," said one commenter. While another Reddit user wrote: "This is adorable. To our best friends!"
Francis, 29 years old, recalled the pair's first meeting and told Newsweek: "We became friends instantly. I was wearing a cast on my left arm, Kory asked me how I broke my arm, I told him riding a pony.
"He later informed me that he just had a cast removed from his right arm from falling from a basketball hoop—and that is where our friendship began."
"We've been best friends ever since," said Kuhl.
The pair's long-lasting friendship could be seen as something of a rarity.
In 2021, the May American Perspective Survey noted the gradual decline in male friendships over the years. They shared that thirty years ago, 55 percent of men reported having at least six close friends, but today that number has been cut in half with just 27 percent of men saying they have six or more close friends.
Meanwhile, 15 percent of men say they have no close friendships at all, a five-fold increase since 1990.
This downward trend in male friendships is particularly concerning for young people who often rely on friends for emotional and personal support. The survey found that young men today are more reliant on their parents than their friends, with only 22 percent saying they lean on friends in tough times and 36 percent reporting that their first call is to their parents.
But for these friends, their close relationship has been a constant: "It's never really felt like a huge deal to me," said Kuhl. "We've just always been brothers through thick and thin. There was never a time that I thought we wouldn't be best friends forever.
"We used to talk about growing up and starting families of our own and our families spending time together, hanging out, having cookouts. It's amazing and surreal that we are there now."
"It's really more than a friendship, it has grown into a brotherhood. Something that not only benefits us two but all those around us," said Francis.
"Beautiful friendship and beautiful families. God bless you both," wrote another commenter on the viral post.
While the pair now live further apart than they would like—around four hours —but they are still incredibly close and catch up frequently.
Thrilled by the viral attention the video received, Francis said: "It is amazing to see the positive effects of the video. We hope this video is an encouragement for people to look past a person's exterior and appreciate them for who they are."
"It's unbelievable," said Kuhl about the viral reaction. "I'm so glad it did go viral though, we live in such hard times and there is so much hate in this world. I'm just glad that we could share our story of brotherhood and show the world that we can all love each other."
UPDATE 06/1/22 10:45 a.m.: This story was updated to mention the viral response to the video after it was first posted on Facebook by Kory Kuhl and gained 14 million views.