Heartwarming Video Showing Disabled Cat Taking Its First Steps Viewed 10 Million Times
Koby, a 1-year-old cat living with cerebellar hypoplasia, has captured the hearts of millions. And a new clip, found here, showing the kitty try out his new set of wheels, is no exception, racking up millions of views in a matter of days.
According to VCA Animal Hospitals, cerebellar hypoplasia is a neurological condition "in which the cerebellum of the brain fails to develop properly." Because the cerebellum is responsible for "fine motor skills, balance, and coordination," it can impact a cat's movement and coordination. While the condition is not painful for cats, it can not be cured—meaning that felines with cerebellar hypoplasia often require accommodations.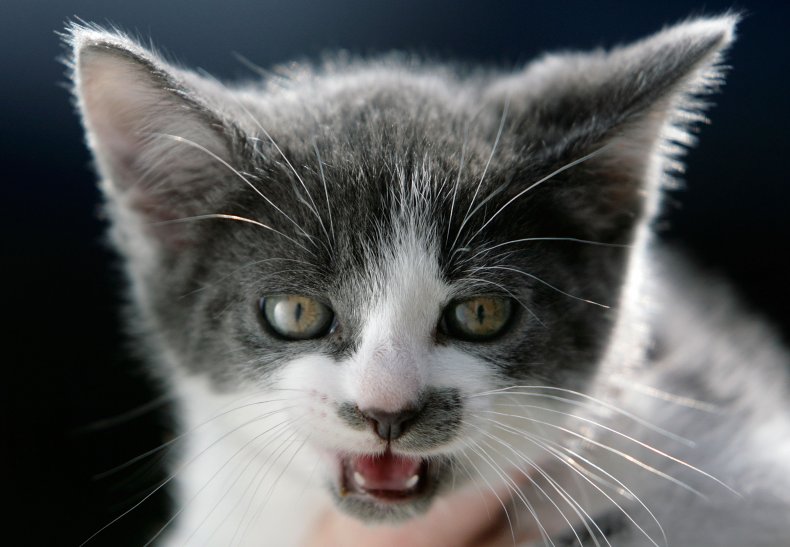 Koby, featured in the TikTok account @boscoandkoby, is one such cat. Wrote owner Kirsten Gogan in a GoFundMe page, organized to fund Koby's wheels: "He lives a well-loved, pain-free, adventurous and wobbly life. He's touched the hearts [of] many after going viral on [TikTok] and even making the local news."
"Koby has also struggled to grow, maxing out at 2lbs 14oz. He's proportional and healthy and always gets good [reports] back from the vet," she added. "At this time, we feel Koby is not going to grow much more. Which means he's ready for his big boy wheels!"
The wheels, she noted at the time, would allow the cat to participate more fully in some of his favorite activities: "​​Obtaining a set of wheels would mean that Koby could zoom around the new house and our new fenced in backyard chasing his brother ... and his favorite feather toys. He could get therapeutic exercise and practice his walking that he LOVES to do. Currently these things bring out the 'zoomies' in Koby, but he's always left spinning in a circle and not being able to keep up."
The video of Koby's "wheel debut" was posted late last week and has since been viewed just under 10 million times. The first shot shows Koby being fitted into his device, which features four wheels to aid his mobility. Then, viewers see Koby taking his first steps with the help of the new equipment.
The TikTok community flooded the video with support—at the time of writing, it has amassed 2.3 million likes and over 50,000 comments.
Several viewers voiced their support not only to Koby, but to Gogan, for taking such good care of the cat and his needs.
"I'm sure you've already heard this but thank you for not giving up on him and giving him a home," wrote one commenter. "He still deserves the world."
Countless more wrote that the video left them "crying" tears of joy.
Newsweek has reached out to @boscoandkoby for further comment.