Heat Wave Continues Across U.S. as Death Toll Climbs
The heat wave that has gripped eastern parts of the U.S. and Canada has caused the deaths of scores of people, with tens of millions warned the high temperatures look set to stay for the next couple of days.
The extreme weather is already thought to have resulted in nearly half a dozen heat-related deaths across the U.S., and officials in the Canadian province of Montreal linked it to the deaths of at least 15 people.
Following the spike of deaths, Montreal health officials raised the city's response level to "intervention" from "alert" after a surge in the calls to the government's health information line and ambulances, reports Reuters.
Dr. Mylene Drouin, Montreal's public health director, told CBC that officials are desperate to avoid a repeat of the 2010 heat wave, which caused 106 deaths.
"We see clearly that we're at the beginning of increases, which will continue to go up over the coming days," Drouin said.
At least five people have died in the U.S. due to the heat since the weekend, including an elderly man in New York City and a woman who went into cardiac arrest while working in her garden in Pennsylvania.
A 30-year-old man also collapsed running a race in Wilmington, New York, after his internal temperature reached an estimated 108 degrees Fahrenheit, reports CNN.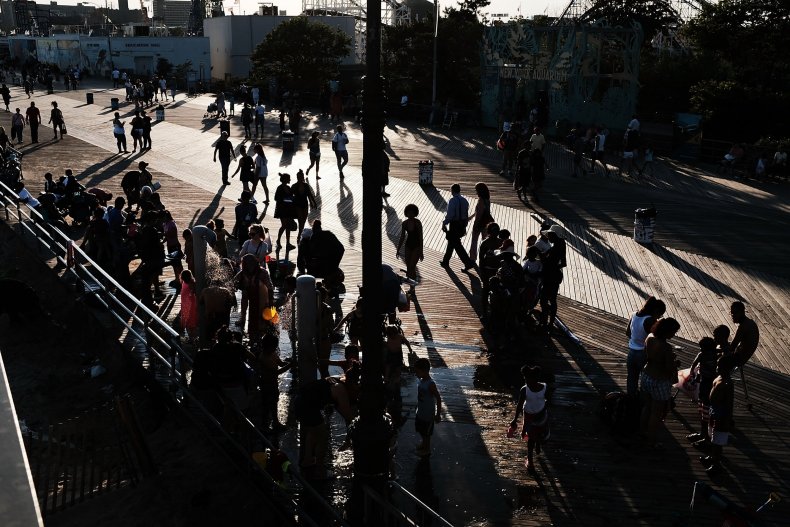 Despite being a city known for its high temperatures in the summer, New York's National Weather Service said experiencing at least seven days of temperatures exceeding 90 degrees Fahrenheit is an event that only occurs around once every 33 years.
Elsewhere, in Missouri, the Kansas City Health Department confirmed the Jackson County Medical Examiner has been informed of a second possible heat-related death involving a man in his 80s following the death of a woman in her 40s towards the end of June.
Following warnings across several states of the potential for a Fourth of July heat wave, forecasters say relief is on its way as a change in weather pattern will sweep away the humid conditions, bringing temperatures back down to its seasonal average.
Cities such as Washington, D.C., Detroit and Philadelphia are expected to see temperatures fall around 10 degrees Fahrenheit, to the low 80s by end of the week.
"The dome of high pressure aloft causing the recent heat is beginning to retreat westward, which will allow a cold front to sweep through the Midwest and Northeast, a Weather Channel forecast states.
"That front will scour away the moisture-laden atmosphere and usher in lower humidity by late this week or the weekend."