Heat Wave Kills at Least 65 in Pakistan as Ramadan Temperatures Soar Over 110 Degrees
Dozens of people have died in Pakistan in a heat wave that is expected to continue for several more days.
The soaring temperatures reached as high as 44 degrees Celsius (111 degrees Fahrenheit) and coincided with the start of Ramadan, during which fasting Muslims refrain from consuming food and liquids in daylight hours.
Up to 65 people are said to have died from heatstroke in the southern city of Karachi since the weekend, according to the Edhi Foundation charity that runs the city's central morgue. The charity said that most of those who died were working class, both young and old, from poorer neighborhoods.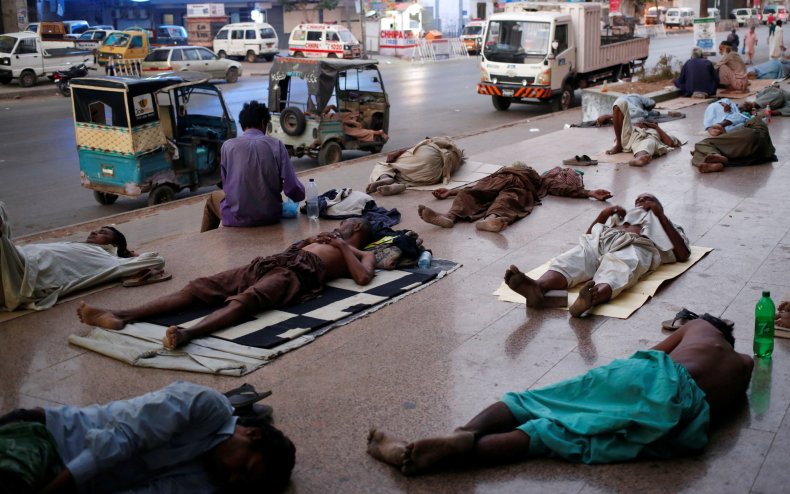 "They work around heaters and boilers in textile factories, and there is eight to nine hours [of scheduled power outages] in these areas," the charity's head Faisal Edhi told Reuters.
Authorities have called on people to stay inside and drink more water. Fazlullah Pechuho, the health minister of Pakistan's Health Sindh Province, denied the number of deaths, telling the Dawn newspaper: "I categorically reject that people have died due to heatstroke in Karachi."
Parts of the city of 15 million people have also been hit by power cuts. A similar heat wave three years ago killed at least 1,200 people, most of whom were elderly, sick and homeless. The numbers of dead then overwhelmed morgues and bodies were left decaying outside.
Local architect and urban designer Suneela Ahmed blamed the lack of green cover in the city, telling CNN that the "lungs of the city have been demolished." Ahmed added, "With the extremity of these issues and no initiative to address them, in 15 years this city won't be livable."
The heat wave has also hit parts of central and northern India, and forecasters expect temperatures to stay above 40 degrees Celsius (104 degrees Fahrenheit) until Thursday.