Heat Wave Reveals German Mines, Grenades and Live Explosives Submerged Since World War II
As Europe wilts under the most intense heat wave for many years, residents in the eastern part of Germany are facing an additional hazard—World War Two explosives uncovered by retreating water.
German police have warned people living in the states of Saxony-Anhalt and Saxony that low water levels in the Elbe River are uncovering deadly treasures in multiple locations, Deutsche Welle reported.
So far, 22 grenades, mines or other types of explosives have been found this year. Grit Merker, a spokeswoman for Saxony-Anhalt police, said the authorities "ascribe that to the low water level. That's pretty clear."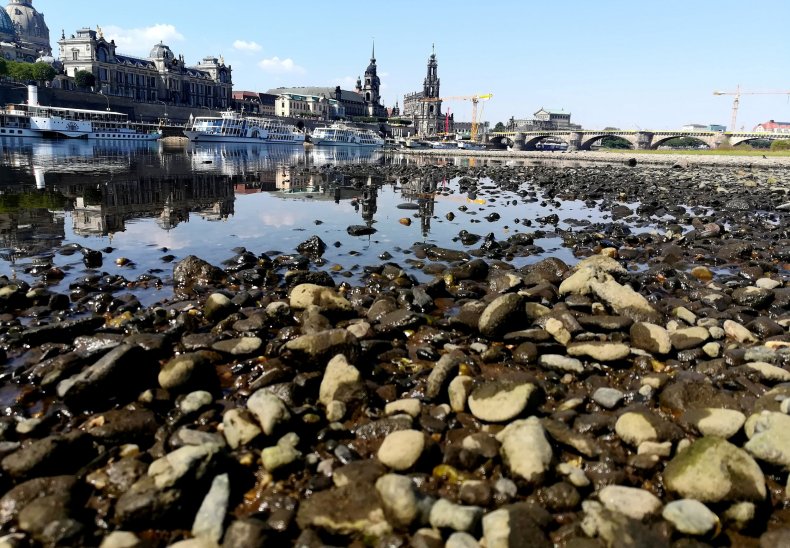 This week, the water level of the Elbe fell as low as 20 inches in Magdeburg, just above the historic low of 18.8 inches recorded in 1934. July has been Germany's hottest month since records began, and July 31 was the warmest day on record, temperatures hitting 103 degrees in Saxony-Anhalt.
When explosives are found, Merker said people are always warned to report the materials and to stay well away from them. Then, explosives specialists can either transport the deadly find or—if they are too unstable—detonate them in place. Though 70 years on the river bed surrounds the bombs with a protective layer of sediment, police always urge caution first and foremost.
But some people apparently do not quite understand the danger of military-grade explosives. Saxony police spokeswoman Wibke Sperling told Deutsche Welle, "Today there was a photo in a newspaper of someone holding up pieces in their hands. That is a classic example of what gives weapons disposal experts a fright."
Unexploded ordnance is common in Germany, where some of the most brutal fighting of World War Two took place. The most destructive war in human history, the remnants of battle still litter the country. From the air alone, British and American air forces dropped 2.7 million tons of bombs on Germany between 1940 and 1945, and that is before ground combat on two fronts is taken into account.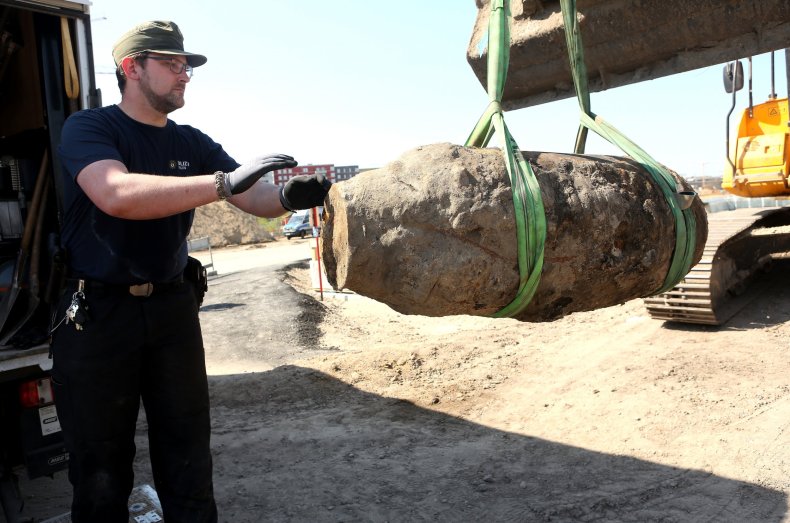 The Elbe stretches from the Czech Republic all the way to the North Sea coast, traversing battlefields where millions fought. Like the rest of Germany, it carries mementoes of the country's tragic history, and many munitions were dumped into the river at the close of the war. On Saturday, for example, two anti-tank mines found in the Elbe were blown up as they were considered too dangerous to move.
While urging caution, Merker said the discoveries were not a surprise. "I don't think people from the weapons disposal service find it a glaring anomaly," she said.
Around 5,500 unexploded munitions are discovered in Germany each year, with a daily average of 15. Most are bombs dropped by aircraft. It is estimated there are around 100,000 unexploded bombs buried around Germany, each with deadly potential. Police often have to evacuate large numbers of people while uncovered bombs are cleared. The largest post-war evacuation took place in Frankfurt in 2017, when 70,000 people had to leave their homes to allow authorities to defuse a 1.4 ton British bomb.