Many states in America will experience a heat wave this weekend, and the high temperatures can be more than a nuisance. Ahead of the potentially dangerous heat, government officials and organizations are encouraging people to get prepared.
Temperatures across the Central and Eastern United States are expected to break or tie records and many areas are forecast to experience temperatures above 100 degrees. Ahead of the heat wave, which was predicted to last through Monday, the National Weather Service (NWS) issued a number of heat advisories and warnings.
Parts of 15 states were under an excessive heat warning on Thursday, including, Illinois, Indiana, Kansas, Kentucky, Michigan, Missouri, Nebraska, New Jersey, Ohio, Oklahoma, South Dakota, Tennessee, West Virginia and Wisconsin. A heat warning is issued when a prolonged period of dangerously hot temperatures will occur.
The combination of hot temperatures and high humidity will create a "dangerous situation" that makes heat illnesses likely.
Along with the heat warning, other parts of Illinois, Kansas, Kentucky, Michigan, Missouri, Nebraska, Oklahoma, South Dakota, Tennessee, West Virginia and Wisconsin were under a heat advisory. Additional states that were issued heat advisories were Alabama, Arkansas, Iowa, Minnesota, New Mexico, North Carolina, Texas and Virginia.
A heat advisory is slightly different than a warning in that it's possible that heat illnesses could occur. People are still advised to drink plenty of fluids, stay in air conditioning and out of the sun. It's also recommended that people check on their friends and neighbors.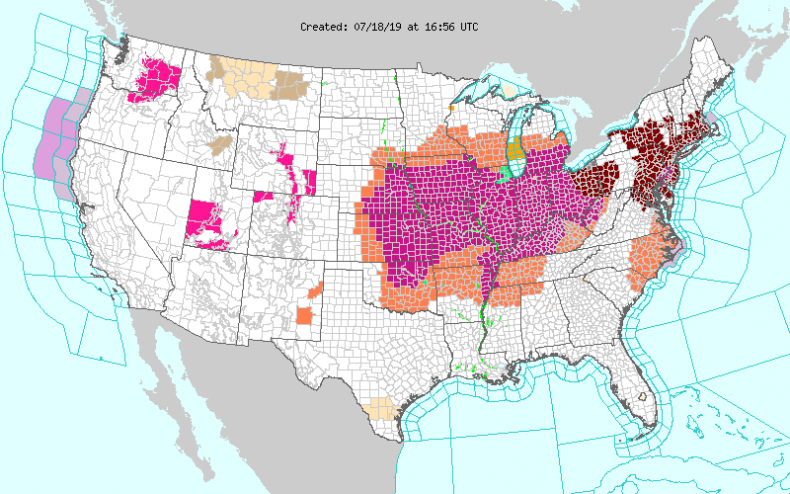 How to Stay Safe During a Heat Wave
To prepare for excessive heat, the NWS issued a number of tips for people to stay safe:
Slow down: reduce, eliminate or reschedule strenuous activities until the coolest time of the day.
Stay in the coolest available place.
Wear lightweight, loose-fitting, light-colored clothing to reflect heat and sunlight.
Eat light, cool, easy-to-digest foods such as fruit or salads.
Drink plenty of water (not very cold), non-alcoholic and decaffeinated fluids, even if you don't feel thirsty.
Use air conditioners or spend time in air-conditioned locations such as malls and libraries.
Use portable electric fans to exhaust hot air from rooms or draw in cooler air.
Minimize direct exposure to the sun. Sunburn reduces your body's ability to dissipate heat.
There are a number of illnesses that can be caused by heat, including heat exhaustion and heatstroke. While heat exhaustion can often be remedied by getting to a cool place, drinking water and taking a cool shower, heatstroke requires medical attention.
Heat Exhaustion vs. Heatstroke
With both heat exhaustion and heatstroke, people may experience nausea or vomiting and a rapid pulse. However, with heatstroke, the pulse will be strong, not weak. Other signs of heatstroke are a throbbing headache and the person may lose consciousness.
Two major differences in symptoms of heat exhaustion and heatstroke are the characteristics of a person's skin and their sweat. During heat exhaustion, the person will experience excessive sweating and have cool, pale, clammy skin. Whereas with heatstroke the person won't sweat and will have red, hot, dry skin.
If a person is experiencing symptoms of heatstroke, immediately take action to cool the person down and call 9-1-1.
Excessive heat can also cause blackouts so preparations should also be made in the event of a power outage. During an outage, air conditioning won't be available without a generator. During an excessive heat wave, a lack of air conditioning can be deadly, so in the event the air conditioner fails to work, move to a local cooling center if they've been established.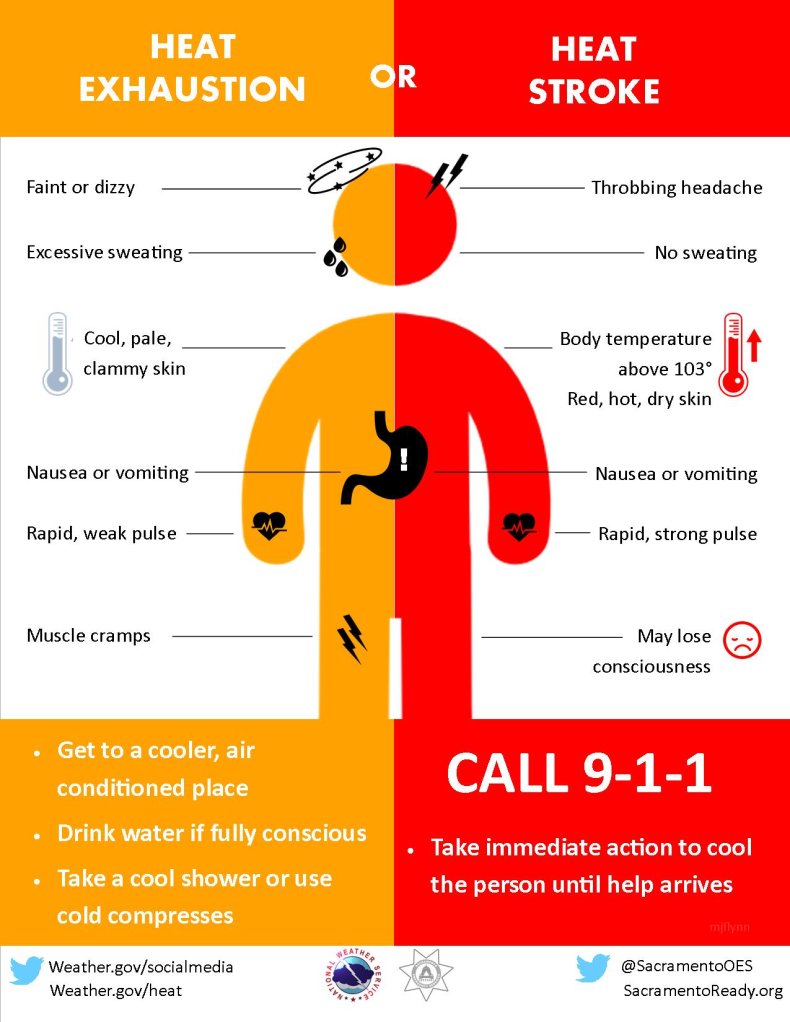 Using a Generator
The American Red Cross also issued a set of guidelines for staying safe during a blackout. If using a generator, be sure it is kept dry to prevent electrocution and away from partially enclosed areas because it can cause carbon monoxide poisoning.
There are multiple sizes of generators available for purchase and it's necessary to have one that produces more amps than are necessary. To decide which generator size is best, the Red Cross recommended a person:
Add up the power requirements of the appliances and devices that you wish to use
Add the wattage of all the light bulbs you will want to use
Find the total amps needed by dividing watts by volts
Along with Amazon and Walmart, many hardware stores, including Home Depot and Lowes, will usually sell generators.
It's also important to have an emergency kit in the event of a blackout and the Red Cross recommended including:
One gallon per person, per day (three-day supply for evacuation, two-week supply for home)
Food: non-perishable, easy-to-prepare items (three-day supply for evacuation, two-week supply for home).
Flashlight
Battery-powered or hand-crank radio (NOAA Weather Radio, if possible)
Extra batteries (Similar item available in the Red Cross Store)
Deluxe family first aid kit
Medications (seven-day supply) and medical items
Multi-purpose tool
Sanitation and personal hygiene items
Copies of personal documents (medication list and pertinent medical information, proof of address, deed/lease to home, passports, birth certificates, insurance policies)
Cell phone with chargers (Similar item available in the Red Cross Store)
Family and emergency contact information
Extra cash
Emergency blanket
Map(s) of the area
While nighttime can sometimes bring relief from the heat, the NWS forecasted that would not be the case this weekend. Overnight temperatures were expected to be in the mid to upper 70s and even 70 degrees, breaking records for high minimum temperatures. In addition to heat, the NWS said people could expect scattered thunderstorms and even flash flooding.