Excessive Heat Warning in Four States Due to 'Dangerously Hot Conditions'
From Nebraska to Virginia, and from Wisconsin to Mississippi, scorching temperatures have been reported across the nation on Wednesday, with more than 100 million people—most of whom located in the Midwest and the South—affected by the heat wave or under excessive heat warnings.
Record high temperatures have been registered in several cities—and weather forecasts say even higher temperatures are yet to come. In some regions, temperatures are still expected to reach 110 degrees.
Seventeen cities had reported record-high temperatures for June 15 by Wednesday evening, including Chicago (96 degrees), Atlanta (99), Lansing, Michigan, (95) and Macon, Georgia (104).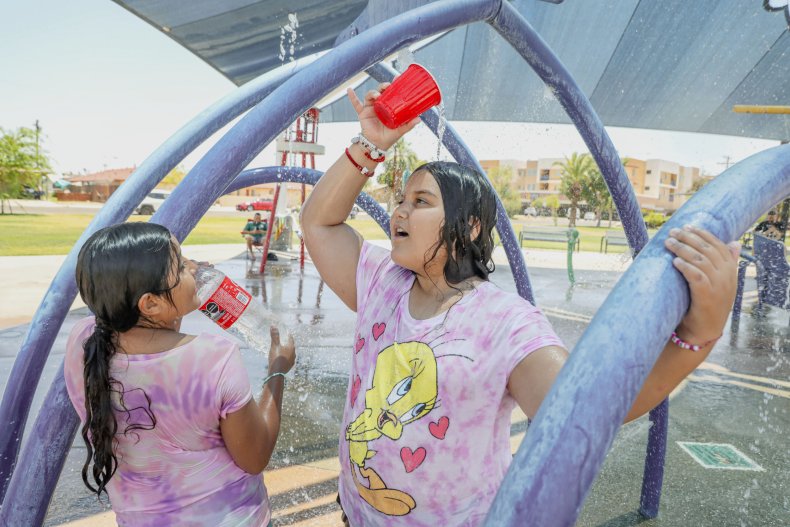 Chicago reached over 90 degrees at 10 a.m. in the morning, with the high temperatures combining with the humidity to make the heat feel even more suffocating. Authorities advised looking for signs of heat exhaustion and heat stroke, staying hydrated and staying indoors.
Other cities had already broken daily records for high temperature earlier this week.
On Tuesday, Nashville, Tennessee, registered a record-high temperature for June 14 of 97 degrees, while on the same day Fayetteville, North Carolina, hit 100 degrees.
The heat wave that's hitting the country comes at a time when states across the Midwest are suffering power outages caused by previous storms.
In Ohio, some 180,000 customers were left without power on Wednesday, according to Poweroutage.us. On Tuesday, some 165,000 residents in Odessa, Texas, were reportedly left without drinkable water because of a water line break, as soaring temperatures hit the state.
The National Weather Service's (NWS) meteorologists believe the heat wave is going to last for several days across the country before cooling down.
According to the NWS, "dangerous heat" will continue over the Great Lakes to the
Southeast, with Excessive Heat Watches and Excessive Heat Warnings still in place and extending from the Great Lakes to the Southeast.
Heat warnings remain in place from Michigan to northern Florida, and temperatures, the NWS warns, will near 100 degrees. The Great Plains are going to keep reporting extremely high temperatures by the end of this week and into the weekend, according to NWS's meteorologists, with temperatures above 90 degrees.
The Southwest and Southeast will reach similar soaring temperatures through the beginning of next week.
This excessive heat is hitting the country before summer has even officially started, and will continue in the second half of June in "much of the Continental U.S," said the NWS.
"One of our frequently asked question is how long will this heat last? With no sign of relief in our 7-day forecast, we decided to check the 8-14 day, 3-4 week, and 3-month outlooks for our friends at @NWSCPC. Answer: Welcome to summer!," wrote NWS Norman on Twitter.