Heat Wave: Spain and Portugal Set To Top 118.4F In All-Time High
Another heatwave is coming to Europe, and the record temperature of 118.4F could be broken.
The record was set in July 1977 in Athens, Greece. But a wave of hot air from Africa is causing temperatures in Spain and Portugal to rise, and forecasters say that national records throughout the continent may be broken, the BBC reported.
An official warning was issued by AEMET, the Spanish meteorology agency. Spain saw its hottest temperatures in July of last year, with a high of 117.1F. Their westerly neighbor's record was set in 2003 when temperatures reached 117.3F.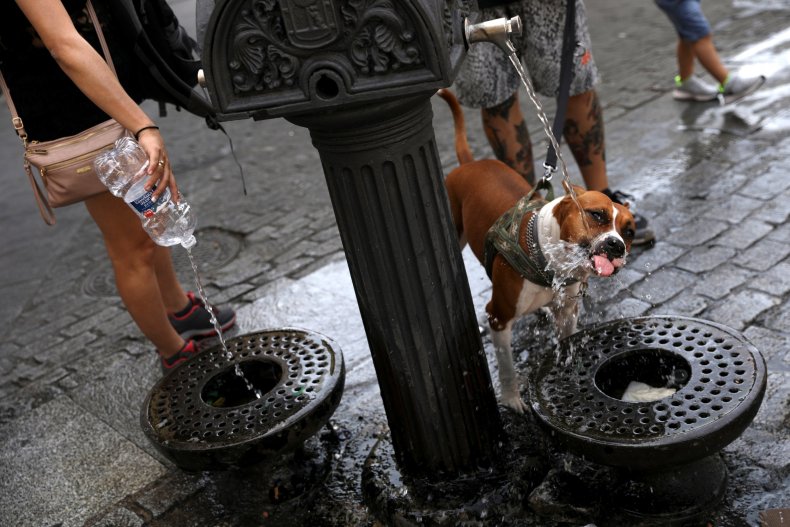 Authorities in both Portugal and Spain have issued health warnings, as what is being referred to as this year's first heatwave in the region approaches.
High temperatures have already had a devastating impact across the continent this year.
Sweden's Kebnekaise mountain's southern peak is no longer the tallest in the country after high temperatures caused 13 feet of snow to melt.
"This glacier is a symbol for all the glaciers in the world," said Gunhild Ninis Rosqvist, a geography professor from Stockholm University.
"This whole environment is melting, the snow is melting, and it affects the entire ecosystem: the plants, the animals, the climate, everything," said Rosqvist.
Drivers in Norway have been warned by the Norwegian Public Roads Administration that animals may be retreating to tunnels to escape the extreme heat.
"The animals retreat to colder places; both reindeer and sheep find refuge in tunnels and shaded areas," said Tore Lysberg, an official from the administration.
Fires raged through a coastal town in Greece in July leaving more than 91 people dead and some affected families are now filing a lawsuit against the Greek authorities.
"All those responsible for the prevention of fires, the extinguishing of fires and people's safety should be convicted and are named in the claim. They include the head of the civil protection agency, the governor of Attica, the mayor of Marathon and the police and fire service," Antonis Foussas, the plaintiffs' lawyer said.
The heat has also brought drought to farmers throughout Europe leaving many asking for financial aid from their governments and the European Union.
The president of the German Farmers Association, Joachim Rukwied, expects that this year's harvest will be 20 percent smaller than last year.
"The government needs to declare a state of emergency so that farmers in areas hit hardest by the drought can be helped directly with cash aid," said Rukwied.
"We expect billions in losses," Rukwied continued.