Heather Baron-Gracie and Ciara Doran Talk Pale Waves, Being Friends and Life As 'Gothy' Role Models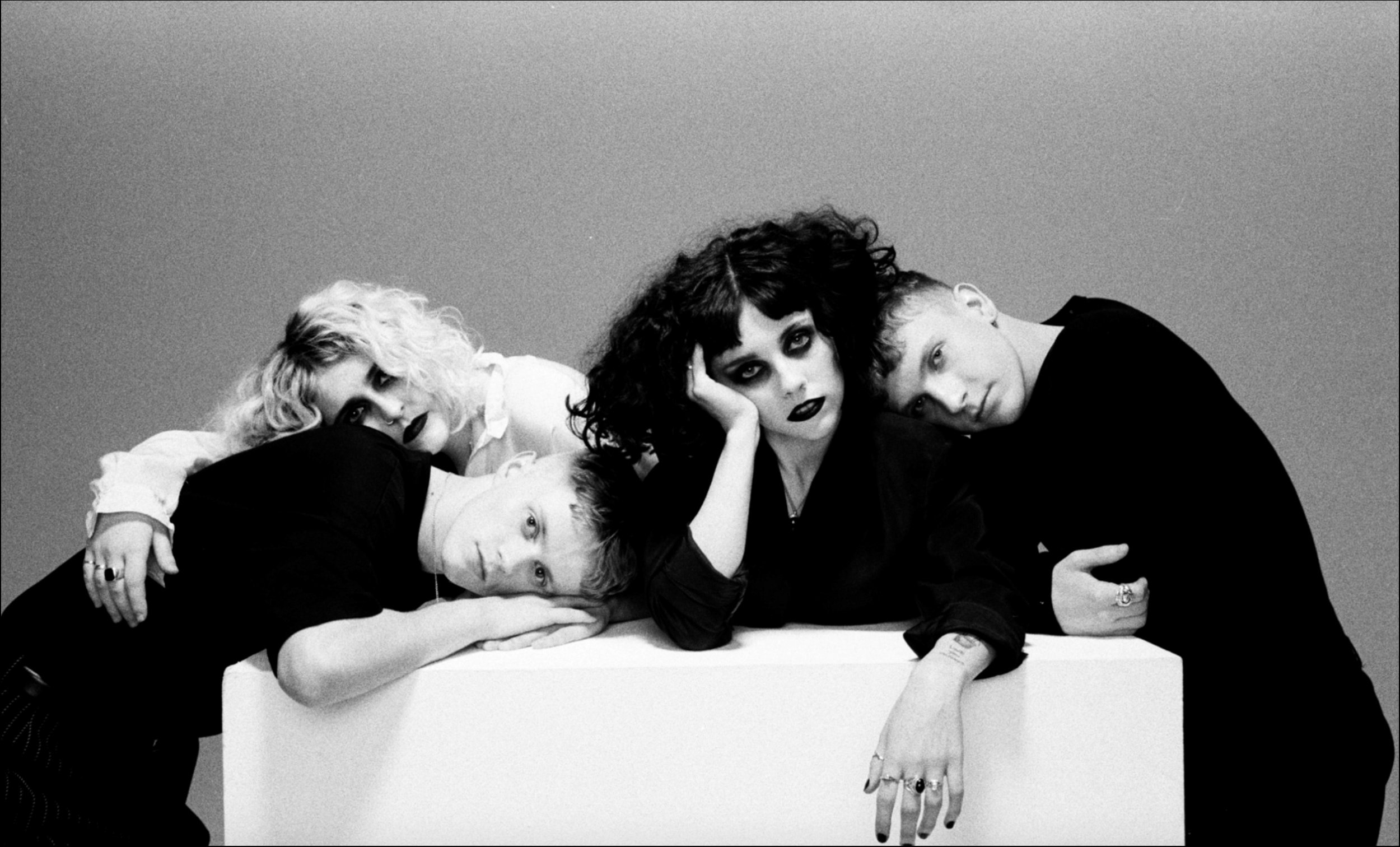 Pale Waves gears up for their Newsweek interview in a charmingly unique way. They open the door to their dressing room with immediate hugs, and offer a bag of gummy worms. Soon after, Heather Baron-Gracie sprawls out on the floor. Her dark, platform boots seem more noticeable with her feet out in front of her than they did as she was standing.
Today, Baron-Gracie and Ciara Doran are feuding, not because they're seriously angry at each other, but because according to Baron-Gracie, her best friend Doran is "annoying." Last night, the band got drunk and Doran slept with her shoes on. What city they were in wasn't immediately clear: they thought back to the night before, came to the agreement that Minneapolis was where they played, and the conversation switched to their performance: "It was actually a pretty good show," said Baron-Gracie.
Right now, Pale Waves is on tour with fellow British pop/rock band The 1975. They've been formerly considered the "female version" of the famous headliner, a label they don't entirely agree with. The comparison simply came from Baron-Gracie's similar hair to 1975 leader Matty Healy, they explain, after the two lead singers, both signed to the Dirty Hit label, posed for a joint NME cover in 2017.
For a band that released their debut album less than a year ago, Pale Waves is an impressive enigma. They've been on so many tours now, they can't remember how many, and they're constantly aiming to evolve. The four-member band, led by Baron-Gracie, vocals and guitar, and Doran, drums, injects a female perspective into the ever-growing pop/rock genre. For the two, it's unique to see two leading women in such a covetable role.
What many fans love about the band, who combine rock and pop sounds and concepts with open and honest lyrical expressions, most times void of gender, is that their long-standing friendship leads their reputation. Baron-Gracie and Doran met at University the way many millennials do: in their college-sponsored Facebook group. The pair were instantly drawn together, Baron-Gracie explained. "We were the only two girls who had some sort of personality about them," she said. "The rest was just really emo guys, into heavy metal, and girls that didn't look like someone I would talk to."
The day they met in person went down in history for two reasons. It marked the day they began spending every moment together, and it also turned out to be the same day they released their debut album, My Mind Makes Noises, just five years after they were officially united.
The pair revealed they can, and do spend every day together, but there are moments Baron-Gracie needs space. It's what's encroaching on their friendship today, as Baron-Gracie is annoyed with Doran. Doran, however, doesn't ever feel she needs space from the group. In Baron-Gracie's words, Doran is a "cloud." Last night, in her drunken state, she told everyone she was a tiger. Now, the pair laugh and agree she is far from a tiger. She's a panda, at best, they explain.
Both Baron-Gracie and Doran give a first impression of kindness and genuine conversation. Even on the road, they offer home-like hospitality and instant positivity. It's ironic in a way, the hospitality they present far from home. Both are slightly beginning to long for their own house, one they just moved into as a band, and haven't spent any time. They left for the tour just days after they officially had the keys, and are still working on furnishing the place. Their sofa arrived the day they left.
They'll head home from tour on May 24, but will soon return to the studio for their next EP. Fans are expecting a similar, pop-like reflection of life and love, but Doran and Baron-Gracie aren't sure fans will find it even remotely similar. They're currently working with a list of 20 songs but plan to narrow the selection to five or six.
"That's the last thing before we do a second album, so it's a nice break," said Doran. "It's quite pop-punky, actually. We're going deep into our influences, you know Paramore, Blink-182. But maybe too much. It's scaring me a bit. I want to go back into Pale Waves."
Baron-Gracie makes a counterpoint: "It is Pale Waves. If it's coming out of us, it's Pale Waves."
Throughout the conversation, it's clear both Baron-Gracie and Doran are unapologetically themselves. To fans, that's apparent in their music. Both are aware of their total self-acceptance but it didn't come easily. The conversation turns to the concept of a role model: How important is it for Baron-Gracie and Doran to feel like positive influences?
Baron-Gracie comments on the pair's choice to wear heavy makeup. While she admits she's always been "very out of the box," it took time for both to be comfortable with their fashion, which some consider "gothy." They joke that they don't feel like goths, but look more like vampires. Doran adds it's inspiring that fans feel more comfortable wearing whatever they're drawn to because of the pair's own style choices.
To Doran, who is openly gay, it's incredibly important to be a positive influence for those who are struggling to be confident in their sexuality. "That would help me if I had anyone else to look up to when I was young," she said. Baron-Gracie commented on how loud Doran is about her sexuality. She responded: "I want people to get offended so I can be like, 'You're a c***.'"
In a message to their fans, Baron-Gracie compliments the masses for their individuality. "They are the best kind of people," she said, followed by a word of advice. "Stay in school. Actually, we didn't," Baron-Gracie noted. "But being a good role model, we should say stay in school."