Heather Heyer's Mother Reveals Her Message to Donald Trump After Daughter's Murder
The mother of activist Heather Heyer, who was run over by a white nationalist at the August 2017 Charlottesville protests in Virginia, has spoken out about the driver's recommended sentencing.
James Fields, 21, was found guilty last week of first-degree murder, and a jury on Tuesday recommended a sentence of life plus 419 years. Fields plowed his car into a crowd of anti-racism protesters on August 19 last year, killing Heyer. He will be sentenced in March.
In an interview with CNN Wednesday, Heyer's mother, Susan Bro, expressed relief that the trial had concluded and said she was "contented" with the sentence recommendation.
"It was emotionally exhausting. I felt like I was onstage a lot of the time," she said. "It was particularly difficult the day they played videos of the actual crime, as it was committed, and the day they talked about Heather's autopsy report. Those were extremely difficult days. I will tell you that I sat and cried a lot in court."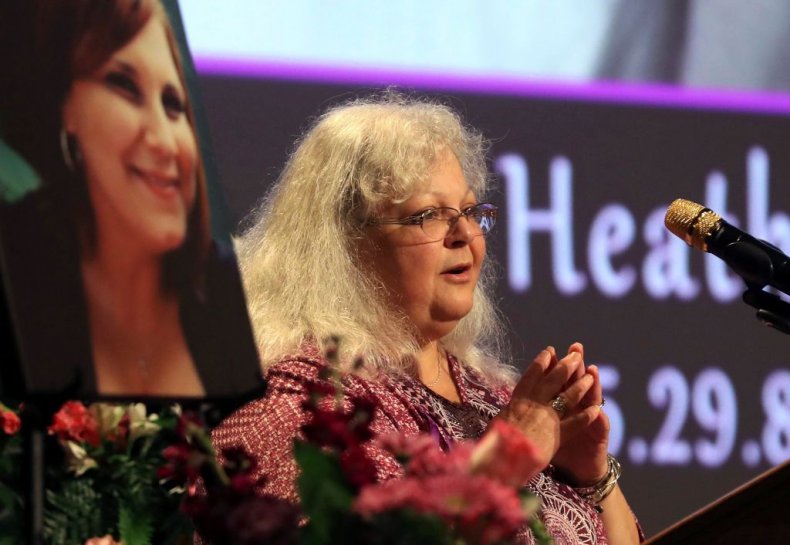 Bro said she felt relief after Fields was found guilty. "I also felt that it was not only important that Heather and the survivors have their day of justice, but also that we send a very strong message that we will not tolerate hate."
She continued, "I felt secure in handing him over to prosecution and to judgment.... I had plenty else to do with the Heather Heyer Foundation, and I just didn't feel like I needed to consume my own self with hate, because hate just consumes the one that hates. It doesn't do anything to the person that you hate. In my life, I prefer not to hate people."
In the interview, Bro shared the tribute she paid to her daughter in a victim impact statement read in court.
"I basically said Heather's death was an explosion in our lives," she said. "It robbed us of somebody that was loving and caring and committed to family and committed to justice and committed to equality. Robbed the world of a wonderful person."
She also revealed what she told President Donald Trump after speaking to him by phone after her daughter's funeral. The president was criticized after the rally for claiming that both white nationalists and counterprotesters bore equal responsibility for the unrest.
"I turned my phone off on the way to the funeral because I was trying to concentrate and I'd already had one politician call me. I just turned my phone off," she said. "By the time I turned my phone on…I saw that there had been three phone calls from the White House during the funeral itself. They each sounded a bit increasingly frantic, which I thought was odd…. Once I heard what he had to say, I said I thought he's busy and neither one of us really has time to talk to one another. The only thing I particularly had to say to him is 'Please, think before you speak.'"
She said that the city of Charlottesville will continue to defend civil rights.
"Heather stood that day with her friends just simply as a supporter and ally to say black lives do matter," Bro said. "I feel that a lot of people will think that this trial is the end of the story. This was not the beginning of the story, nor is it the end of the story. The civil rights movement has gone on for decades, particularly here in Charlottesville, and it will continue."