Singer Heather Youmans has gone viral after demonstrating how distracting the delayed sound can be for singers of the national anthem in stadiums.
The clip, which has amassed over three million views, sounds normal at the start, until it gets to "the twilight," when the huge delay becomes painstakingly obvious.
Youmans is a 29-year-old singer, recognized for her work on various movie soundtracks, including Marley & Me. She also recently appeared on FOX's music game show I Can See Your Voice.
Throughout the video, Youmans' voice plays through the speaker a few seconds after she sings it, causing a distracting overlap between her live voice and the speaker version. The clip is from her performance at the Oakland A's game at the Oakland Coliseum in California, and she confirmed that the audience only hears the speaker version, which matches the footage delay on the screens too.
Youmans was warned about the intense delay at the Oakland Coliseum, but was still left shocked by just how strong it was, and called it the longest 90 seconds of her life.
She told Newsweek that, "Singing the national anthem at Oakland Coliseum was one of the hardest performances I've ever given. I've sung in stadiums before, but this was—by far—the most delay I've ever had to sing with. I rehearsed in the sound booth beforehand, but not out in the stadium, so when it came time to sing the first line, I was definitely caught off guard."
Thanks to pandemic protocol, she was able to finally capture the delay singers are all-too-used-to on camera, as she wasn't allowed to sing on the field like normal.
Along with two other similar videos posted to her account, Youmans offered tips to singers on how to avoid the delay affecting your performance.
"Riffs make it more trippy," she noted in one part, where the riffs seem to almost blend into one.
Singers pointing off stage during performances, alerting people that their earpiece isn't working, has been explained perfectly by the video, which demonstrates just how vital they are.
According to Youmans, the best option is to use in-ear monitors, which relay the sound going into the mic directly into the singer's ear and block out any external sound.
"I don't leave home without my in-ear monitors, which block out nearly 90 percent of the delay sound in the environment. You want the in-ears to have a tight seal, so you can isolate your vocal and not have any delay sneak in," she told Newsweek.
"If you don't have in-ear monitors, use earplugs in both ears. If it's available, I always push for a soundcheck, so I can experience the sound in the performance spot before showtime," she said.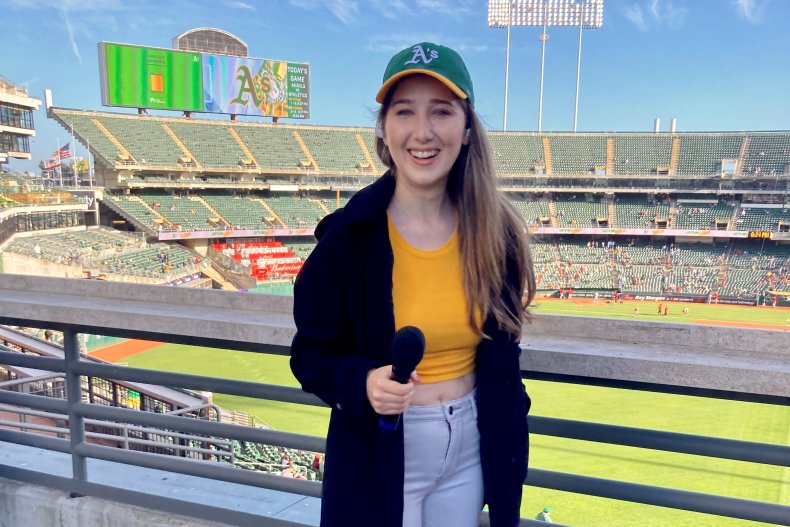 In later videos, she compared the sound delay in different venues, explaining that some aren't as bad as others. The Oakland Coliseum was rated as a 10 on the difficulty scale though, with 10 being the worst.
"Every stadium is different, so the amount of delay can vary based on location and where you are standing for the anthem performance. Make sure you get that rehearsal in, especially when performing at a new venue. Singing the national anthem a cappella in front of thousands of people is already nerve-wracking, so it's so important to set yourself up for success before you sing the first line," said Youmans, who has also performed the national anthem for the Los Angeles Kings at Staples Center and the San Diego Padres at Petco Park.
Comments on the video jokingly compared it to Fergie's 2018 rendition of the national anthem at the NBA All-Star Game at the Staples Center, which became a viral meme.
"So maybe Fergie is slightly forgiven," commented one user.
Fergie's version of the song attempted to put a jazzy spin on it, but was negatively received by most who heard it. So much so that the singer even released a statement after apologizing.
"I've always been honored and proud to perform the national anthem and last night wanted to try something special for the NBA. I'm a risk taker artistically, but clearly the rendition didn't strike the intended tone. I love this country and honestly tried my best," she said the next day.
Admittedly, Fergie's rendition didn't seem to be caused by a delay in the sound, but her own attempt to jazz it up.
Other viewers were shocked by the delay, describing that it made them "anxious" and "looks so hard." While some viewers actually related to the video, pulling on their own similar experiences.
"[This is like] doing my grad speech. The first time I spoke into the mic I was like 'what,"' noted one viewer.
"Anyone who's played Xbox or PlayStation has to deal with this, so we're used to this," joked another.
For Youmans, however, being used to the sound delay couldn't prepare her for this one, which she said was the only time it affected her performance.
"The only time I've had delay impact my performance was when I sang the first line of the anthem at Oakland Coliseum. I was so shocked that I definitely paused quickly to collect myself. Nobody would have noticed it as a mistake at all, but I was definitely shocked. By line two, I was back to business as usual but trying so hard to ignore all the delay around me," she said.
"I wanted to share my experience on TikTok—as extreme as it might be—to help other singers prepare for vocal performances and speeches in stadiums. I wish I had a guide or tips before the Oakland A's game, so I created some of my own so other singers can go out and crush their anthems."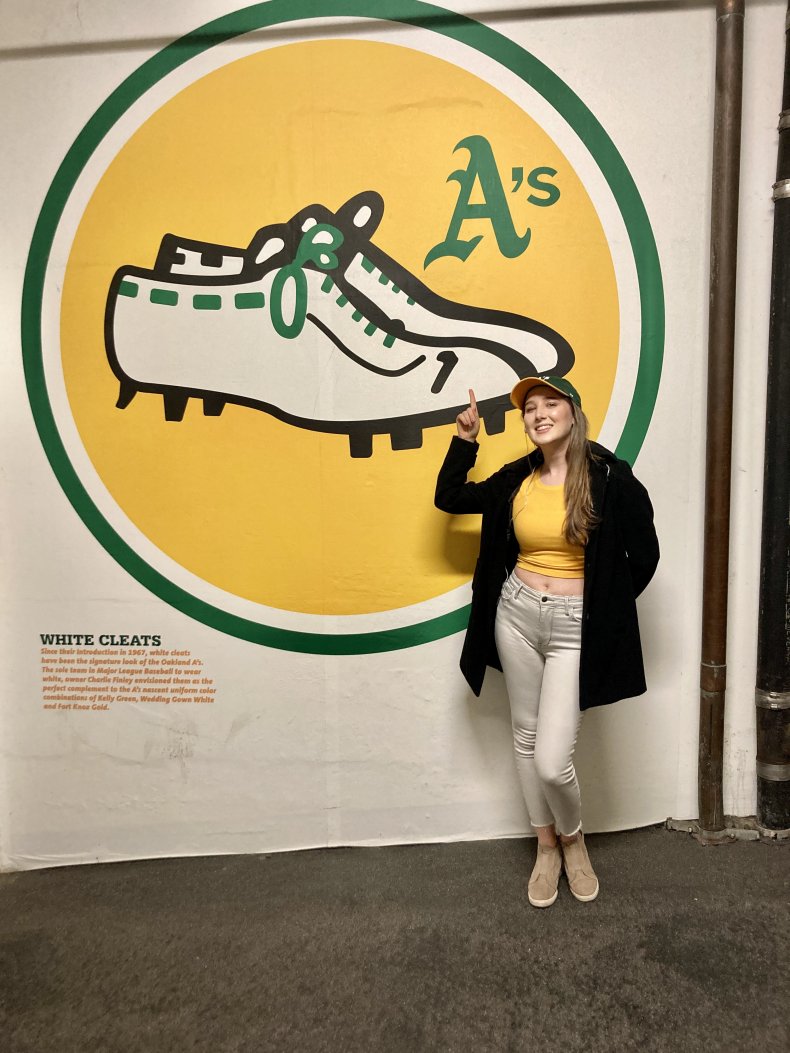 Update 7/2/21, 03:21 a.m. ET: This article was updated with comments from Heather Youmans.