Heathrow Airport Placed Pride Ads Near Royal Brunei Airlines Check-in to Protest Gay Death Penalty
Heathrow Airport placed ads for its LGBT Pride campaign near the check-in counter for Royal Brunei Airlines, a quiet protest against Brunei's law punishing homosexuality.
Earlier this year, the small but wealthy sultanate, which owns Royal Brunei, came under fire for a new measure that would institute the death penalty for same-sex relations.
As part of Heathrow's larger "Welcome" campaign, a mix of LGBT employees and contest winners are featured on the signs, with the word "Welcome" in rainbow letters.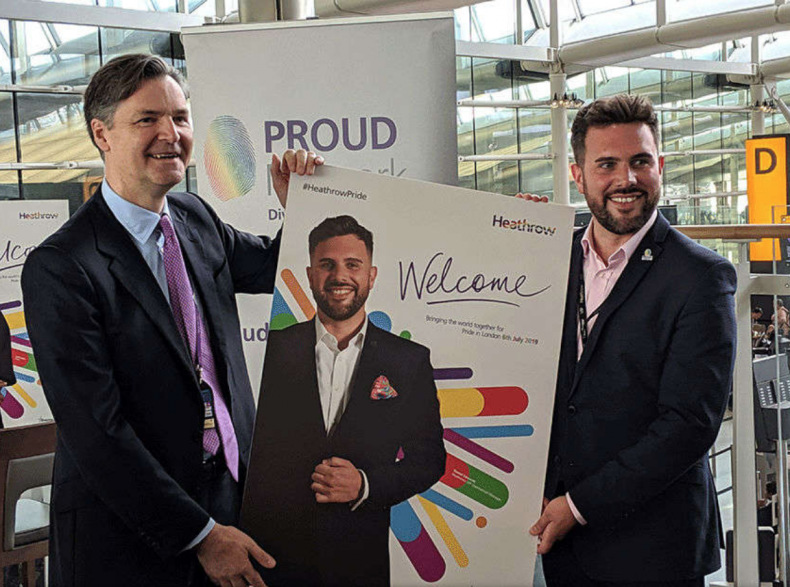 John Holland-Kaye, CEO of Heathrow Airport, told Gay Star News placing the signs near Royal Brunei was "about championing British values to the world."
"There are 80 million international travelers coming through here, very often to countries where it's illegal—or even punishable by the death penalty—to be gay. We need to stand up for our values."
He added that the airport can reach people from the dozens of countries that still criminalize homosexuality.
"I'm really proud that we can do that. There's a great opportunity to do that with other nationalities. To make sure liberal values that make Britain such a great place to live are shared with the world."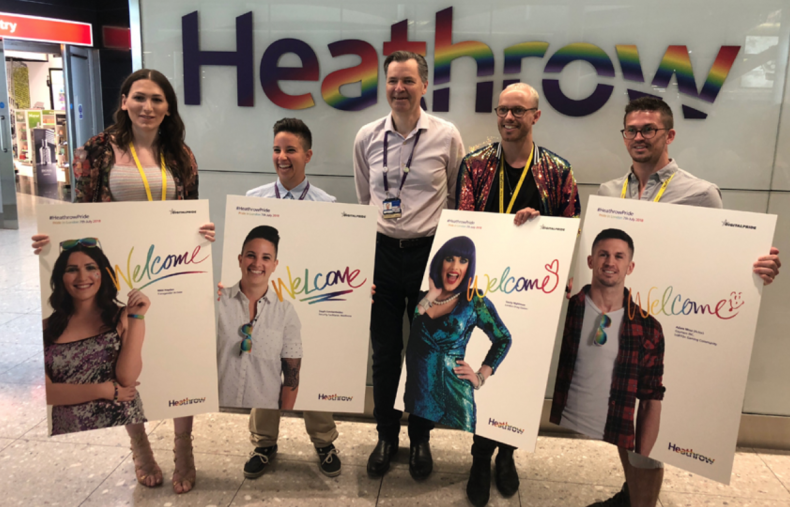 The placement wasn't announced at the time, Holland-Kaye admits, "but it was the faces of our security officers, colleagues and our fantastic Pride champions who were being promoted to travelers to Brunei."
He also revealed the government eventually reached out.
"'We had inquiries from the Foreign Office about how far we might choose to go. But actually, it was all done in a very positive spirit. I'm glad we were able to stand up for our values."
On June 28, a dedicated Virgin Atlantic flight took off from the airport to bring passengers to World Pride in New York, staffed by an all-LGBT crew and special drag queen stewardesses.
While New York Pride wrapped on June 30, the London Pride parade isn't until July 6—and Heathrow is continuing to roll out the rainbow carpet. Staffers are giving out rainbow cupcakes and pins while the Heathrow Pride choir serenaded travelers.
Brunei's law punishing homosexuality with death by stoning was originally introduced in 2013. It was slated to go into effect in April 2019, prompting international outcry and calls for boycotts of Brunei-owned hotels and companies.
In May Brunei's absolute monarch, Sultan Hassanal Bolkiah, said he would extend the current moratorium on capital punishment to the new measure.
"There should not be any concern on the sharia law as it is full of Allah's mercy and blessings," he said in a televised address during Ramadan. "As evident for more than two decades, we have practiced a de facto moratorium on the execution of death penalty for cases under the common law. This will also be applied to cases under the [sharia penal code]."