Heatwave: Record Temperatures Predicted Across Northeast Ahead of Fourth of July
As Americans prepare to celebrate the Fourth of July, those in the Northeast should take steps to protect themselves from the heatwave that's predicted to bring record temperatures this weekend.
As a rise in heat and humidity moves east from the Midwest, light winds will pick up, generating a menacing heatwave that is predicted to reach the mid-90s on Sunday.
David Stark, a meteorologist at the National Weather Service's New York office, said a heatwave, which is defined as three consecutive days of temperatures over 90 degrees Fahrenheit, is not rare in the summer.
"The thing with this one that makes it little more concerning is increased humidity, especially on Sunday," Stark told NBC News. "In increased humidity, your body won't be able to cool itself down as much because of the moisture."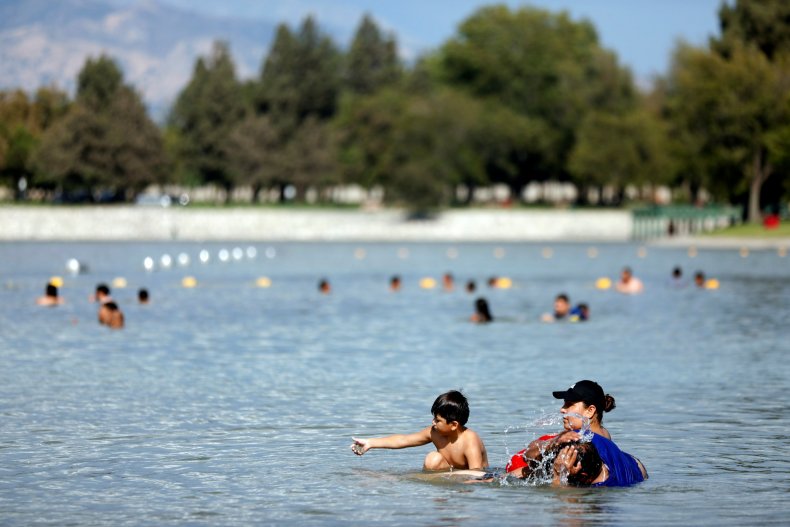 According to Accuweather, Northeast daytime temperatures are expected to hit the low to mid-90s, and during peak afternoon hours, temperatures could soar to 100 degrees through Monday.
On Saturday, Chicago, St. Louis, Nashville, Detroit, Washington, D.C., and Raleigh, North Carolnia, are the regions that will experience the hottest temperatures, predicted to be between 105 to 110 degrees, according to AccuWeather RealFeel Temperatures, an index that describes what temperatures will feel like rather than what they actually are.
New York, Portland, Cincinnati, Toronto, Montreal, Philadelphia and Boston will encounter RealFeel heat of between 95 and 105 degrees Fahrenheit.
Stark confirmed that a few Northeast locations are expected to experience temperatures in the mid-90s. He also warns that the humidity will make the temperature feel as if it's 100 degrees Fahrenheit or higher.
Those who plan to cool off outdoors at a beach or park must remember to apply a large amount of sunscreen and stay hydrated. Heat exhaustion, sunstroke and dehydration are the biggest risks of being outdoors in a heatwave. Residents are advised to spend as much time out of the sun as possible.
Meteorologist Dean Hall told Newsweek that heatwaves can be particularly dangerous for those who are young, old or suffer from chronic diseases.
"People should be aware of the strength of the sunshine and UV levels. Any length of time spent in the sunshine carries a risk of sunburn and sunstroke or heatstroke, which can make people feel very poorly in a short period of time," he said.
"Be aware of animals as well. Don't leave dogs in cars for any length of time in the heat because they become very hot, very quickly. Take extra precautions, like wearing a hat or applying sunscreen, if you are spending any length of time out in the sunshine."
This story has been updated to include comment from Dean Hall.