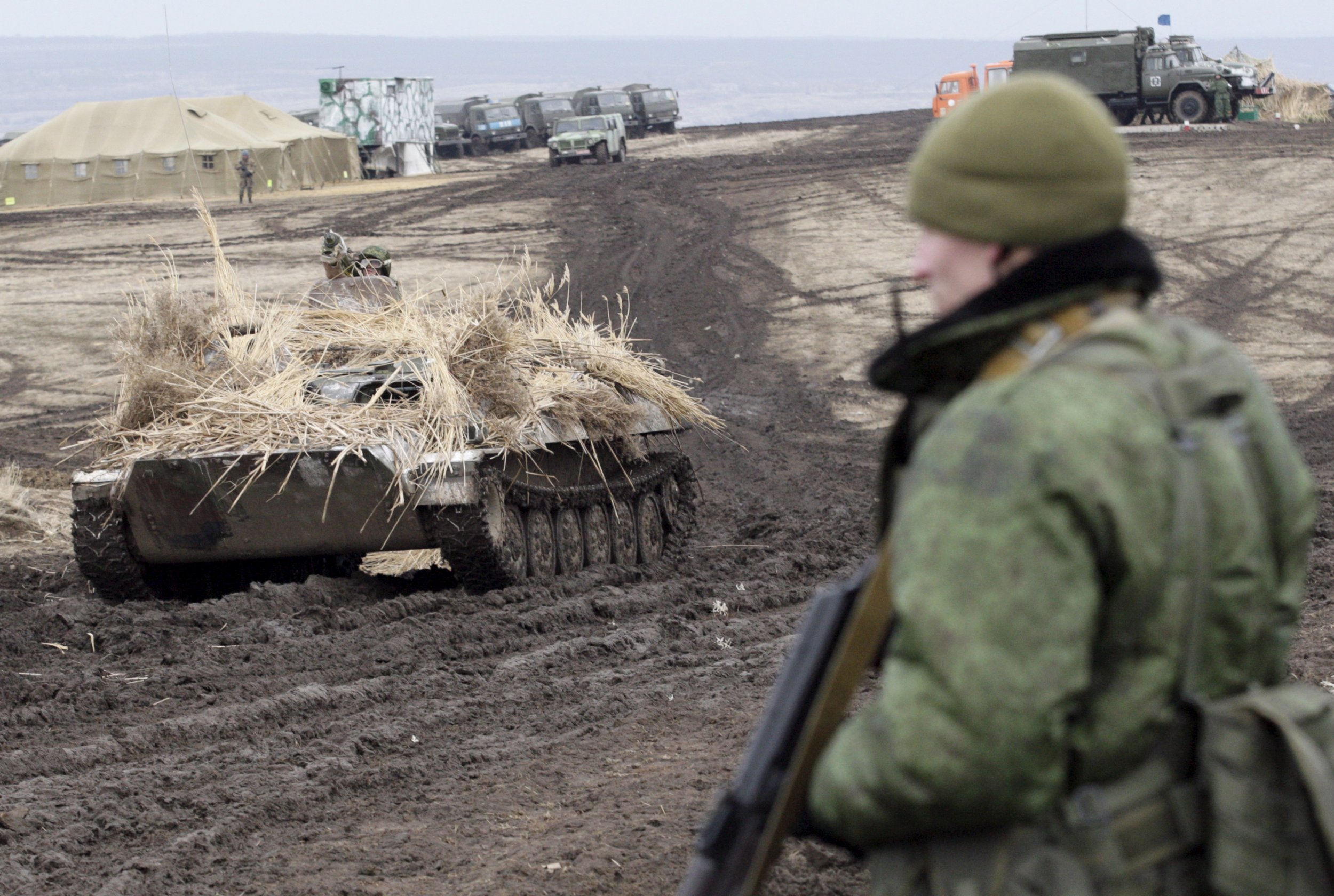 A video that appears to show pro-Russian rebels moving heavy weapons toward the contact line with Ukrainian troops is adding fuel to warnings by independent observers that neither side is upholding the withdrawal agreement.
Ukrainian forces and Russian-backed separatists in Ukraine's eastern region of Luhansk are bound by a ceasefire agreement to pull high-caliber guns from the contact line between them. Violence has flared a few times over recent weeks, with two Ukrainian soldiers reported to have been killed during a truce to mark last Sunday's Orthodox Easter.
Footage has emerged online showing a column of at least 35 Soviet-made armored vehicles, some bearing a striking resemblance to the Russian truck-mounted multiple rocket Grad launcher, moving through street traffic.
The bloggers who took the video claim it was taken last Saturday, in the rebel-held east Ukrainian city of Luhansk—roughly 10 miles from the contact line between Ukrainian and rebel forces.
The video appears to have been taken on Oboronna street in Luhansk, based on the shops in the background, as well as the local branch of Ukrainian savings bank Oschadbank and the large trade center toward which the vehicles are moving.
Some online users are asking where the rebels could have gotten the equipment from, considering Russia has consistently denied supplying the separatists with arms.
According to Eliot Higgins, founder of the investigative journalism website Bellingcat, the reason for this move is unclear, but it's evident the armored column is heading northwest—in the direction of the frontline.
"It's heading towards the contact line in that video, it's clear they've got a significant amount of equipment in that video, and who knows what else might be moving towards the contact line," he says.
The independent, international monitoring mission in east Ukraine, led by the OSCE, has reported several sightings of heavy weapons in violation of the withdrawal agreement. One sighting in Luhansk, which appears to allude to the scene in the video, recounts the sighting of seven multiple-launch rocket systems, seven self-propelled howitzers, ten towed howitzers and seven tracked vehicles mounted with surface-to-air missile systems in Luhansk city last Saturday.
The OSCE mission was not immediately available to confirm or deny if the incident in the footage was the same as the one its observers documented.