Heavy rains led to severe flooding in Denver, Colorado on Sunday night, with many drivers ending up stranded for hours as a major freeway became impassable.
The blockage occurred near the Brighton Boulevard exit off of the city's Interstate-70 freeway, preventing traffic from progressing in either direction for several hours, according to Denver 7 News. The city fire department reported rescuing 11 people from the area that were imperiled due to the water, but thankfully no injuries were reported.
The flooding blockage was captured on video and shared on social media by Denver 7 reporter, Pattrick Perez. In two videos, posted an hour apart around midnight local time, a line of cars can be seen sitting idly on I-70, with the camera panning to show a sizeable pool of water that had overtaken a portion of the road that dips under a bridge.
"A nightmare for drivers on out I-70 near the Brighton Blvd exit, in Denver," Perez wrote in one of the posts to Facebook. "People were standing outside of their cars as the interstate was impassable."
Drivers stuck on the scene spoke with Perez about the situation, claiming that the water had accumulated on I-70 swiftly, in some cases causing visibility issues. One driver, who only gave the name Christian, said that the flood water began to run over his car very suddenly, preventing him from opening the doors and forcing him to escape the vehicle through a window.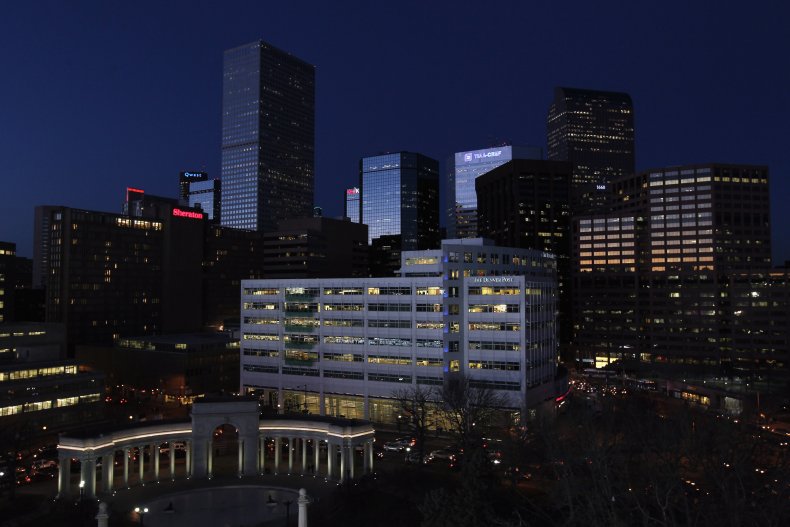 "What the hell, you know? Like, what happened?" Christian told Perez. "I had no idea this had happened. But I'm OK right now."
A total of 29 water rescues were carried out in the greater Denver area due to the flooding on Sunday, 9 News reported. The most impacted area was Westminster, a neighborhood to the north of Denver, which saw 2.5 inches of rainfall, with Kelim and Federal Heights also seeing over 2 inches. Over 20 neighborhoods in the region reported rainfall higher than one inch, according to data from the National Weather Service.
When reached for comment by Denver 7, the Colorado Department of Transportation (CDOT) said that the part of I-70 that flooded on Sunday is still under construction and had several factors that could have contributed to the way it became overrun so quickly.
"Our drainage network is not yet complete, though it is nearing completion," CDOT's statement read. "Once our drainage system is fully complete, the lowered section of I-70 where flooding happened this evening is expected to withstand a 100-year storm event. Every construction project runs the risk of flooding while it's in an interim phase."
The department pledged that it will conduct an investigation into the impact section of I-70 to determine the cause of the flooding. Another possibility it flooded was the fact that the section of road has not yet been paved, "creating exceptionally muddy conditions that may have contributed to flooding," according to officials.
Newsweek reached out to CDOT for comment.