Heckler Interrupts Biden's Mention of Dead Son at State of the Union
Freshman Republican Representative Lauren Boebert of Colorado heckled President Joe Biden's mentioning of his deceased son, Beau Biden, during his State of the Union address. Boebert's outburst made an apparent reference to troops who died during the U.S. withdrawal from Afghanistan.
The heckling occurred near the end of Biden's speech as the president discussed bipartisan agenda items he hopes to tackle in the year ahead. He spoke of how military service members are exposed to "burn pits," which are waste dumps that create toxic smoke from burning medical and hazardous materials, jet fuel, ammunition and other items.
"When they came home, many of the world's fittest and best-trained warriors were never the same. Headaches. Numbness. Dizziness. A cancer that would put them in a flag-draped coffin. I know," Biden said.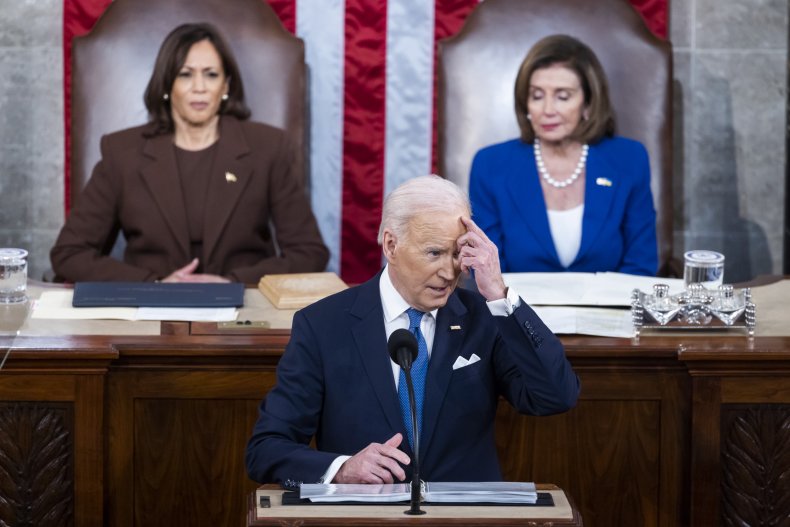 At this point, Boebert shouted, "You put them in. Thirteen of them," according to WTTG. The audience lightly booed Boebert, and Biden paused before continuing.
"One of those soldiers was my son, Major Beau Biden," he went on. "We don't know for sure if a burn pit was the cause of his brain cancer, or the diseases of so many of our troops, but I'm committed to finding out everything we can."
It's likely that the reference to 13 flag-draped coffins was regarding the 13 U.S. service members who died during the U.S. withdrawal from Afghanistan at the end of August. The members were killed in an attack by ISIS-K members near Karzai International Airport.
Boebert and fellow freshman Republican Representative Marjorie Taylor Greene of Georgia also tried to start a chant of "Build the wall" when Biden began discussing immigration policy, WTTG reported. However, the chant was barely audible on public broadcast and quickly died down.
Conservatives have blamed the troop deaths, and other aspects of the withdrawal, on Biden.
When discussing the Afghanistan withdrawal, Biden has said he makes "no apologies" for his actions during that time. Nevertheless, he did express regret for the terrorist attack that killed U.S. troops during the exit.
"There is no way to get out of Afghanistan after 20 years easily. Not possible, no matter when you did it. I make no apologies for what I did," Biden said.
As for the burn pits, they are a common method of burning trash at military sites. Veterans have said that exposure to the pits has left them with breathing, cardiovascular and digestive problems.
In late January, the House Veterans Affairs Committee heard from former military service members who experienced health issues after spending time near the pits.