Hedge Fund Honcho's Pro-China Remarks Should Compel Anti-CCP Policy | Opinion
Among the greatest challenges America faces in confronting its greatest adversary, Communist China, is our Ruling Class's unwillingness to recognize the imperative to confront it.
Wall Street ranks among the worst offenders. The Communist Party's (CCP) plot for global domination relies on access to American money and markets. Yet to play on the old Leninist saw, America's capitalists not only sell the Chinese Communists the rope with which to hang us—they underwrite, advise and serve as unregistered foreign agents for the hangmen.
Recent remarks by Ray Dalio, manager of the world's largest hedge fund, Connecticut-based Bridgewater Associates, capture the nature of the most pro-China cohort of our pro-China Ruling Class. They inadvertently demonstrate the only solution: Law freeing us from the deathly panda hug in which we've been locked.
On November 30, Dalio sat for an interview on CNBC's "Squawk Box" with host Andrew Ross Sorkin. Sorkin asked Dalio how the investor factored China's human rights violations into his investment strategy, invoking the names of punished regime-crossers Peng Shuai and Jack Ma. The question came amid news just days earlier that Bridgewater had become one of the largest foreign private fund managers in Beijing with the raising of a $1.25 billion Chinese fund, its biggest yet.
Dalio replied: "I can't be an expert in those types of things...I really have no idea," deferring to "whatever the rules are" based on the "guidance of the government" as "the most important thing."
Dalio's plea of ignorance was as unconvincing as his buck-passing to regulators was unsatisfying. The hedge fund titan is one of the world's most sophisticated investors—archetype of the well-read, prolific thought leader—with billions of dollars on the line in China. He has frequented the country since 1984, and once sent his then-11-year old son to live there. At minimum, Dalio has a fiduciary duty to his clients to know about the CCP's savagery. But, as the case may be, China is one of those clients.
Dalio then drew a moral equivalence between China and America, effectively downplaying the former's tyranny. He averred: "And then I look at the United States, and I say, 'Well, what's going on in the United States?' And should I not invest in the United States because...[of] our own human rights issues?"
When Sorkin pressed that for whatever America's failings, "The [U.S.] government isn't disappearing people," Dalio replied: "I'll give a little bit of a perspective of that. ...What they [China] have is an autocratic system." Dalio recalled how one Chinese leader contrasted the two nations: "The United States is a country of individuals and individualism. ...In China it's an extension of the family."
"As a top-down country," Dalio added, "They behave like a strict parent. That is their approach. We have our approach. ...If I evaluated all approaches around the world in all countries, I'd be in a bind to try to find out, where do I invest...?"
This outraged viewers. So days later, Dalio went into damage control, penning a post affirming his belief in the importance of human rights and disputing the idea that the U.S. and China "deal with these issues similarly." He did not indicate, however, that human rights trumped profits. Nor did he account for his shift from "no idea" about the regime's depredations to no moral equivalence. Nor did he seek to explain how his firm's substantial commitment to diversity and inclusion, as well as strategic priorities to integrate "sustainable investing" and "environment, sustainable and governance" (ESG) standards into its model, comport with its business with a genocidal, bigoted, polluter in the People's Republic of China (PRC).
Regarding China's governmental "approach," Dalio said he "was not expressing" his "own opinion or endorsing" it, but merely conveying his understanding. However, in an August 2019 video featured on the China section of Bridgewater's website, Dalio did weigh in. Then, he told prospective investors:
[W]hether you prefer a more autocratic leadership system than a democratic leadership system, you'll have to make that choice for yourself. Don't look at [China] as some unique place, in terms of some of those impediments. Look at the whole picture. I would say that the Chinese or Confucian way of approaching things has a lot to be said for it. [Emphasis mine.]
In a June 2021 note aimed at easing investor concerns amid China's euphemistic "regulatory crackdown," Dalio seemed to defend the "Chinese or Confucian way:"
[Y]ou need to understand that China is a state capitalist system, which means that the state runs capitalism to serve the interests of most people and that policymakers won't let the sensitivities of those in the capital markets and rich capitalists stand in the way of doing what they believe is best for the most people of the country.
The CCP could not have asked for a more friendly description. CCP General Secretary Xi Jinping had explicitly rejected the idea China practices "state capitalism" dating back to at least 2013, when, in a seminal speech, he declared such "labels...completely wrong." "We say that socialism with Chinese characteristics is socialism." Xi reiterated his commitment to the Party's Constitution, which "takes Marxism-Leninism, Mao Zedong Thought, Deng Xiaoping Theory, the important thought of Three Represents and the Scientific Outlook on Development as its guide to action." [Emphasis mine]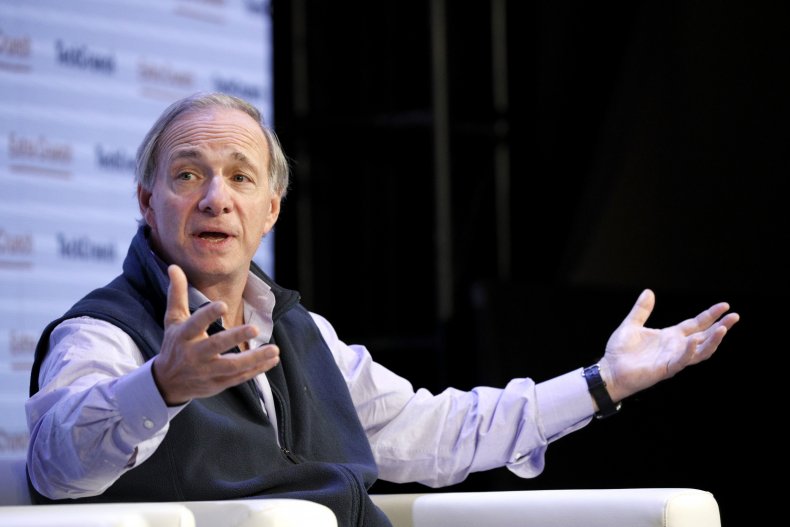 One might think this is propaganda, but that China has grown ever more totalitarian and bellicose under Xi would instead suggest candor.
For his part, Dalio's lament over Xi's crackdown was merely about messaging: "I do think that it is unfortunate that Chinese policymakers don't publicly communicate the reasoning behind their moves more clearly." Dalio concluded: "I urge you to not misinterpret these sorts of moves...and let that scare you away."
Dalio argues investing in China is good business—one needs to diversify, and broader trendlines favor China over America. But this position discounts China's desire to dominate America, which transcends human rights issues abroad and directly impacts our lives at home.
For as Xi asserted in the aforementioned speech, Marx and Engels were right in their "historical materialist view that capitalism is bound to die out and socialism is bound to win." He called for "building a socialism...superior to capitalism, and laying the foundation for a future where we will win the initiative and have the dominant position." [Emphasis mine]
Yet Dalio clings steadfastly to the view that the U.S.-China engagement that has enabled China's malign ascendance must continue. Despite all evidence to the contrary, Dalio suggests our ties "produce mutual understandings and mutual influences that promote peace and progress globally." "It is a reality that many Americans and Chinese are intertwined," Dalio says, "and that separating them would be terrible for just about everyone."
Dalio concludes by noting that he fears a war based on "misunderstandings and inclinations to fight"—conveniently ignoring who the aggressor is.
The "misunderstandings" lie with those who ignore that being inextricably intertwined with the CCP is precisely how it has prepared to win a war for global domination without firing a shot.
Dalio's position is ubiquitous across American high finance. He is particularly representative (and significant), however, as a China bull who China assiduously cultivated a relationship with over many decades.
That type of relationship—the kind shared not just by the world's largest hedge fund manager and largest asset manager BlackRock, but all from the likes of Senator Dianne Feinstein (D-CA) to executives in Big Tech, Hollywood and beyond—corrupts those who do business with China, converts them into PRC mouthpieces and undermines America's national interest.
But of all the Ruling Class cadres, Wall Street is perhaps the most compromised power center.
Dollars are the CCP's lifeblood. Shut China out of U.S. capital markets, and the CCP will be crippled. Yet our financiers almost uniformly advocate the exact opposite.
Neither morality nor the national interest evidently matters. China can operate a gulag regime, hollow out America's heartland, flood it with fentanyl, threaten mass death from a pandemic of its making by withholding personal protective equipment made in Chinese factories that supplanted our own and use American capital to build weapons and surveillance technology to bury us and benefit our adversaries, and Wall Street won't blink.
Dalio's clarifying note that "we want to get these things right...based on what the regulators think is right" points to the answer to high finance's quiescence on China.
The only way to break Wall Street's investment in China's future victory over America is by firm, unequivocal laws aimed at ensuring Americans neither invest in, operate in nor advocate on behalf of China. Such activities simply cannot be divorced from the totalitarian regime to which all of these benefits ultimately accrue.
If we are not independent, we are not free and we put ourselves on the path to enslavement. China will rely on our money, know-how and the global stability we provide right up to the point it can decouple from, eclipse and subjugate us as a satrapy.
We simply must break from China.
It is the only way to ensure the recent joke for which another finance titan—characteristically—recanted, holds: That in another century, our banks will still be standing, and the evil CCP regime will not.
Ben Weingarten is a senior fellow at the London Center for Policy Research, fellow at the Claremont Institute and senior contributor to The Federalist. He is the author of American Ingrate: Ilhan Omar and the Progressive-Islamist Takeover of the Democratic Party (Bombardier, 2020). Ben is the founder and CEO of ChangeUp Media LLC, a media consulting and production company. Subscribe to his newsletter at bit.ly/bhwnews, and follow him on Twitter: @bhweingarten.
The views expressed in this article are the writer's own.