Hedgehog Day Afternoon: Florida Man in 'Sonic' Mask Tries to Hold Up Bank
While Punxsutawney Phil was making his Groundhog Day weather prediction, authorities in Florida had their own creature problems after a man wearing a Sonic the Hedgehog mask attempted to rob a bank.
The robbery took place Wednesday afternoon at Florida Credit Union in DeLand, a city north of Orlando, police said in a Facebook post. Officers were dispatched to the credit union and spoke to witnesses who said the suspect was wearing a mask in the likeness of the blue anthropomorphic hedgehog who is at the center of the Sega video game franchise.
Police say the suspect entered the credit union displaying a hammer and demanding cash from the teller.
"While demanding cash from the teller, the suspect then struck the teller's window with the hammer as he continued with his demands," the police said in the statement.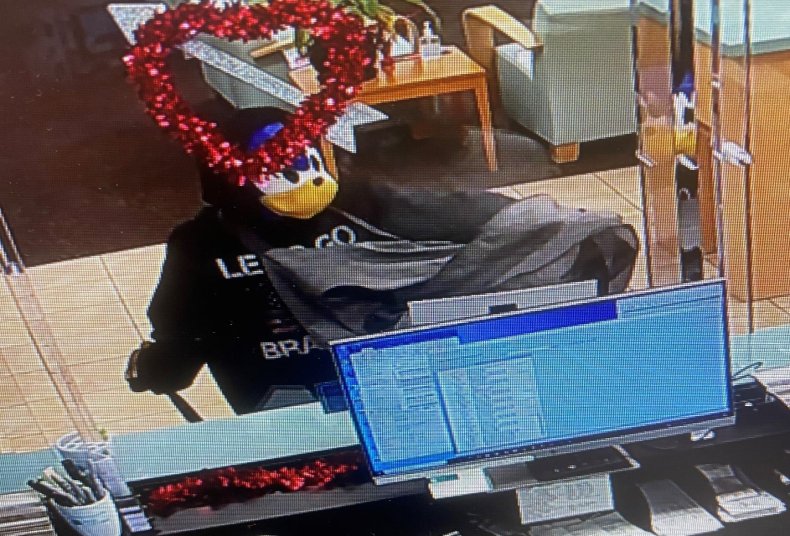 Police responded to the robbery, but the suspect, clad in the mask of the supersonic hedgehog, was too fast.
After being confronted by a credit union employee, the suspect fled the location on foot. The DeLand Police Department, Volusia Sheriff's Office and Air One searched unsuccessfully for the suspect, who has not been arrested, according to the police statement.
In addition to the Sonic the Hedgehog mask, the suspect was also wearing a black hoodie, black pants and carrying a black or grey backpack or duffle bag, according to police. In a follow-up statement posted to Facebook, police said they believe the suspect's shirt said "Let's Go Brandon," a political slogan that references a profane insult against President Joe Biden.
The incident remains under investigation and law enforcement are seeking tips from the public, police said.
Newsweek has reached out to the DeLand Police Department for comment.
Brian Leatherman, Florida Credit Union's assistant vice president of branch operations, told The West Volusia Beacon that no one was injured during the incident, the building was not damaged and no money was stolen during the attempted robbery.
"Everybody is safe, nothing was taken, and local police are on it," Leatherman told the paper.
Meanwhile, crowds gathered in Gobbler's Knob in Pennsylvania Wednesday as part of the annual Groundhog Day tradition to see if Punxsutawney Phil would predict six more weeks of winter. According to tradition, if Phil spotted his shadow and the weather is clear, another six weeks of winter are in store. However, if the groundhog doesn't see his shadow and the day is overcast, an early spring is on the way.
This year, Punxsutawney Phil saw his shadow.