Florida Gov Says Unemployment Benefit System Set Up to Frustrate Requesters
Florida Governor Ron DeSantis has admitted that the state's unemployment benefit claims system is set up to intentionally limit benefits payouts by making the application process unnecessarily difficult.
DeSantis made the remarks during an interview aired Tuesday by CBS affiliate WFOR. Reporter Jim DeFede asked the governor whether he believed the process was kept intentionally difficult to discourage people from filing claims.
"I think that was the animating philosophy," DeSantis replied. "I mean having studied how it was internally constructed, I think the goal was for whoever designed, it was, 'Let's put as many kind of pointless roadblocks along the way, so people just say, oh, the hell with it, I'm not going to do that.'"
The governor added that he wanted unemployment to be "user friendly" and had "cleared" some unspecified barriers. When DeFede pointed out that the system had been designed under the administration of Rick Scott, a fellow Republican who was DeSantis's predecessor and now represents the state in the U.S. Senate, the governor cast doubt on the notion that Scott could be responsible.
"I'm not sure if it was his [intention], but I think definitely in terms of how it was internally constructed, you know," said DeSantis. "It was definitely done in a way to lead to the least number of claims being paid out."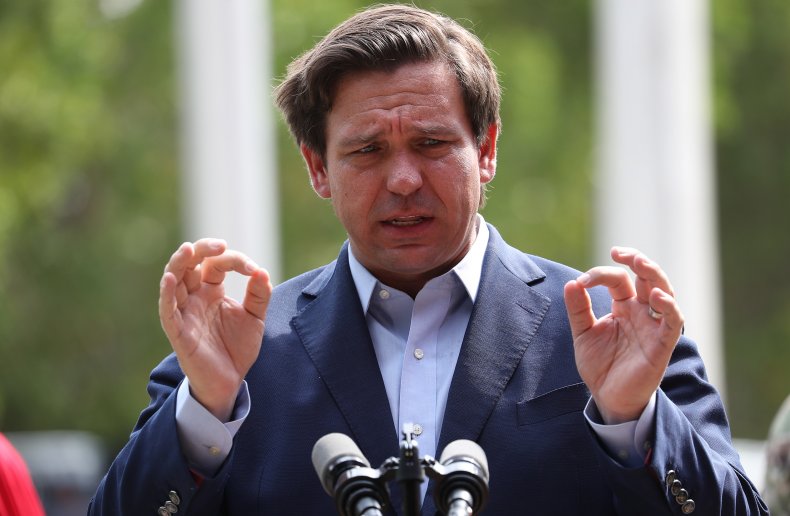 Florida's benefits system has been under particular strain recently due to the COVID-19 pandemic, which left many out of work and prompted over 3.4 million in the state to file for unemployment. DeSantis called for an investigation in May in the wake of widespread reports of people having difficulty filing claims.
A 2019 state audit of the system concluded that multiple flaws had been discovered in 2017 but had not been corrected. DeSantis denied that he was responsible when asked whether he should be held accountable for failing to correct the issues.
"Well, so that was an audit that was given to the agency head," DeSantis said. "Nothing ever reached my desk. I was not asked to do anything. I wasn't asked to seek more funding from the legislature. If I was, I probably would have done it."
However, the governor also admitted he had seen the audit despite it not having reached his desk, while insisting that addressing any the problems in the report would not have improved the system.
"I looked at that audit and, honestly, that that does not answer really the systemic flaws that was advanced with this saying," he said. "And so even if those things were done and they should have been done by the agency, we still would have had the same problems."
DeSantis did not indicate what specific steps he was taking to correct the apparently intentionally difficult-to-use benefits system.
Newsweek reached out to the office of DeSantis for comment.