Heidi Heitkamp May Lose Election for Kavanaugh Vote, but at Least She Can Look at Herself in Mirror, Brother Says
Democratic Senator Heidi Heitkamp of North Dakota, a ruby red state that voted for President Trump by 36 points in 2016, indicated Thursday that she will vote against Judge Brett Kavanaugh's nomination to the Supreme Court. Her brother, Joel Heitkamp, admitted later that day that this move might lead to her losing her seat but said that she was still doing the right thing.
"Who knows, she may lose," Joel Heitkamp said on MSNBC. "But in the morning, when she's brushing her teeth, she needs to like the person she sees. In my opinion, she's voting right, that's the key." He added that North Dakota voters likely support Kavanaugh.
Heitkamp is facing a tough re-election battle against Republican Representative Kevin Cramer, who has made her support of Kavanaugh a campaign issue.
"I'm deeply disappointed with Senator Heitkamp's decision to vote no on Judge Kavanaugh's nomination to the Supreme Court," Cramer said in a statement on Thursday. "Clearly, she has decided to vote with Chuck Schumer, and not the people of North Dakota."
The latest Fox News poll showed Cramer up in North Dakota by four points.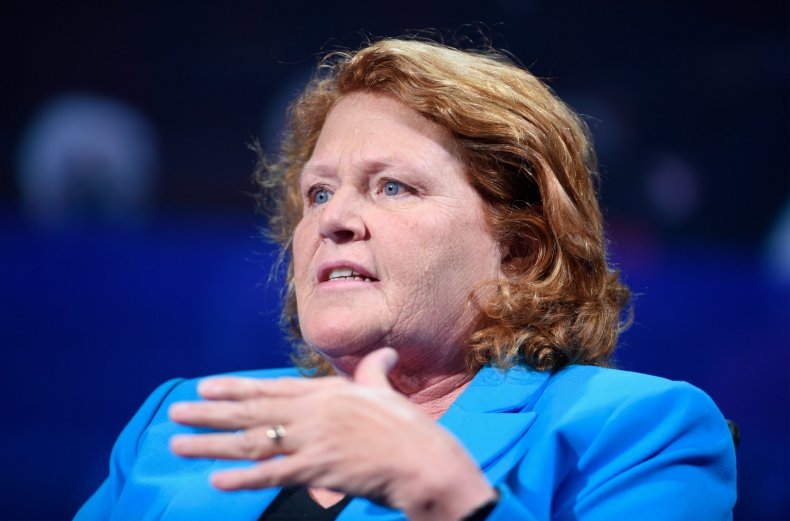 Still, Heitkamp said she felt she had to do what was right. In a statement Thursday she said, "After doing my due diligence and now that the record is apparently closed, I will vote against his confirmation."
Heitkamp explained that listening to Christine Blasey Ford at a Senate hearing last week to investigate allegations of sexual assault by Kavanaugh helped her make up her mind. "When I listened to Dr. Ford testify, I heard the voices of women I have known throughout my life who have similar stories of sexual assault and abuse," she said.
Heitkamp added that she did think of the people of North Dakota when making her decision, "Countless North Dakotans and others close to me have since reached out and told me their stories of being raped or sexually assaulted—and expressed the same anguish and fear. I'm in awe of their courage, too," she said. "Some of them reported their abuse at the time, but others said nothing until now. Survivors should be respected for having the strength to share what happened to them—even if a generation has since passed. They still feel the scars and suffer the trauma of abuse."
Heitkamp also made sure to say that she was willing to cooperate and work with the president on any other Supreme Court candidate he nominates. "There are many extremely qualified candidates to serve on the Court. I'm ready to work with the President to confirm a nominee who is suited for the honor and distinction of serving this lifetime appointment," she said.
Three women have publicly accused Kavanaugh of sexual assault and misbehavior, including Ford. He denies all the allegations.
If all Democrats vote against the nominee, Republicans can only afford to lose one vote of their own. Democratic Senator Joe Manchin of West Virginia, however, is still undecided. Republican Senators Lisa Murkowski of Alaska and Susan Collins of Maine also remained undecided. Collins is expected to announce her vote Friday afternoon, and a Manchin aide said he will not announce his vote until he's on the Senate floor.
Democratic Senator Amy Klobuchar tweeted her support for Heitkamp on Thursday, comparing her to the late Senator John McCain. "Heidi Heitkamp is my neighbor and friend. She is strong, true to herself, and works hard for her state," she wrote. "Her decision today is the essence of what John McCain was referring to when he said, 'Nothing in life is more liberating' than standing up for something 'larger than yourself.'"