Heidi Montag: Why Her Plastic Surgery Disturbs Us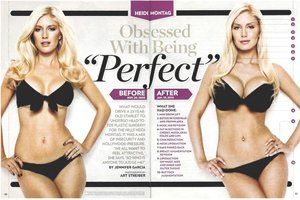 By the time she turned 21 in September 2007, MTV reality star Heidi Montag had already had a nose job, collagen lip injections, and implants that turned her A-cups into cantaloupe-round 32-Cs. In the years since, she's mulled over what to have done next, saving photos of stars like Angelina Jolie and consulting her surgeon more than 20 times. In this week's People, she describes her behavior as "absolutely beyond obsessed." Which led her to the operating room once again, on Nov. 20, for a total of 10 procedures in one sitting. There are many things wrong with this scenario—beginning with Montag's sleazy husband filming her with a handheld camera while a doctor marked off her "problem areas." But here are the 11 things about Heidi's surgery obsession—and her interview with People—that disturbed us the most.
11. She Says God Is On Her Side
How accommodating of God to hop down from the pearly throne and sign Heidi's plastic-surgery permission slip. "I prayed about it for a long time and said, 'God, if it's wrong, then I won't do it,' " she says, on how she squared the slew of procedures (estimated at $30,000-plus) with her religious faith.
10. 'Sexy Ears' Is Sure to Become a New Catchphrase
What, you wonder, makes an ear "sexy"? According to Heidi—whose ears have now been surgically "pinned back"—it was mortifying to see herself on TV with flaps sticking out "like Dumbo." "For the first time," she says, speaking about her post-op body, "I have sexy ears! I can wear updos, instead of hiding them behind my hair." We're waiting for those glorious updos.
9. It's a Miracle She Snagged a Man With Her Real Tits
"Honestly, the way I got Spencer, I had no surgery," she tells People. "It was my inner beauty that he loved." Nice sentiment. Sadly, her case that you don't need silicone to snag a man is undermined by a pre-surgery video on People's site, in which Montag signs off this way: "This is Heidi Montag going in. When I wake up, I'll be Mrs. Pratt: new last name, new face."
8. The Pain!
Many of us have idly wondered what it would be like to go under the knife, but Heidi's account is the ultimate cautionary tale. She spent 10 hours in the operating room, her body tagged up with a marker like a page out of Paint by Numbers. She emerged to a blur of pain and spins and stars. When she saw her husband, "I started crying hard," she tells People. "I was like, 'I feel like I wanna die right now. I'm in so much pain. I don't know what to do.' " What she did was ask for drugs—drugs that slowed her breathing to the point where an oxygen mask was rushed over her face. When she finally returned home, she made her husband cover all the mirrors in the house to hide her puffy, bruised body. "I looked like I had been hit by a bus," she says. "I was a purple, swollen mush." Where can we sign up?
7. After All That, No Man Will Ever Look at Anything but Her Boobs
Last night, after a heated office discussion at NEWSWEEK, one of our staffers posted Heidi's before-and-after images on Facebook. "She seems to look pretty much the same," one of her male friends commented, "excepting the radically altered bust." When you've got DDDs—and have vowed to go bigger—it's easy to see how one could be, um, distracted. And Heidi is counting on it: when People asked if she worries that people will fixate on her breasts, she responded, "They better!"
6. Apparently This Is Normal. (At Least in Hollywood.)
We've grown up on pop culture that screams that everything is a candidate for improvement. We've watched bodies transformed on Extreme Makeover; faces taken apart and pieced back together on I Want a Famous Face. We dissect Demi Moore's Photoshopped body on the cover of W magazine and wonder how the 47-year-old mother, even before the airbrushing, could possibly look so good. Meanwhile, statistics from the American Society for Aesthetic Plastic Surgery show that cosmetic-surgery procedures performed on those 18 and younger have nearly doubled over the past decade, while nearly 14 percent of Botox injections are given to those in the 19-to-34 age group, like Heidi. "I think it's a very interesting time for girls, in that what we all grew up believing—that you have to play the hand you're dealt—is no longer true," screenwriter and director Nora Ephron recently told NEWSWEEK. "In some sense, you really can go out and buy yourself a better face and a different body."
5. She Keeps Referring to the New Her as 'The Real Me'
The "real" Heidi Montag is a girl from Crested Butte, Colo. (population: 1,529), who moved to Los Angeles to study fashion and soak up the big city. When confronted with the judgmental culture of L.A. (and reality television and TMZ fame and dating a masochist while he chased Playboy bunnies), Montag decided she needed a "new body" to reflect her "inner beauty" as a sweet, God-loving, confident small-town girl. Post-op, she says she's thrilled to look like "a Norwegian goddess." Which means ... this whole time, her "inner self" was a Norse deity?
4. She's Conforming to a Male Standard of Beauty
She's gone from naive to Playboy model to looking as if she just stepped out of the pages of Penthouse, yet even the surgically enhanced Heidi just can't get enough. "I just love boobs," she says. "They make me feel more womanly." But "womanly" by whose standards?
3. She Thinks It Will Help Her Career
Montag says her "ultimate dream" is to be a pop star, though her singing and dancing talents are minimal and no record label would gamble on her album, Superficial. (Instead, she produced it independently, reportedly spending nearly $2 million to make it.) "I'm competing against the Britney Spears of the world—and when she was in her prime, it was her sex appeal that sold," Montag says, calling her surgeries an "investment for my career." In an interview with Entertainment Weekly, Montag said she expects that Superficial could be the "biggest album of the year" and puts it in the pop pantheon with Michael Jackson's Thriller. It should be redundant to say that Montag is delusional about her abilities, but it's a pity that her body is taking the fall.
2. She Calls Herself a 'Cinderella Story'
Starring on The Hills with Lauren Conrad and Audrina Patridge made Montag the "frumpy sidekick," she says: the wealth and beauty of her costars made her feel ugly and poor by comparison, and she claims her season-one wardrobe was often made up of Conrad's castoffs. The horror: a then-19-year-old forced to borrow a dress from her roommate before a night of clubbing. It's enough to make you want to run, not walk, to the nearest clinic to have your chin sandpapered off.
1. Heidi Montag Will Never Be 'Perfect'
She told People she was "never the prettiest girl," and that the reason for her many procedures was "to feel perfect." But what Montag is reaching for, say body-image experts, simply doesn't exist. It's "unattainable beauty," as Susie Orbach, the former therapist to Princess Diana, has put it: the idea that good looks and peak fitness are no longer a biological gift but a ceaseless pursuit. If this is Montag at 23, just imagine how she'll be at 40.