Lin-Manuel Miranda Criticized For Lack of Afro-Latinx Representation in 'In The Heights'
In The Heights, Lin-Manuel Miranda's ode to a Dominican neighborhood in New York City, has arrived on the big screen, but is facing criticism over a lack of Afro-Latinx representation.
The Tony-winning musical first ran on Broadway in 2008 but is now getting a theatrical release after being made into a movie.
Racism, immigration poverty and gentrification are the feature's main themes, with Hamilton star Anthony Ramos leading the cast as a bodega worker in Washington Heights who dreams of returning to the Caribbean.
Despite positive reviews, the film's release has been somewhat overshadowed by the criticism surrounding the demographics of the cast—most notably the lack of Afro-Latinx actors and characters.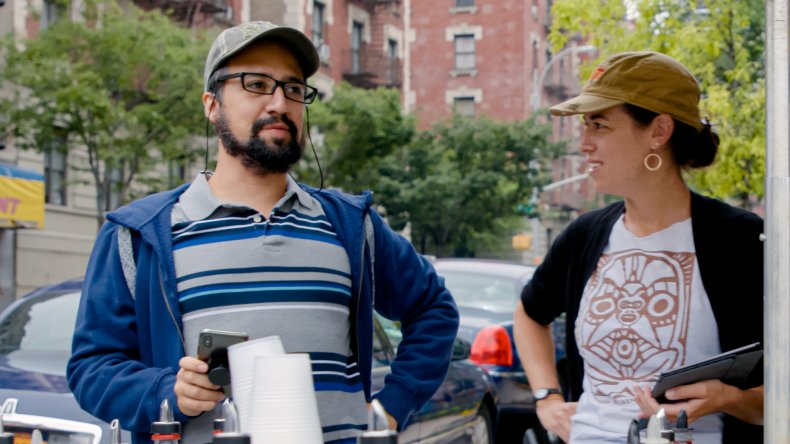 "I lived in Washington Heights for 5 years. You can't take a step in Washington Heights without seeing dark skinned Black-Latin people," reads one tweet. "#InTheHeights erases them from the neighborhood. This 'light skinned Latinx only' story is very disappointing."
While another person noted: "In the Heights is getting DRAGGED all over the TL, as it should. The erasure of dark-skinned Afro-Latinx folks in a musical film set in Washington Heights, NYC, a BLACK Dominican neighborhood, is colorist and racist."
In The Heights was directed by Jon M. Chu, who has addressed this casting discrepancy.
In an interview with Felice Leó of The Root on June 9, he said: "When we were looking at the cast, we tried to get people who were best for those roles.
"But I hear you on trying to fill those cast members with darker skin. I think that's a really good conversation to have, something that we should all be talking about."
Leó explained: "We want to see Black people In the Heights. We wanna see Afro-Panamanians, Black Cubans, Black Dominicans. That's what we want to see. That's what we were yearning for and hoping for."
To which the director responded: "I hope that encourages more people to tell more stories, and get out there and do it right then."
Meanwhile, Melissa Barrera, who plays Vanessa in the movie, said that in the audition process "there were a lot of Afro-Latinos there. A lot of darker-skinned people. And I think they were looking for just the right people for the roles."
Of the final casting decisions, she said: "For the person that embodied each character in the fullest extent...I think we are all very much like our characters, so much so that a lot of times it didn't even feel like we were acting."
She added: "And because the cast ended up being us, and Washington Heights is a melting pot of Black and Latinx people, Jon and Lin wanted the dancers and the big numbers to feel very truthful to what the community looks like."
The Roots interview went viral over the weekend, with many criticizing the comments made about the audition process.
As one person put it: "Saying that there were plenty of darker skinned Latinx people at auditions, and none got casted for leading roles because they picked actors who 'embodied what they were looking for' is very yikes."
Speaking to Vox on June 10, Miranda said it was "unfair" to "put any kind of undue burden of representation on In the Heights," adding: "There are so many millions of stories—there's a song in Heights called 'Hundreds of Stories,' but there's millions of stories—from the cultural specificities of the Puerto Rican American experience, the Dominican American experience, the Cuban American experience, and we couldn't get our arms around all of that."
Newsweek has reached out to Miranda's representatives for comment.