'In The Heights': Post-Credits Scene Explained
Stay in your seats after you've experienced Lin-Manuel Miranda's musical In The Heights. The movie follows the trend popularized by Marvel and contains an audience-pleasing post-credits scene that promises to wrap up a small plot point for one of the characters.
Out in cinemas and available to watch at home now, In The Heights is adapted from the Tony Award-winning Broadway show of the same name. It tells the story of young man, Usnavi de la Vega, living in Washington Heights, New York, as he and his neighbors pursue a better life.
What happens during the In The Heights Post-Credit Scene?
There are spoilers ahead for In The Heights.
The post-credit scene has become popularized in the 21st century, largely due to the clue-laden endings offered throughout the Marvel Cinematic Universe. The In The Heights post-credit treat isn't setting up a spectacular Lin-Manuel Miranda Cinematic Universe—instead it neatly wraps up the story for one of the audience's favorite characters.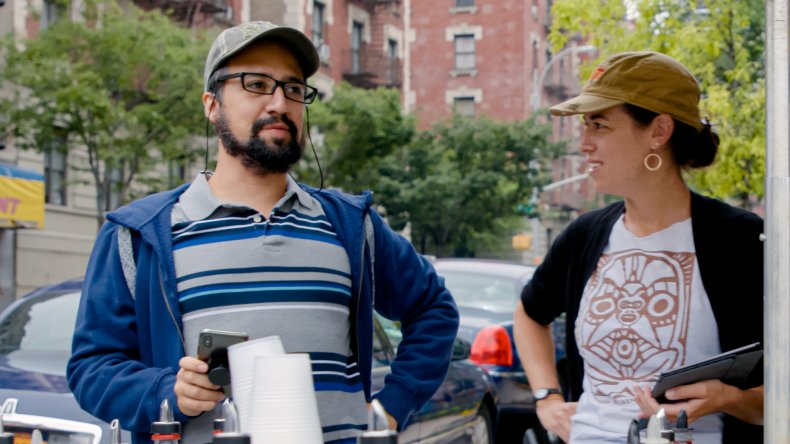 As well as writing the original, Miranda also plays Piragüero, the Piragua Guy, in the film adaptation of the musical, and he's the star once again when the credits finish.
Throughout the movie, Piragüero is at odds with the Mister Softee ice cream truck, which he claims is stealing his business. Piragüero has the last laugh in the post-credit scene as the ice cream truck appears to have broken down, driving all the customers back to Miranda's character to enjoy some classic piraguas instead. In keeping with the movie's tone, of course Piragüero makes sure to sing about his victory.
In the reprise, the Piragua Guy sings: "It's hotter than the islands are today, and Mr. Softy's truck has broken down, and here come all his customers my way, I told you I run this town!"
It's good for business too as Piragüero hikes his prices up by one dollar.
Hamilton connections in In The Heights
The post-credit scene will be especially joyful for Hamilton fans as the Mister Softee truck driver is played by Christopher Jackson. Fans of Miranda's other work will recognize him as George Washington from the original Broadway cast of Hamilton.
He's not the only member of the In The Heights cast who has a Hamilton link. Anthony Ramos, who plays the lead Usnavi de la Vega, played two major roles in the original cast. Ramos portrayed Alexander Hamilton's good friend John Laurens in act 1 and Hamilton's son Phillip in act 2.
How can I watch In The Heights?
In The Heights is out in cinemas in the U.S. now and it is also available to watch at home.
HBO Max subscribers will be able to watch In The Heights for free online now. The movie is available to watch on the streaming platform for 30 days after its release on June 10. An ad-free subscription to HBO Max costs $14.99 a month