'Heil Herbert': Utah County Commissioner Likens Governor to Hitler After Mask Order
Darin Bushman, a Piute County commissioner, likened Utah Governor Gary Herbert to Nazi leader Adolf Hitler after he greenlit two counties to require people to wear face coverings when in public.
On Thursday, Bushman posted on Twitter that it wouldn't be long before people are required to do the "Sieg Heil" salute to the governor. Nazis used the chant was as a victory salute at political rallies and Bushman wrote that eventually people would be asked to extend their right arm and offer a "Heil Herbert."
Herbert's office released a statement on Friday morning that they expect "civility in our public discourse" even when there are strong disagreements about policy. Wearing a face mask when not able to social distance is one of, if not the least invasive way to slow the spread of the virus, his office said. They added that asking local elected officials to work together to determine the best policies to promote public health in their localities is a "far cry from Naziism."
"Drawing comparisons between a widely accepted public health practice during a pandemic and Hitler's brutal totalitarianism is beyond the pale," the statement said. "It can only have the effect of polarizing an important and substantive policy debate. And, as has been recognized by leaders in Utah's Jewish community, it grossly trivializes the experience of the Holocaust."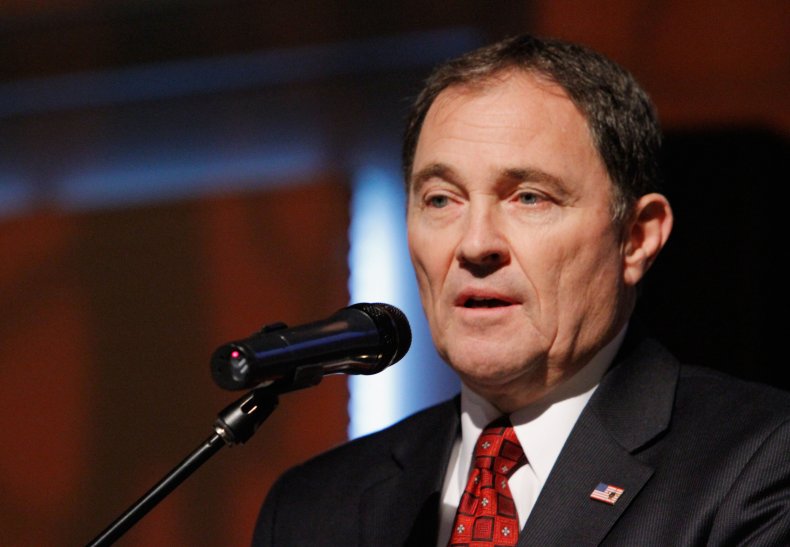 Bushman's tweet received criticism from Utah legislators and State Representative Brian King called it a "really bad take." Salt Lake County Councilwoman Shireen Ghorbani posted on Twitter that Bushman's comment was "unacceptable and dangerous" and that he should resign, but Bushman isn't planning on stepping down.
"While I appreciate your input, I have no intention of resigning," Bushman posted on Twitter. "Thank you."
Bushman deleted the tweet and apologized on early Friday morning if anyone found the tweet offensive. He noted that he removed it "so as not to further offend," and added, "my apologies." Bushman told Newsweek he "thought better of the tweet" and "saw the controversial element of it," but had no further comment because "I've said what needed to be said."
Utah's reported a total of 19,374 cases of a new coronavirus, according to the Department of Health. On Thursday, Utah reported 590 new cases of a new coronavirus, the second-largest daily increase since the pandemic began.
Herbert posted on Twitter on Wednesday that everyone in Utah should be concerned about the recent rise in infections and the impact it could have on hospital capacity. Although Utah has done "very well" in many respects, Herbert said people need to brace themselves for a "lengthy effort" to keep ourselves safe.
Dr. Angela Dunn, the state epidemiologist, warned that Utah faces increasing hospitalization rates, KSTU reported, and that cases could overwhelm the health care system if they continue to climb. In response to the warning, Salt Lake County Mayor Jenny Wilson requested that the county be able to require face coverings in public and Herbert approved both her and Summit County's request on Thursday.
Starting at midnight tonight, face coverings will be required when entering and exiting restaurants, at community events and while shopping, Wilson posted on Twitter.