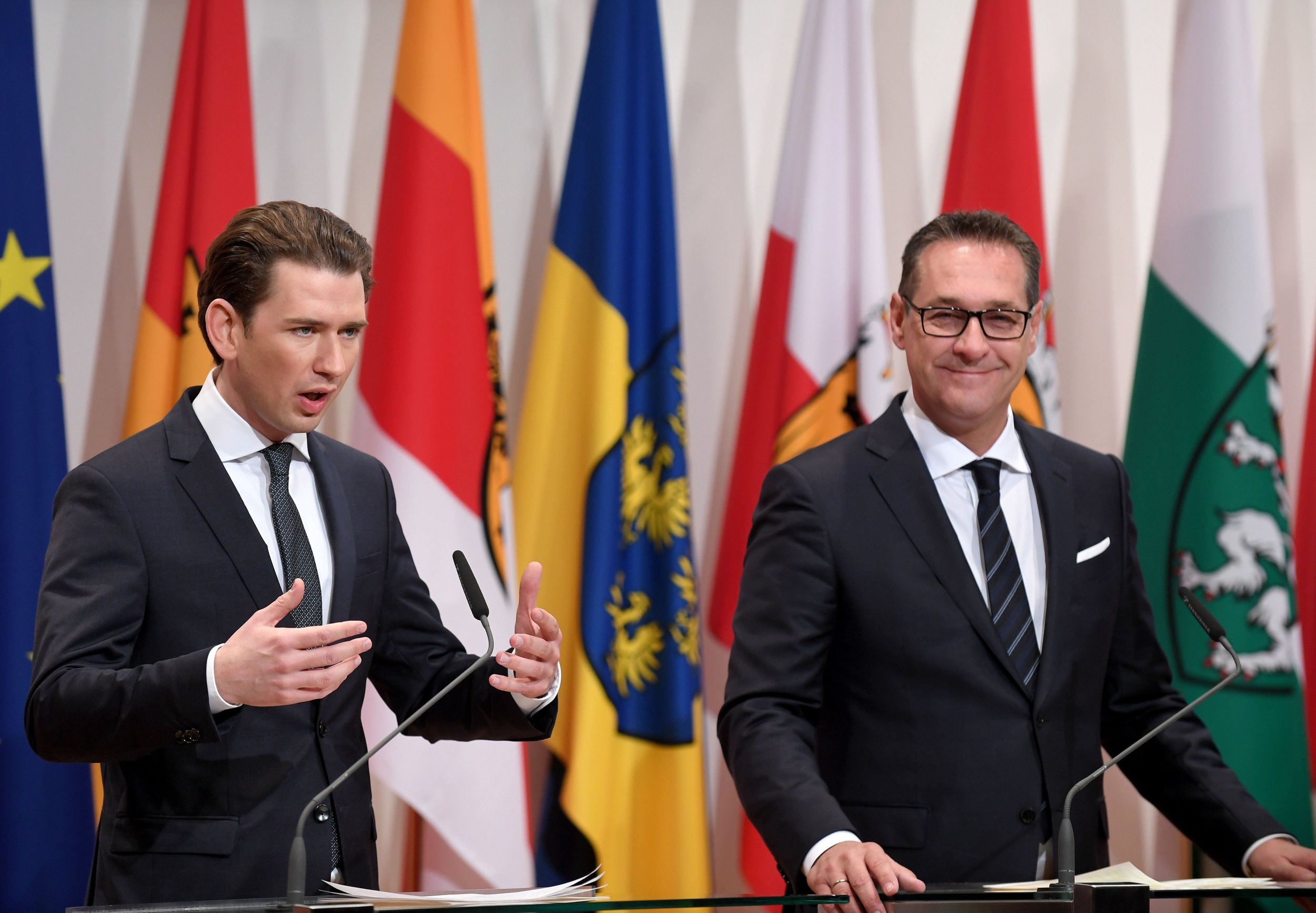 Far-right Austrian Vice Chancellor Heinz-Christian Strache is on the losing end of a court ruling after he accused left-wing activists of "public insults," in which the group flips their middle fingers off at his policies in a video.
The left-wing group, Linkswende Jetzt (Left Now), created a video stating their opposition to Strache and his right-wing Freedom Party (FPÖ), AFP first reported. The videos feature large drawings of Johnny Cash's iconic middle finger photograph and each of the segments ends with the leftist supporters proclaiming "F**k Strache!" as they also extend their middle fingers.
"Because we stand in solidarity with refugees and Muslims we say: F**k Strache," several Left Now supporters said in the video. "Because the anti-women politics of the FPO reminds me of the Mutterkkreuz of the Nazis: F**k Strache."
A Vienna appeals court ruled Thursday that the group's popular social media videos ridiculing Strache are covered by the country's free speech laws. The court dismissed Strache's attempt at placing the video under Austria's defamation and disparagement laws, which can include when "the Republic of Austria, or one of its constituent States, is maliciously insulted or degraded in such a way that it is perceived by a broad section of the public," according to the International Press Institute.
The appeals court ruling confirmed the decision of a lower court that the left-wing activists have the right to express "provocative and shocking" political opinions as it is a "fundamental part of freedom of expression."
This freedom of speech fight comes as Strache is the target of a lawsuit from the Austrian public broadcaster ORF after the vice chancellor took to Facebook to label the outlet "propaganda" and "lies," German broadcaster DW first reported.
The Freedom Party leader is accused of making libelous and "untrue attacks on the ORF," after he posted Facebook comments calling several journalists and the publication a bunch of "liars." Strache labeled a story from chief ARD correspondent Michael Mandlik "Satire!" and included a cropped photo of Pinocchio.
Taking a page from President Donald Trump's phrase playbook, Strache also posted several more Facebook comments labeling the ORF "fake news."
"There's a place where lies become news. It's the ORF," the text on Strache's post read, mimicking ads the broadcaster distributes. "The best of fake news, lies and propaganda, pseudo-culture and forced licensing fees. Regional and international. On TV, radio and the Facebook profile of Armin Wolf."
Strache has since removed the posts and apologized to Wolf for the comments by saying that it was simply "satire."
The ORF's defamation suit against Strache has drawn criticism from Strache and other right-wing Freedom Party politicians who say there needs to be "ORF Reform" so that they are purely neutral.