Heinz Runs Don Draper's Ads but Passes on Peggy Olson's (Again)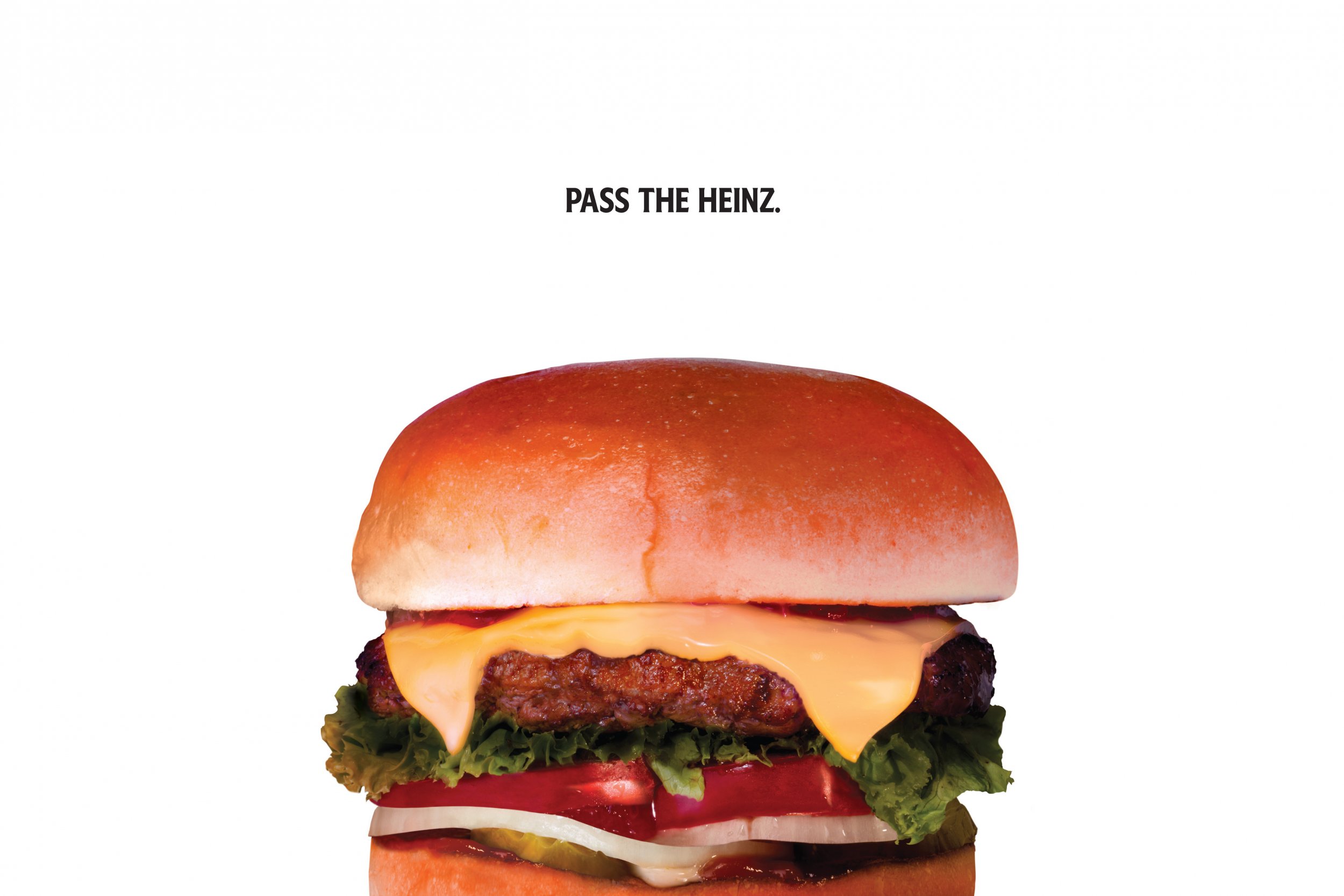 Don Draper and his secretary turned copywriter Peggy Olson didn't often pitch against each other in the award-winning series Mad Men. But by the start of the sixth season, Olson has moved to a competing agency, Cutler Gleason and Chaough, while Draper is still at his own firm, Sterling Cooper Draper Pryce. In the season's third episode, "To Have and to Hold," the two creative minds are going after the same client: Heinz Ketchup.
One after another, Draper and Olson, mentor and protégé, enter a hotel room with mockups of their ad concepts and two colleagues in tow to present their campaigns. In the series, neither prevails; Heinz chooses a third campaign, one the audience never sees, that was bought in the room. Almost half a century after the fictional pitches were rejected, and nearly a decade after Mad Men first came on air, Heinz has brought Draper's campaign to life.
Related: A nostalgic New York bids a second farewell to "Mad Men" era
It's a set of three close-up food images—a bite of steak cooked medium rare and speared on a fork's tines; a cheeseburger stacked high with lettuce, tomato, onion and pickles peeking out beneath the patty; and a pile of crinkle-cut french fries—all set against stark white backgrounds. Three words in plain black letters above each dish read: "Pass the HEINZ."
"Mr. Draper understood the one key thing that every Heinz fan knows, that you should never settle for foods you love without the great taste of Heinz," Nicole Kulwicki, head of Heinz brands, tells Newsweek. It doesn't require "paragraphs of text" to explain.
"It really was a bold move for its time, and still a bold move for its time today, you know, to have an ad for your brand without showing the product itself," Kulwicki says. "What we thought was so powerful about it was it's just a simple line, 'Pass the HEINZ,' and a beautiful mouthwatering image that actually feels very incomplete," she adds. "French fries or a hamburger are incomplete without Heinz ketchup," or, today, Heinz barbecue sauce or Heinz mustard.
When the Heinz representatives in the Mad Men scene question the ketchup bottle's conspicuous absence, Draper explains why he created the ad this way, with his characteristic eloquence. "The greatest thing you have working for you is not the photo you take or the picture you paint. It's the imagination of the consumer," he says. "They have no budget. They have no time limit. And if you can get into that space, your ad can run all day."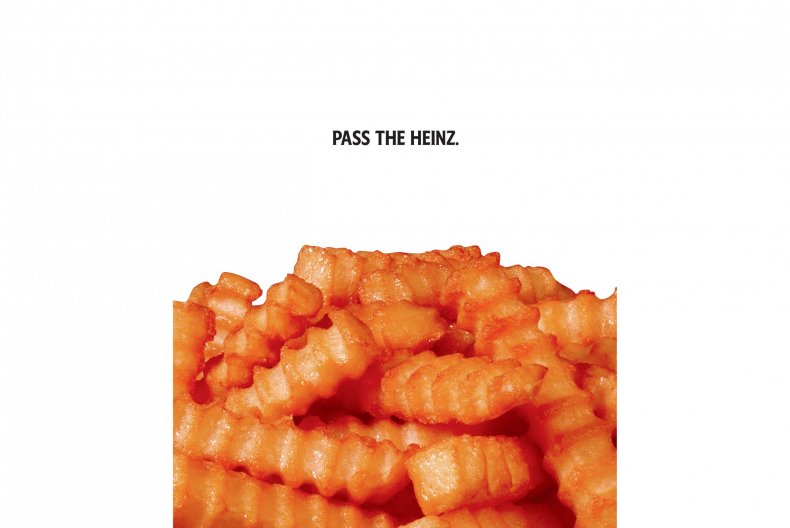 The current campaign is being credited as a collaboration between the fictional agency Sterling Cooper Draper Pryce and Heinz's real-life ad agency, David Miami. If you were to ask Anselmo Ramos, chief creative officer of David, he "would tell you [the idea] came about as he and Don Draper were having old fashioneds and talking about what a good creative execution for our brand would look like," Kulwicki says. But in reality, David brought the idea to Heinz, which looped around to the Mad Men folks.
Heinz had nothing to do with developing the concepts presented in the show or approving the use of the brand, Kulwicki says. When the company wanted to pull the ads into reality, it worked with Lionsgate Television (Mad Men's distributor and one of its production companies) to get all the necessary approvals and sign off. "Our intent to do so was really to make sure that we were remaining true to the campaign that was actually launched in the show...down to every tomato or lettuce piece on the burger," she says, explaining that the images had to be reshot.
While Draper's ads are now being featured in the New York Post and Variety and on New York City billboards at three locations—presiding over Seventh Avenue at 49th Street, 10th Avenue and 29th Street at the entrance to the Lincoln Tunnel and 23rd Street at the Highline—Olson's have been left behind. Her concept showed a large, horizontal bottle of Heinz ketchup, spilling a bit of the sauce out of the top above the words, "HEINZ. THE ONLY KETCHUP." But that idea remains firmly in the fictional world of Mad Men.
"We don't have any immediate plan" to realize Olson's work, Kulwicki says when asked whether the company had contemplated the option. "It hasn't been discussed. I think it's a very interesting thought and one we may consider, but there [are] currently no plans to do so."
Kulwicki says Heinz was flattered when Mad Men chose to use the brand for two of the many presentations its characters gave to clients throughout the series. "What we loved about both of them is they really conveyed the love and passion and...reverence for the Heinz brand," she says. "I think ultimately we just felt that the Don campaign did something that was different than what we've done in the past and also just was a really showstopping idea that would make someone pause and think."
So New Yorkers can admire the work of Don Draper as they flip through the pages of the Post or Variety, or as they pass the giant trios of ads on billboards in Manhattan. But they shouldn't expect to do the same for Olson anytime soon.