'Heist' Netflix: Who Is Roberto Solis and Where Is He Now?
Heist is streaming now on Netflix, taking true-crime enthusiasts through a wild ride of three of America's stranger-than-fiction heist tales. Featuring heists carried out by a young woman, an aspiring father in Miami, and a suburban sportsman in Kentucky, all three were successful against all odds. Heist explores the reasons behind each crime, how it went down and what happened next.
Part one of Heist titled "Sex Magick Money Murder" tells the story of Heather Tallchief, a 21-year-old former nurse who stole $3 million of Vegas casino cash.
She pulled off the heist with her lover and later the father of her son, Roberto Solis. Tallchief handed herself in to the U.S. authorities 10 years after the heist took place but what happened to Solis? Newsweek has everything you need to know.
Who is Roberto Solis?
Roberto Solis is an American robber, convicted murderer, and prison poet.
He is also known by the name Pancho Aguila, the pen he used to write poetry in prison.
Unknown to Tallchief when they first met, Solis had served 17 years in prison for murdering a security guard during a robbery in San Francisco back in 1969.
He received parole in 1992, leading him to cross paths with 21-year-old-Tallchief, who was 27 years his junior.
Speaking (with an actress reading her words) in Netflix's Heist, Tallchief recalls how she fell head-over-heels in love with Solis. She was completely mesmerized by him and his alternative lifestyle of" sex magick," hypnotism and crime, later finding herself behind the wheel of one of the largest armored truck robberies in Las Vegas history.
Tallchief had met Solis at a difficult time in her life. She had trouble holding down jobs and had issues in her personal life stemming from her own addiction and her addiction problems within her family.
Speaking to Newsweek, director Derek Doreen explained Tallchief's back story and the impact meeting Solis had.
He said "We wanted [Heist] to have a lot of heart and I think the way you do that is by uncovering and unpacking somebody's backstory, somebody's life story, understanding all the things that happened that led them to make that choice.
"In the case of Heather she grew up with a father who was struggling from addiction, she suffered a little bit of abuse from her stepmother, and then when she struck out on her own, she went across the country to find her own mom who was dealing with her own addiction.
"And then she found herself as a hospice caregiver in the height of the AIDS crisis in San Francisco, and she would make these deep connections with her patients and then they would die and she was really struggling at the time and to cope and she turned to her own addiction.
"She'd lost her job, she was spiraling towards rock bottom, she meets this charming older man [Solis] and he sweeps her off her feet, and, you know, makes her feel seen and understood and beautiful for the first time in her life."
In 1993, at Solis' insistence, Tallchief took a job at Loomis Armored security company, responsible for transporting money to Las Vegas's casinos.
On October 1, 1993, following Solis instructions, Tallchief drove the armored car out of the Circus Circus Hotel and Casino containing $3.1 million and went on the run across the U.S. with Solis, fleeing Vegas on a private jet with Tallchief dressed as an elderly woman and Solis her doctor.
The pair made it to Amsterdam in 1994 and had a son, Dylan. Tallchief gave birth just eight months after the heist was pulled off.
In Heist, Tallchief, now 49, shared she decided to leave Solis following the birth of their son to give him a better life. She remained in Amsterdam until September 2005, when she turned herself in.
Tallchief faced charges of embezzlement, bank fraud, bank robbery, false statements, interstate flight to avoid prosecution, and using a firearm for a violent crime.
She pled guilty to one count of obtaining a false passport and to two counts of embezzlement. She received a prison sentence of five years. She was released in 2010 and spent five years under federal supervision.
Tallchief was also ordered to pay $2.9 million back to Loomis, the armored car company she robbed.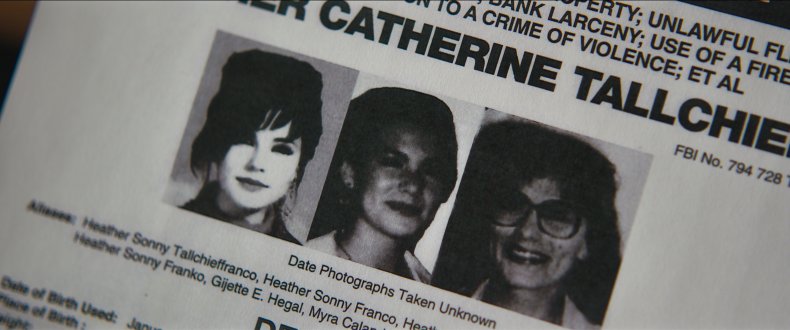 Where is Roberto Solis now?
After Tallchief parted ways with Solis, she never heard from him again.
He has been officially missing since October 1993 and his whereabouts remain unknown.
Speaking in Heist, Tallchief shares she believes Solis to be dead. If still alive, Solis would be 76.
She says: "Who knows? I don't think he's alive. No, there's no way. There's no way. If he's alive, good on you, mate. You did it."
Tallchief then confessed she would never share Solis's whereabouts if she did know.
She added at the end of Heist's "Sex Magick Money Murder": "If you find him, please don't tell him where I am."
Today, Tallchief is working in healthcare. Her son Dylan graduated from college in 2019.
Heist is streaming on Netflix now.
Correction 7/19/21, 10:20 a.m. ET: This article has been edited to correct a date in the copy.