Helen Mirren Goes Behind The Veil Of Sarah Winchester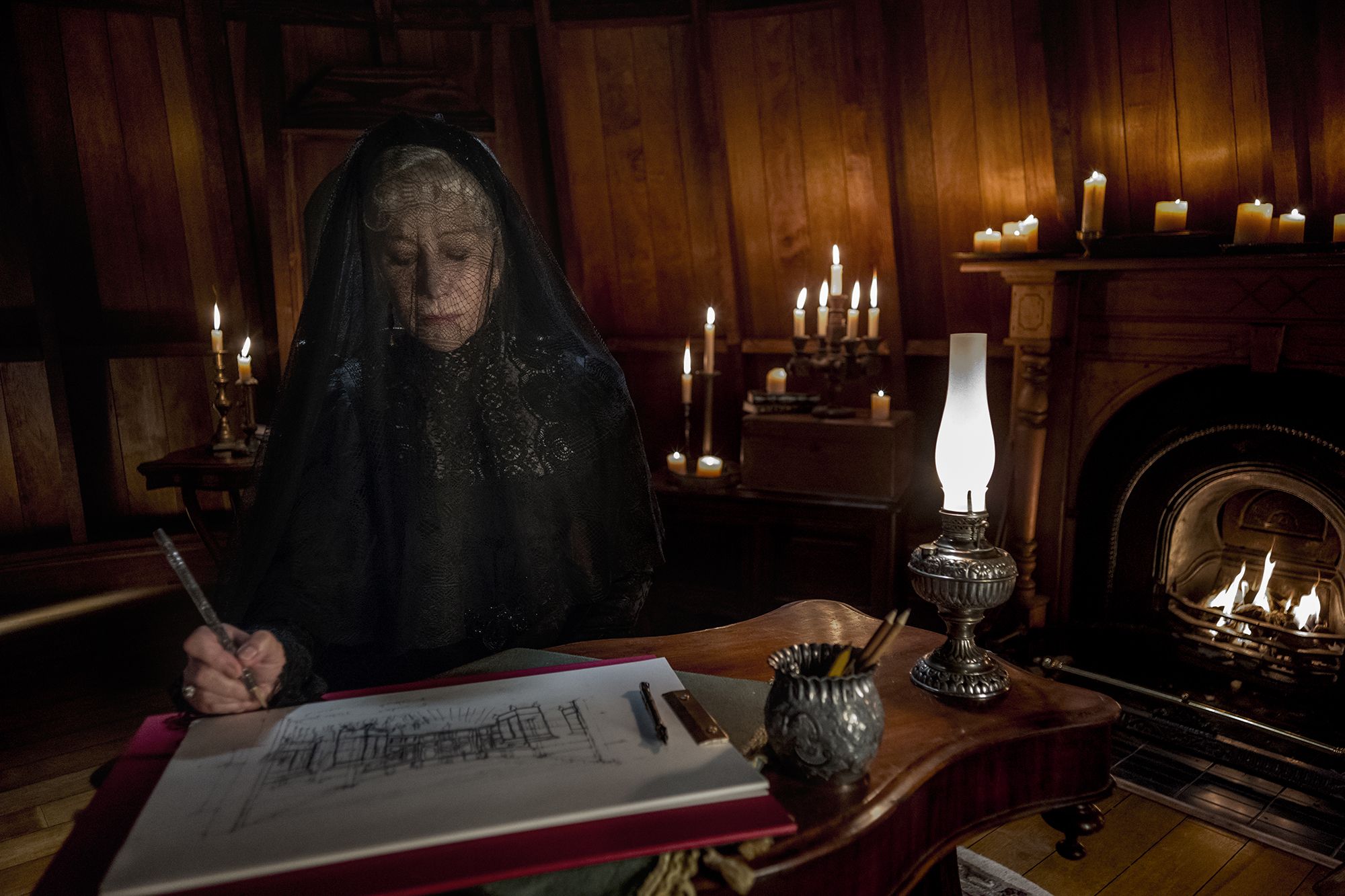 The trailers for Winchester seem to nudge viewers to expect a broken bird in Sarah Winchester, shattered by realities too intense for her delicate constitution to bear. Perpetually building, tearing down and renovating her sprawling seven-story mansion as penance, Sarah believes she is cursed by the restless spirits of the thousands killed by rifles sold by her late husband in the 1800s. Yet Academy Award-winner Helen Mirren portrays Sarah as clear-eyed, keen-witted and determined to help the tortured souls knocking about her house find lasting peace. Beneath her delicate Edwardian widow's weeds lies firm, resolute steel.
Mirren wasn't familiar with the history and folklore surrounding Winchester before considering the role, but quickly found herself fascinated. "I was hooked. What a fascinating subject, that is real and historical. Yet, although its all so concrete and so present, it's still completely shrouded in mystery. No one knows why she built the house the way she did. There's many mysteries within the house that are inexplicable," she told Newsweek.
The loyalty and devotion Sarah showed to others, particularly those in her employ, proved particularly captivating to Mirren. "I felt, with all the research I'd done, this was a loving woman. It wasn't a woman of resentment and hatred and cruelty. It was a woman of love and concern. That was the woman that had appeared in the script, and that was the woman I tried to portray," she explained.
Those qualities were palpable when she visited the real-world Winchester house toward the end of filming, most of which took place in Australia. More a sunny architectural oddity than a cobweb-filled creepshow, the house is a fascinating jumble of interior and exterior. Despite having hundreds of rooms, there's a surprising dollhouse coziness to the place.
"This house was made by a person with love. If her spirit walks those corridors -- which it does in a way, because it's so personal to her, that house -- it's a sweet and loving spirit," said Mirren.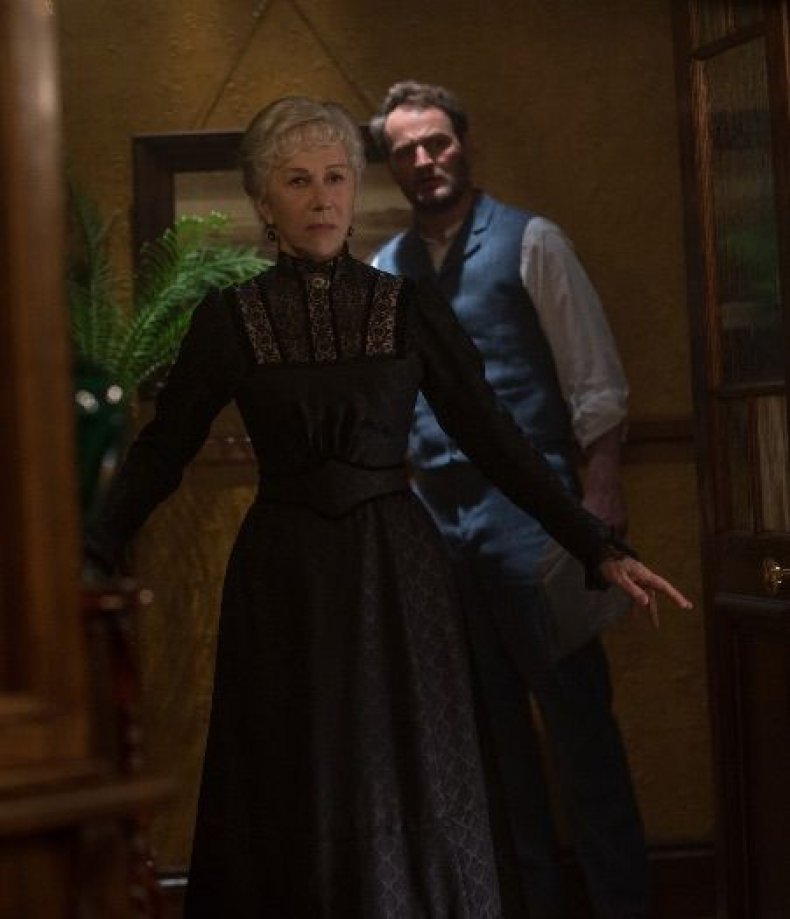 The Winchester house isn't a "scary" one in the traditional sense, even with its lengthy history of unusual sightings and occurrences. Sarah's "folly," as Mirren described it, unsettles those who pass through its doors for more commonplace reasons. It's a colossal, unwieldy monument to the kind of grief and loss we struggle to look directly in the eye.
In addition to Sarah's sorrow, Mirren saw the widow's sharp mind in evidence throughout the home. "The house is not the product of a chaotic or unsettled mind. It's quite logical in it's illogic," she said. "That strange, twisting staircase was built because she had very, very bad arthritis. She couldn't walk up normal stairs. There are great innovations in the house that she thought of, a sort of early automatic watering system in her little conservatory in the middle of the house, and then the system of calling down between each room to her servants. She sort of invented it herself."
In the film, Sarah's creativity tends toward finding ways to contain the more unruly and unsettled spirits that have found their way to her home. And some of them are pretty terrible houseguests, busting through walls and windows to get their hands on the firearms heiress. Mirren relished the physical demands of the role.
"I certainly wanted to do all of it myself. No stunt people, it was all me," she explained. "The Spierig brothers wanted it to be very real, not digital effects. No green screen, follow this bouncing ball. Everything was real, it was done with makeup, with lighting, with smoke. It was as real as we could possibly make it, so when a cabinet crashes to the ground, it literally crashes to the ground. I loved that approach."
Mirren speaks more broadly about how character research, set design and costuming shape her performances in her MasterClass on the fundamentals of acting, which debuted online earlier this week.
"I was very resistant... I didn't know where to start," she admits. "But it was very weird, I started, and it just poured out of me. Stuff that I didn't know that I knew. It's nothing high falutin', just my experience, and it's pretty basic stuff: costume and makeup, how great a wig is and how important the set is. When you shout. When you don't shout. I didn't know that I knew as much as I did."
Winchester hits theaters nationwide Friday. Check out Newsweek's gaming and geek culture site, Player.One, for a full review of the film.