Tropical Storm Helene 2018 May Develop From Wave; Could Threaten Caribbean Next Week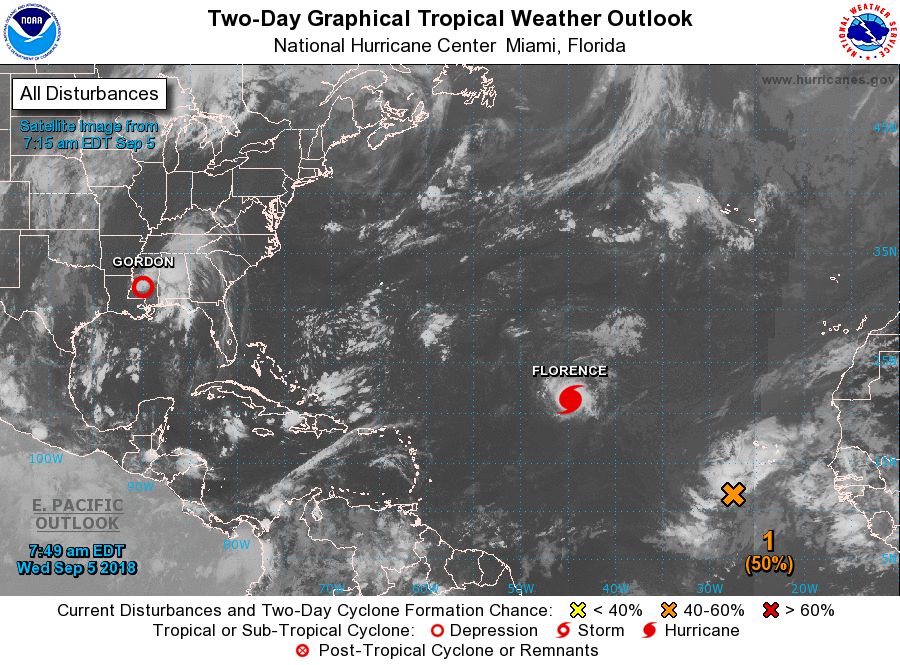 A quiet hurricane season in 2018 has suddenly awakened in early September, with two more tropical systems trying to form in the Atlantic -- one with high odds of developing. The next named tropical storms would be Helene and Isaac, and Helene could form and threaten the Caribbean next week, forecasters said in the latest updates today.
After Tropical Storm Gordon hit the Gulf Coast Tuesday night and while Hurricane Florence is trying to decide if it wants to take a left turn toward the U.S. East Coast next week, these two new tropical waves have forecasters keeping a close eye -- on one in particular.
Currently called tropical wave 92L, the storm would take the next name up for grabs – Helene 2018. Forecasters expect that to happen since the wave is strong and located in a warm water and a moist atmosphere – conditions conducive for further development. The wave 92L, possibly Helene, is facing wind shear currently, but the National Hurricane Center gives it a 90 percent chance of development in five days.
"Shower activity associated with a broad area of low pressure centered a couple of hundred miles south-southwest of the Cabo Verde Islands has become better organized since yesterday," the National Hurricane Center said this morning in the latest forecast update. "Environmental conditions are forecast to be conducive for additional development, and a tropical depression is expected to form by the end of the week while the system moves west-northwestward across the tropical Atlantic Ocean.
The NHC said 92L's chance of formation in the next 48 hours is 50 percent, but that increases to 90 percent in five days. If formed as Tropical Storm Helene or Hurricane Helene, forecasters at both Weather Underground and The Weather Channel acknowledge the storm could impact the Caribbean next week. And, if it gets that far west, Helen's path could ultimately be a threat to the United States.
But, forecasters note it's too early to say since steering patterns could have a significant impact on the direction in five to seven days. Still, possible tropical storm Helene bears watching by interests in the Caribbean, and possibly the U.S. into next week.
"This system may be a long-range threat to the Caribbean next week," Weather Underground reported. "Favoring development of the wave were warm sea surface temperatures (SSTs) near 29°C (84°F) and a moist atmosphere. However, wind shear was high, 25 - 30 knots, which was limiting development. Satellite images on Tuesday morning showed that the wave had a moderate amount of spin and heavy thunderstorm activity, but it was poorly organized. "
Predicting an approach to the Caribbean is hard to pin down, however, for either of the tropical waves.
"First, they would have to avoid any negative development factors such as wind shear and dry air as they move through the Atlantic Basin," the Weather Channel reported today. "Sometimes those ingredients can't be predicted more than few days in advance.
"In addition, steering currents in the atmosphere will determine whether they eventually head more westward toward the Caribbean versus northwestward into the open Atlantic. That's another element that can't be determined a week or more out in time."
Meanwhile, the other tropical wave that could emerge and develop into a storm would be dubbed 93L, or ultimately Isaac if it reached tropical storm status. This wave is expected to closely follow 93L, but forecasters with the National Hurricane Center give it fewer odds of development.
"A tropical wave is forecast to move off the west coast of Africa in a few days," the NHC said today in the latest forecast update. "Some development of the system is possible over the weekend while the wave moves westward over the far eastern tropical Atlantic Ocean."
However, this system is currently given just a 30 percent of development in five days, much less than 93L.