Helicopter Crash Victims: Everything We Know So Far About Deadly Accident in New York City's East River
Authorities identified Monday the five people who died in a helicopter crash in New York City's East River Sunday evening. Of the six people on board, only one, the pilot, survived.
The victims were all between 26 years old and 34 years old, the New York City Police Department said. Those killed were identified as Daniel Thompson, 34; Tristan Hill, 29; Carla Vallejos Blanco, 29; Brian McDaniel, 26; and Trevor Cadigan, 26.
McDaniel and Cadigan were from Texas. Blanco was a tourist from Argentina, and Thompson and Hill lived in New York City, the New York Daily News reported. Two of the passengers were pronounced dead at the scene of the crash, while the other three were pronounced dead at the hospital.
The sole survivor of the crash was identified as pilot Richard Vance.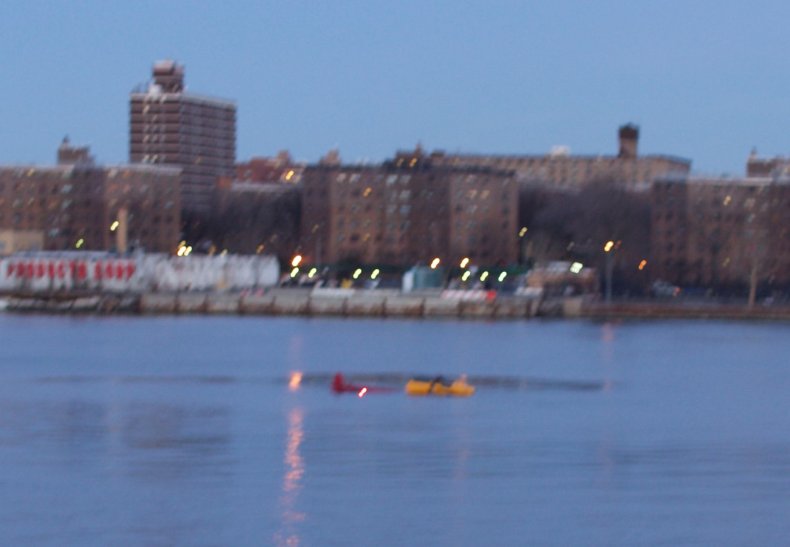 The Eurocopter AS350, which had been chartered for a private photoshoot, went down in the East River around 7 p.m. local time Sunday, according to eyewitness footage from the scene. Video showed the pilot appearing to try and land the craft in the water, where it floundered and flipped on its side with the rotors spinning violently.
The passengers were reportedly trapped inside the submerged helicopter due to the safety harnesses they were wearing. Rescue divers had to cut the victims out of their harnesses underwater.
"It took a while for the divers to get these people out," New York City Fire Department Commissioner Daniel A. Nigro said at a press conference. "They worked very quickly, as fast as they could."
Eric Adams, an aviation writer who was riding in a different helicopter, told The Washington Post the harnesses strapping passengers in were attached in a way that would not allow them to get free on their own. The harnesses went over their shoulders and between their legs, attached on the back with a metal ring attached to the floor.
"There's no way those people could have gotten out of the helicopter," Adams told the Post. "Not with the training they had. Not even me, and this is my third time.… When you're anchored at your shoulder blade, you can't reach that."
The pilot may have gotten himself free because he knew what to do in that situation, ABC News reported.
The National Transportation Safety Board was conducting an investigation into the cause of the crash. Initial reports based on an interview with the pilot suggested a passenger's personal bag may have hit the emergency fuel shutoff button accidentally before the crash, though investigators had not yet officially announced a cause.